Being in a room surrounded by people you don't know but want to know can be unnerving. This is especially true if you're the type of person who tends to cower from such social situations. Unfortunately for the shy types, networking is a necessary part of job-seeking and building a career in almost every profession. Here are a few tips to help ease some of your social anxiety.
Set a goal: Before going to an event, decide on how many people you want to introduce yourself to. Turn it into a game — you aren't allowed to leave said event until you've handed out a specific number of business cards. Start off with a small number and increase it at every event you attend. This will help get you used to networking and hopefully will also eliminate some of your anxiety along the way.
Volunteer: Sign up as a volunteer for a meeting or event you were planning to attend anyway. This gives you an opportunity to meet a larger range of people and gives you something to do during idle time. This also helps eliminate the need for small talk because you'll already be contributing to the event in a larger capacity.
Attend events with a friend or colleague: Heading into an uncomfortable situation with someone you are comfortable with will help give you a sense of ease. If this person is an extrovert, even better! They can help introduce you to people they've already met and maybe even encourage you to hand out business cards on your own.
Network online: Before going to an event, find out who else might be attending and maybe send them a quick tweet or LinkedIn comment that you are looking forward to seeing them there. This will get your name out there and will give you and the people you plan to meet a sense of familiarity when you finally meet in person.
Role play: If you are really nervous, try a bit of role play with your friends. Pretend you are at a networking event and introduce yourself. Let your friends give you advice and make sure they are being honest.
Get there early: Don't start off your networking adventure by arriving to events fashionably late. It's much harder for introverts to create a presence for themselves once a room is crowded and everyone has assembled into small groups. Get there before the groups form to make sure you aren't left out of the mix.
Don't be afraid of rejection: The blunt truth is that not everyone you meet will want to hire or work with you. But that doesn't mean the same will stand true for everyone you encounter. Don't feel discouraged, just brush it off and move on to the next person.
Be prepared: Show up to meetings and events with your business cards and resumes. It will also help if you have already memorized a short 30-second pitch about yourself.
Follow up: Sharing information helps show how credible you are with new contacts. Whether you promised to send an email on a report, share a website or send information to another contact, make sure you stick to your word and do so in a timely manner.
Be yourself: Lastly, but most importantly, don't be afraid to show people who you really are. It's okay to be a quiet introvert who doesn't want to be the center of attention. Own it, and use the above tips to get ahead in your own way.
Tell Us What You Think
We want to hear from you! What methods have helped you at networking functions? Share your thoughts on Twitter or in the comments!
More From PayScale
3 iPhone Apps for Job Networking During Your Lunch Hour
5 Ways to Make Online Networking Work for You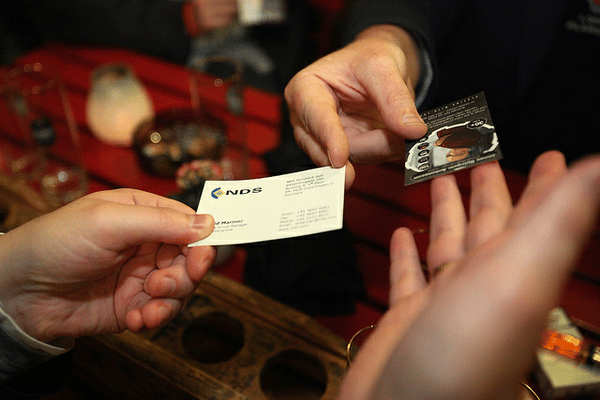 (Photo credit: Official GDC/Flickr)