With some 200 million users connecting at the speed of light on LinkedIn, it can be a little challenging to stand out as in your chosen field. Yet, a well-designed LinkedIn profile is paramount for success as a job seeker today. More and more recruiters are looking to LinkedIn for detailed backgrounds on candidates. Therefore, you need to do what it takes to make sure your LinkedIn profile is looking its best. After all, you've got some stiff competition on LinkedIn!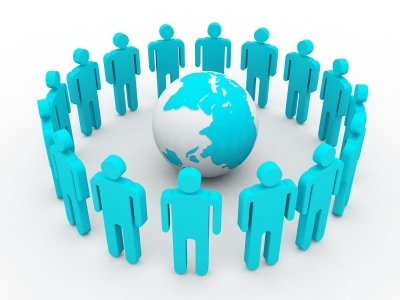 (Photo Credit: jscreationzs/freedigitalphotos.net)
How do you improve your LinkedIn profile to get the right attention?
Luckily, it's possible to make your LinkedIn profile shine. To help you get started, here are ten amazingly cool ways to boost your LinkedIn profile, and ultimately, land your dream career.
1. Add a professional, yet unique profile image. It should go without saying, but the image you choose for your profile says a lot about you. Take the time to get a semi-professional head shot photo of yourself made, make it interesting (not posed), and use this to brand yourself on LinkedIn and other social networks.
2. Write a profile headline that rocks. Just like a news article catches the attention of people, so too should your personal headline. Write a compelling headline that advises who you are and what makes you the best in ten words or less. Mashable gives some great examples for improving your LinkedIn visibility.
3. Include a brief summary of your top achievements. In the very top summary of your profile, you can add a nice, easy to read list of your biggest achievements. Include bullets and limit this to around 5 – 6 items.
4. Provide an overview of your career expertise. Contrary to what most people do, you do not want to list your entire resume and career history on your LinkedIn profile. This is for obvious privacy issues. Instead, focus on the jobs you've held related to your target career goals, and simply add a summary of your accomplishments there.
5. Include automated feeds to other social networks. Got a Twitter, Facebook, or blog that you use for job hunting? Take the time to add your links so that anytime you post there, it appears as an update on your LinkedIn profile. For some reason, this is appealing to recruiters.
6. Up the ante with examples of your work/portfolio. As of this article, LinkedIn allows users to add up to 3 URLs to their profiles. Make use of this (when other job seekers don't bother) by adding a link to your website, blog, and online portfolio(s) if you have them.
7. Join strategic LinkedIn in groups and communities. Spend time forming networks where it counts the most – with your colleagues. Take the time to check out industry groups and join those specializing in niche recruiting. The Under Cover Recruiter advises to join these career groups.
8. Connect with decision makers in your target market. The fastest way to the top starts at the top. Take the time to review company profiles, and then connect with the leaders at this companies. Having them show up in your connections impresses hiring managers.
9. Add industry-relevant content frequently. Want to attract a great employer? Start sharing content that demonstrates your areas of expertise. Post to your main update feed and to the groups you are a part of for maximum exposure.
10. Work those connections and build your network. The entire point of improving your LinkedIn profile is to develop strategic connections. These folks can get you in front of the best hiring companies.
Once you have taken the time to update and improve your LinkedIn profiles, don't forget the final step. Send an update out to your networks, friends, family and colleagues for a boost to your career goals.
Tell Us What You Think
How are you using LinkedIn for your job search? We want to hear from you! Leave a comment or join the discussion on Twitter.
More from PayScale
How to Use LinkedIn to Get a Job
Does Size Matter? It Does When It Comes to Your LinkedIn Network
Building Your LinkedIn Profile? Avoid These 8 Buzzwords [infographic]