Have you ever complained that it feels like you live at work? If your name is Eric Simons, you're telling the literal truth.
That's because Eric Simons spent two months actually living at AOL's Palo Alto headquarters. Here's how it all went down.
Simons is a 19-year-old entrepreneur with a dream. Once a bad student, he turned his academic failures into an idea for a startup. ClassConnect, a site that aims to help teachers make more engaging lesson plans, attracted the attention of AOL, which invited Simons to come work at their HQ for a summer. Summer came and went, and Simons found himself out of cash, homeless, and without direction. Also, his friends had all gone away to college. Bummer.
What's an enterprising teenager to do? He opted to create a kind of 21st century squat at AOL. At night, he'd crash on one of his favorite couches in the office, making sure to be up at 8 a.m., so that none of his "colleagues" figured out what was up. During the day, he'd eat free cereal and shower at the company gym and work on his dream project.
Months later, ClassConnect is a functioning product and Simons is looking for investors. (And living in a house, off the AOL campus.) 
More From PayScale
15 Skills That Set Up Entrepreneurs for Success
Companies Redesign Open-Plan Offices to Mask Sound
Should You Lie on Your Resume?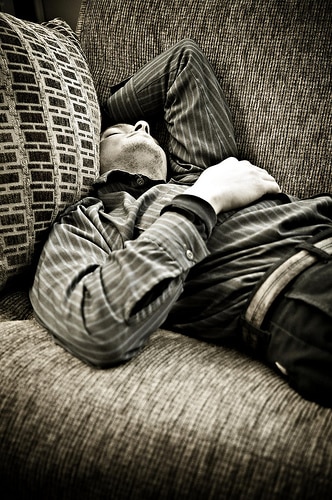 (Photo Credit: Corey Ann)