Job interviews are a lot like blind dates. You don't want to commit before you really get to know each other, but you also don't have a lot of time to play with. The best way to figure out if you and the company have a future together is to ask the right questions.
Asking thoughtful questions is especially important when trying to figure out if the corporate culture is right for you. It's easier to get straight answers about benefits and responsibilities, but trying to determine what it will be like to actually work for a company is a more complicated endeavor. Sean Blanda at Lifehacker has some great questions to ask if you're trying to get at the heart of a company's culture. Here are a few of our favorites.
1. Does this company work to live or live to work?
There's no right answer, but it's a good idea to know what you're getting into. Hey, maybe you're in a time in your life when 18-hour days are the perfect speed for you. But if they aren't, it's better to find that out ahead of time.
2. Does this company give a damn?
Do these folks want to be the best in their fields? Do the bosses care about the success of the company, or just about a stepping stone in their careers?
3. What do the company's offices look like?
Foosball tables and foyer art aside, look to see whether the space is organized around the employees, or to minimize overhead.
More From PayScale
Want to Ace That Interview? Try the STAR Technique
The Wonderful World of Difficult Clients [infographic]
Sitting vs. Standing Desks : Which Is Better?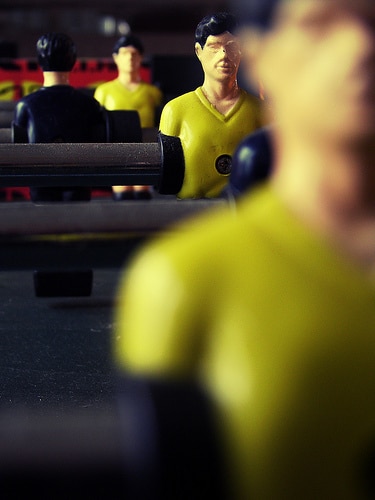 (Photo Credit: Raymond Brown/Flickr)