Given our druthers, most of us would prefer to toil away at a job we love. It's why we racked up all those student loan debts in the first place, after all. But the majority of workers will still have to do some time at gigs that aren't exactly our dream jobs. Here's why that's not such a bad thing.
Columnist Amanda Abella knows what she's talking about when it comes to paying her dues. In addition to writing for Levo League, Abella works as an administrator at an employment agency. She is using the experience of working at that job to teach her about the working world, and help crystalize her goals for the future. Here are a few of her tips for getting something out of your just-for-now job, and our take on them:
1. Learn the Ins and Outs of a Business
In her job as an administrator, Abella writes, "I schedule meetings, make phone calls, and get the mail, but that doesn't mean my work has to stop there. I am taking this opportunity to learn how to run a business — a very valuable skill to learn, given the apparent inability of previous generations to do so dependably."
Eventually, she hopes to become an entrepreneur, and practical knowledge of how a business runs can only help her achieve her goal.
2. Find a Mentor (or Mentors)
Even if you're not working in your ideal field, you can find people to admire and emulate. Abella recommends seeking mentors in every area of business that interests you. So if you're waiting tables to support your art dreams, for example, you would look for inspiration both from your current boss and your (hopefully) future colleagues.
3. Network, Network, Network
You never know when a contact will come in handy, even if you have no intentions of staying in your present field. After all, maybe this isn't your supervisor's dream job either.
Tell Us What You Think
We want to hear from you! What have you learned from your not-so-dream job? Leave a comment or join the discussion on Twitter, using the hashtag #MakeItHappen.
More from PayScale
Sokanu Wants to Help You Find Your Dream Job
4 Ways to Stay Inspired During Your Job Search
How to Recover From a Bad Interview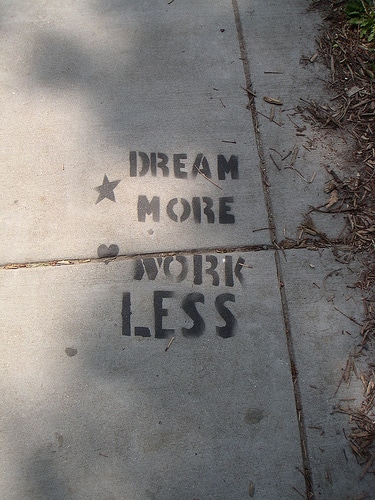 (Photo Credit: Daquella manera/Flickr)