When you think of Richard Branson, you probably picture his endearingly odd commercials for Virgin Airlines, or his adventures on land, sea, and space — or maybe you just think of Scrooge McDuck-style vaults full of zillions of gold coins. Probably, however, you don't think of failure, but as the famously successful businessman explains to Entrepreneur, perhaps you should.
As the interview reminds us, Sir Richard has had a number of high-profile failures in with his sterling successes. Not that he minds:
"In Britain, people who try things and then fail are actually well-respected. People like the underdog. If you go back to my adventure times, generally speaking, we failed on most of my adventures the first time. In attempting to bring back the Blue Riband [an award given to a ship for crossing the Atlantic Ocean in record time] for Great Britain, we created the boat the Atlantic Challenger in 1985. All was going very well until we sank 300 miles from the U.K., and were rescued by a banana boat."
His reaction to that set-back, and others, reveals a few lessons that can help us all in business and life.
1. Have a Sense of Humor
Shortly after the Atlantic Challenger sank, Branson took out a full-page ad featuring a hull sticking out of the water and the caption, "Next time, Richard, take the plane." The ad generated attention for his newly launched airline — perhaps more than a successful Atlantic crossing.
2. If at First You Don't Succeed…
The following year, Branson tried again to make the crossing, and this time, he made it. No banana boats required.
3. Don't Underestimate the Other Guy
Do you remember Virgin Cola? If you don't, don't feel bad: the wannabe Coke competitor launched in 1994 and pretty much disappeared by the end of the '90s, despite Branson riding a tank into Times Square to promote it. Lesson learned? Giants are not always sleepy.
4. Don't Regret the Past
"At Virgin, we don't spend much time regretting the past, and we don't let mistakes or failures get to us, and we certainly don't fear failure," Branson says.
5. "Screw It, Just Do It"
What made Branson think he could go from being a record label founder to competing with British Airways? After a bad experience with a competing airline, he decided that there was no reason why he couldn't do better. In short, he thought he could do because he wanted to, and why not. A certain amount of devil-may-care attitude might just be the essential ingredient in a successful entrepreneur.
More From PayScale
Blunt Cover Letter Earns Writer Multiple Job Offers
5 Tips to Negotiate the Best Pay Increase at Your Next Performance Review
Want to Be Popular on Facebook? Add Photos [infographic]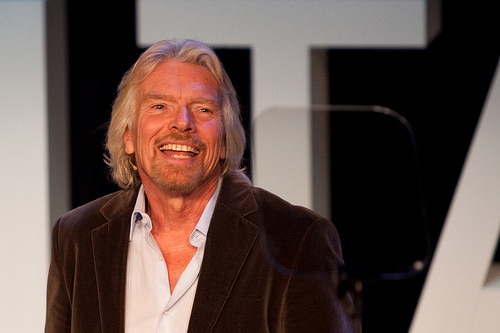 (Photo Credit: gulltaggen/Flickr)