Whether you are a job seeker, an independent jewelry designer, a freelance journalist, an aspiring filmmaker, or the owner of a new food cart, a strong online presence is a key part of every professional and small business's marketing strategy. The backbone of this presence is your website. And unless your small business is a web design company, or you are successful enough to hire a programming whiz (in which case you would have probably already needed a website by now), you most likely have neither the funds nor skills to fork over thousands to a professional for the perfect site. Thankfully, in today's sea of freelancers, entrepreneurs, and independent contractors, a lack of money and programming knowledge does not stand in the way of a great-looking site that does not break the bank.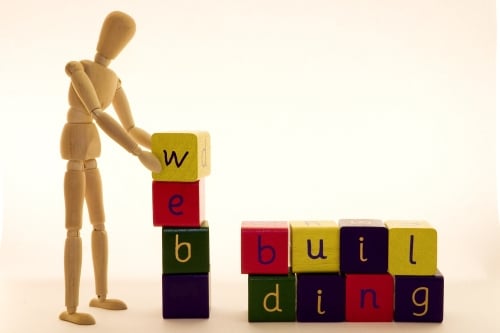 (Photo Credit: B. Garry/Flickr)
There are now tons of affordable (and some free) options geared towards those, who, perhaps like you, don't understand (and don't care that they don't understand), the difference between HTML and CSS, because they'd rather focus their energy on their products, services, or job opportunities, rather than finding an e-commerce plug-in that's compatible with their WordPress theme. (What?) If this describes you, here are basic set-up instructions for an inexpensive but attractive website that will allow you to do just that.
1. Reserve a domain name. Before your site can grow (or even exist), it needs a name. To give it one, go to a hosting source and see if your URL is available. Acquiring your domain can be a first step even if you don't plan on building a site for months. (After all, you need to protect your future web identity). When it comes to choosing the URL, creativity is never a bad thing, but in most cases, a simple and to-the-point address is more effective than something too obscure (or long). In other words, go with your first and last name and a ".com" rather than the name of your first stuffed animal spelled backwards.
2. Pick your content management system. What the heck does this mean, you might be asking? Basically, that you need to pick the mainframe for your site – the software you will use to upload text and images to your website and control its appearance and functions. There are infinite choices for this phase,so spend time test driving options and pick the one that makes the most sense for your purposes, whether this means a simple blog or an e-commerce-focused site. WordPress.com, WordPress.org, Tumblr, Joomla!, SquareSpace, and GoDaddy Website Builder have come to be regarded as some of the many straightforward and popular choices, even for those with a lack of backend web knowledge. (Most of the examples above are likely manageable for anyone who can handle Facebook). Visit each company's website. (See how that works?!). Explore each of their features, test drive their tutorials, and pick which program feels most intuitive to you.
3. Next: hosting. Once named and created, your website needs a place to live. Do a little research and pick a company that provides hosting services (One Google search is all you need to identify some affordable options). Hosting services sometimes have intimidating names like "Linux," so your best bet is to pick your content management system first (see Step 2). After that decision is made, call the hosting company you decide to go with to go over what type of hosting is best for you. Once these three primary steps are in place, the company will then summon a man from behind a dark green velvet curtain to visit your home and recite a magic spell over your computer, after which your website will launch in entrepreneurial glory for all the world to see. Making the site live once you are ready is actually just a matter of a few clicks from within your GoDaddy account, but the end result – a live website that represents your skills, products, and business's identity – is an exciting moment nonetheless.
4. Last but not least: customize. This is the fun part. Now that the heavy lifting is over, you have the chance to really personalize your website. Many of the content management systems mentioned above have either easy-to-use drag-and-drop templates or free or low-cost themes, ranging from zero to a couple of hundred bucks. Either will allow you to customize the appearance of your site and cherry pick the features you need most (i.e. blog, e-commerce, newsletter sign-up, portfolio, photo gallery, etc.).
5. Still overwhelmed? If a DIY approach is more than you want to take on but you still don't have a big budget, one suggestion is to contact the graphic design or career services department of a local college (or post a Craigslist ad), and inquire about hiring a student looking to expand his or her portfolio in exchange for a lower fee than a professional might charge.
Tell Us What You Think
Have suggestions about how to build a great and affordable website? We want to hear from you! Leave a comment or join the discussion on Twitter.