Employees often groan at the idea of heading into yet another meaningless meeting where someone will spit out some numbers while everyone else daydreams and doodles in their notebooks. However, there are ways to keep them more engaged and make meetings more productive for everyone.
If you want to conduct meetings that are more effective, follow the five tips below.
Keep it Short and Sweet: Meetings might be necessary, but they still take away from employees getting work done. Stick to the point, keep meetings short and stay within scheduled times. If your meeting goes longer than 30 minutes, you can be sure that you've already lost your audience.
2. Have an Agenda: Create an agenda before every meeting and circulate said agenda among the people attending the meeting so everything knows what they should prepare for and the kind of information they should have ready. Meeting agendas are also a great way to ensure everyone knows how much time they will have to present their information.
3. Use Visuals: Use the wall space in the chosen meeting room to present information in a visual form. It helps keep meeting participants engaged and gets bosses out of their chairs and walking around. This also helps keep the energy up and serves as a great tool to spark creativity.
4. Keep the Conversation Open: Make sure you use meeting time to really listen to what your employees are saying. Showing that you care about their opinions (and you should) helps boost office morale and might even get employees excited about meetings, instead of dreading them. Acknowledge all the comments that are made and schedule a one-on-one meeting if you think it needs further discussion.
5. Get Rid of Distractions: Keep your gadgets at your desk. Create a rule for all meetings where no one, including the big boss, is allowed to bring laptops or smartphones into meetings (unless one is being used for a multimedia presentation). These serve as major distractions and give just another means of ignoring the meeting. If you know that a meeting is going to run long, set up periodic breaks that allow people to check their phones, email, or just to play Solitaire.
Tell Us What You Think
We want to hear from you! Do you have any tips for making meetings more effective? Share your thoughts on Twitter or in the comments!
More From PayScale
5 Ways Meetings Inhibit Productivity
How to Run an Effective Meeting
3 Effective Meeting Tips from Apple and Google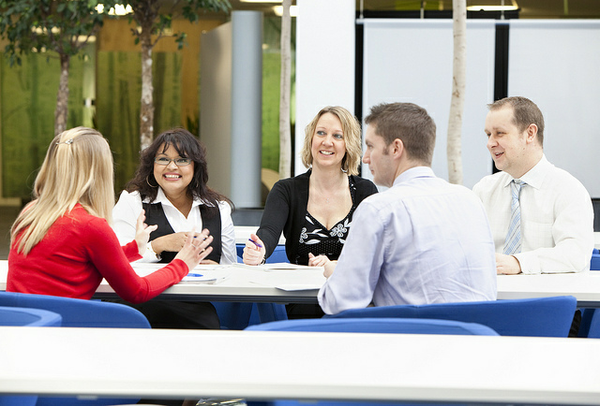 (Photo credit: Highways Agency/Flickr)