By Emma Bohmke
Meet Kaylyn Messer. Most people know her as an outstanding customer service specialist and MarketRate trainer here at PayScale. But, this year, she cranked up the cool and took over as the coordinator for Bike to Work Month for PayScale. In honor of Bike to Day, let's get to know the star behind the operation.
Q: Besides being great at your job, what is your highlight moment so far while working at PayScale?
A: I was pretty proud of myself last year when I got second place in the both of the Bike to Work month events. The awards were for total miles ridden and riding frequency. I lost to our VP of product Geary for miles because he lives so far away, and Adam, our consumer project manager, for riding frequency. It was really exciting as the new girl.
Q: Is that why you are heading the Bike to Work Month competition this year?
A: Yes, I really enjoy the competitiveness of the Bike to Work Month and following the success of each team. You can use the Cascade Bicycle Club website to see how the teams rank by miles in order to keep yourself motivated. I wasn't a big cyclist before I came to PayScale but parking was so expensive that I decided to join the Bike to Work challenge last year. The competitiveness got me engaged and then this year I asked if I could take it over.
Q: What kind of turnout does PayScale have for this year's Bike to Work Month?
A: A lot of people signed up, both new riders as well as experienced riders. PayScale has a pretty big tradition in Bike to Work Month. We have three teams and nine people on each team this year. That's about 25 percent of the company! It's been really good, we've had everyone riding in and it has been fun to see all the new bikes in the basement [bike storage area].
Q: How is PayScale different from where you worked before?
A: Completely different! My previous position was a sea kayak guide in Alaska and a freelance photographer in addition to that. So I've never had a desk job before so this is very new to me. But I feel like the culture here is very cool. People are very friendly and engaged both at work and outside of work. And, we have a ping pong table!
More from PayScale
PayScale Pedals in to Bike to Work Month
3 Underrating Challenges Women Face in the Workplace
Can Shortening Your Commute Save Your Life? [infographic]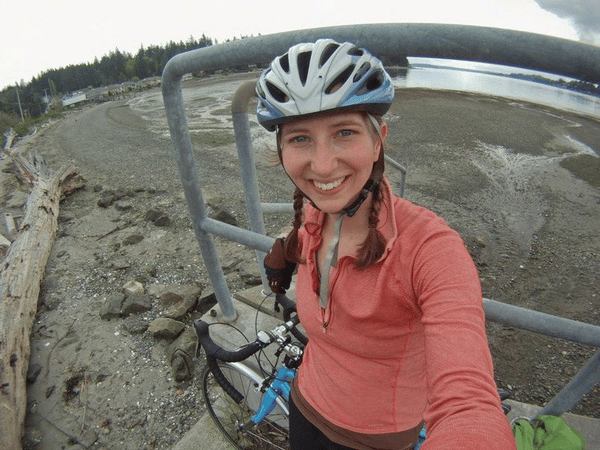 Photo credit: K. Messer