Could a career academy model like that at the Mountain Home charter school revolutionize high school education as we know it? The school, which is located in Arkansas' Ozark Mountains, sorts incoming ninth-grade students by learning style and career aspirations. Next, they meet with school representatives and take personality surveys to help them decide between one of three tracks: Health and Human Services, Communications, Arts and Business; and Architecture, Construction, Manufacturing and Engineering. This process aims to engage students by teaching them material that's relevant to them.
Mountain Home students still must take core classes like history, English, math and science, but they can also take electives from other academies and even switch academies at the end of the school year should they decide to take their education in a different direction.
This career academy model seems to be paying off: Mountain Home students averaged a 22 on the ACT in the 2011-2012 school year, which is higher than the national average and statewide average of 21 and 20, respectively. While 70 to 80 percent of grads head to college, 30 to 40 percent of them take remedial courses — a statistic that principal Dana Brown acknowledged that the school must address. Brown cited the disconnect between college expectations and high school standards as a contributing factor.
Mountain Home graduates told MSNBC that they felt more prepared to enter the real world as a result of their career-focused training. Do you think more schools should focus on real-world applications of traditional curricula?
More From PayScale
8 Stress-Busting Tips for Overworked Employees
Is Serial Mastery the Secret to Staying Relevant at Work?
Should Lunch Breaks Be Mandatory?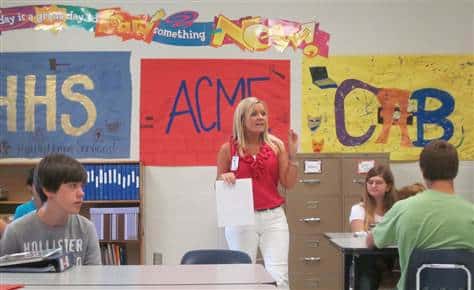 (Photo credit: Sarah Butrymowicz/The Hechinger Report)