For many of us, commuting to work means getting in our cars, pulling out of our driveways or parking spaces … and sitting in traffic for what feels like a billion straight hours.
That might be changing, according to the newest traffic congestion scorecard from Inrix, which shows a 30 percent drop across the United States.
The Inrix Index evaluates traffic congestion by looking at reference speed (the speed for each road segment when traffic is flowing freely) and the hourly average speed (the archived speeds for each 15-minute period every day, for each road segment.) It translates these numbers into a value and ranks the cities against one another. A road segment with no congestion would have a value of zero. Each percentage point of increase in average travel time above free-flowing conditions adds an additional point to the value.
Here's an example from their methodology: "An Inrix Index of 30, for example, indicates a 20-minute free-flow trip will take 26 minutes during the peak travel time periods with a 6-minute (30 percent) increase over free-flow."
OK, enough math. The important part is this: Even some of the cities with the highest values on the index showed a drop last year. For example, the top ranked city, Honolulu, had an index value of 27.4 last year. This year, it was 21.3, a 28 percent drop.
To use another example, the seventh city on the list, the people of the fine city of Seattle (a.k.a. PayScale World Headquarters) spent an average of 33 hours stuck in traffic this year, as opposed to 44 last year. Don't they all ride their bikes out there, anyway?
The real question, of course, is whether or not this is good news. We're all for less time commuting — as long as it isn't because more people are spending time at home, languishing on unemployment.
More From PayScale
What Are the Dirtiest Areas of Your Workplace?
How to Spot Overworked Employees [infographic]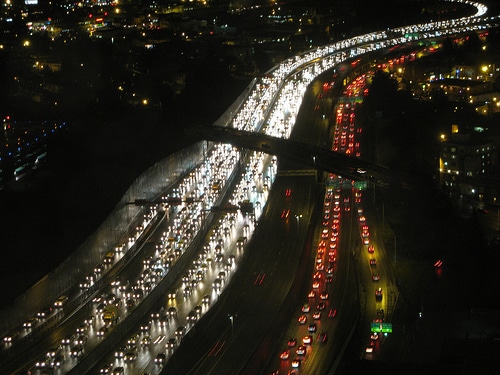 (Photo Credit: Oran Viriyincy/Flickr)