Tech giant Google has announced that it plans to pay its gay employees more. The extra wages will cover the cost of domestic partner health benefits, equaling an extra tax that heterosexual married couples do not pay, according to MSNBC. The New York Times adds that this sum will amount to about $1,069 annually. What are the implications of this groundbreaking payroll decision?
For starters, gay couples' take-home incomes will be on the same plane as those of heterosexual couples, since they will no longer have to pay for domestic partner health benefits. Google's move also sends a strong message that it values its employees' right to take care of their families, no matter their sexual preference.
Google isn't the first large company to cover the extra taxes gay employees pay, but considering the "Legalise Love" campaign for gay rights it rolled out in London earlier this week, it may be the most vocal. Legalise London aims to "decriminalise homosexuality and eliminate homophobia around the world," according to Google's diversity website. Back in 2008, cofounder Sergey Brin openly spoke against California's Prop. 8 on behalf of Google; the company has also hosted or sponsored several global events for gay rights over the past few years.
What do you think of Google's choice to pay gay employees more?
More From Payscale
10 Outrageous Resume Fails to Avoid
Yoga Instructor Fired From Job at Facebook HQ for Policing Workers' Social Media Use
Bad Hires Cost Companies $50,000 Apiece [infographic]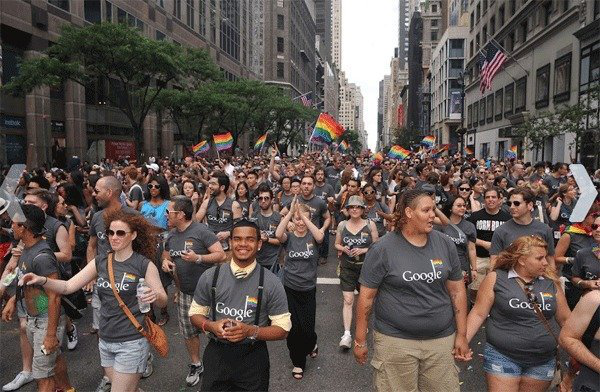 (Photo credit: Los Angeles Times/Google)