You probably know the basics of behaving properly during a job interview – dress appropriately, be punctual, research the employer, be prepared with a real answer to "Why do you want to work here?" etc., etc. However, you may not have expected the interview to end with an assignment. Find out why interviewers are handing out homework, and how it may help you land the job.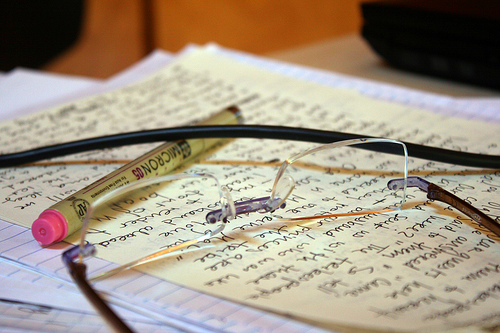 (Photo Credit: IRS EIN/Flickr)
The task of figuring out what kind of person you are and whether or not you might fit in well with a company is nearly impossible during the interview, considering the brevity of most in-person meetings. It only makes sense, then, that many companies and recruiters are deciding to dig a little deeper and attach homework assignments to interviews. While it may seem like a huge pain in the neck for you – because really, many of us would consider the interview process complicated enough – assigning homework to the interviewee actually provides the employer with a bit of extra information intended to result in a much more accurate selection process. Here is why it works, and what you need to do in order to ace the assignment.
It's really a test.
It's called "homework" or an "assignment," but one of the main reasons for adding it to the interview is because they want to see if you really know what you're talking about. You can show up for the interview polished and even answer the questions exactly as you practiced, but the assignment gives the prospective employer an idea whether or not you actually know anything about the job. If you need to research for the assignment, do the research.
How you handle the assignment indicates the type of worker you are.
Many times the assignment is used to gauge the type of worker you are. Red flags such as returning the assignment late, making excuses for an incomplete assignment, or even refusing to do the assignment altogether, give the employer a glimpse of what it might look like to actually work with you. They want to know if you can work independently or if you will need someone to hold your hand. If you want the job – take the assignment, complete it like you're getting paid, and return it by the deadline. At least if you don't get the position, it will not be because you were mistaken for someone who didn't know how to behave like a decent employee.
They're going to compare you to other candidates.
Candidate comparisons are nothing new to the interview process. However, if the decision is based only on a couple minutes with each person during an in-person interview, it is more difficult for you to stand out. Outside of a comedy routine, there is only so much you can do to separate yourself from your peers. The assignment is also used to get an idea of your thought process and problem-solving skills. This is your chance to be creative and actually show the interviewer that you have the skills required for the job – possibly in a way that no one else does.
The prospective employer already knows that the top applicants are self-motivated and will most likely embrace the challenge of the assignment. It is in your best interest to accept the mission, and show the employer why you belong there.
Tell Us What You Think
Is homework a reasonable part of an interview? Or is it just extra work? Share your thoughts with our community on Twitter or in the comments section below.