No matter whether you're starting out or looking for a new direction, it's hard to change to a new career path. A job in tech could lead to a bigger paycheck, but how do you cross over?
Getting a tech job isn't hard for those who have a background in computers or who know how to code. But it can be just as feasible for those who come from the humanities. You just have to know how to make that leap.
What Can You Do With a B.A. in English?
Like the song says, "I can't pay the bills yet, cause I have no skills yet." A liberal arts degree can lead to many paths. When it comes time to branch out, you might look at tech as a suitable career choice.
One former English major jumped to tech when she was looking for something more from her career — like job security and a better retirement plan.
"I graduated with a useless English Degree — basically a degree in 'I Like Reading,'" Kara Luger tells PayScale. "I managed to move from a job in book selling to publishing (newspapers then book publishing) as an editor and writer. My last job before I made the leap to tech was actually, and purposefully, tech-adjacent: a managing editor gig at an IT website."
"I inched toward tech because I was getting in my mid-30s and realizing two things: First, that I was being paid peanuts in print publishing, and jobs editing in Chicago were getting really difficult to find. Second, and related to money, that oh crap, I'm going to have to retire someday. I'm an anxious person by nature, a planner and that realization hit me hard."
A Tech Job Doesn't Mean a Permanent Job
Even tech folks get laid off. Microsoft let go of thousands in 2017 amid a booming economy. Apple recently revised its Q4 outlook and announced a hiring slowdown. Even SpaceX is cutting its workforce by 10 percent.
So why get a tech job if it's still risky? While volatile, it's no more risky than other fields — and it comes with bigger payoffs.
Luger experienced a layoff during her first foray into tech.
"When the IT website I worked at was sold and restructured, I found myself out of a job," she says:
My passion is with publishing and editing, but Practical Me kicked in. The way I got into tech was a weird mixture of strategy and luck.

Instead of focusing on job titles — because I really had NO idea what titles there were in tech; I'd argue that they're still ridiculously nebulous — instead I looked for keywords involving skills I enjoyed using: editing, writing, problem-solving, puzzles, organization. The problem-solving and organization led me to a posting at one company that intrigued me.

At the time, and specifically for this position, they wanted someone who could think logically but also creatively, and they just figured with that foundation, they could teach you how to do the software part.

My first position there was Content Production Specialist, which goes back to weird titles, but basically we were the ones in the trenches, taking the customized information per client and producing the customized software. It involved some QA, light bug-fixing, writing custom content and quite a bit of project management.
How to Make the Leap to Tech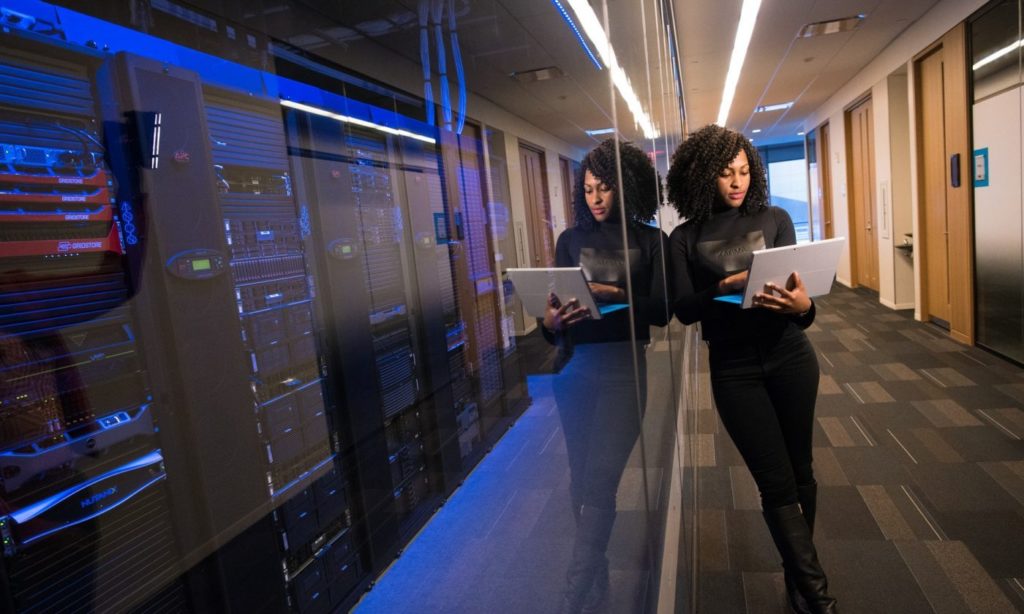 Step 1: Know Your Keywords. When it comes to looking for a job or polishing a resume, keywords are your friend. Don't fake your way into a job by lying on your CV, but instead think about new ways to describe your experience and skills.
Step 2: Talk to Tech Types. Go to networking events or just have a coffee chat with some friends in tech fields. Find out how departments are structured, what jobs entail and different ways those nebulous job titles get shifted from company to company.
Step 3: Don't be Afraid to Try. Job descriptions are often a wish list for that unicorn candidate. If your skills fit the first half of the description (or so), feel free to throw your hat in the ring.
Step 4: Know How to Sell. Having a great elevator speech is one thing. Plan to explain why you should be hired in this brand-new field. Have various forms of that "I'm perfect for this" story for your cover letter, a chance networking encounter or even just talking to friends.
Research, Research, Research
Know the industry! Don't just want to work at Apple because you love your phone. Don't just explore jobs at HP because that's the printer you have at home. Know the trends, pitfalls and yes, even the bonuses of working in tech and use those to write your own story. Finding that narrative can be key to successfully making that leap, or at least getting to that interview stage where you can really explain what you're after.
One tech-career leaper, former journalist Lauren Maffeo, says that getting to know the industry from the outside gave her a chance to create her own story as a potential new hire within the industry.
"I learnt to contextualize the subjects — everything from self-driving cars, digital skills gaps and the role of apps in aid relief — within larger narratives," Maffeo writes at Financial Times. "I knew how to step back and assess how technologies help or hurt their users."
"After a few years reporting on start-ups, I chose to join one," she says "Working on the marketing team of a Silicon Valley company taught me how such companies operate from within. Now, as an analyst, I write about the ways in which businesses use emerging tech to grow."
Maffeo says that her liberal arts education gave her the skills she needed to be successful.
How to Not Feel Like an Imposter in Your New Job
Luger notes that it can be difficult to learn a new job even after you're hired. We all feel a little bit of imposter syndrome from time to time — even on a good day, in a job we know. But in a new field it might be a significant cloud until you build confidence and experience.
"After a couple years, I've moved to a position as a Product Manager," says Luger:
It is… quite a bit harder. My role sits in the middle of strategy (I'm deciding what products and features should be built next and down the road), the tech side (working daily with developers, UX, etc, to make the product) and business (making sure what we're doing makes business sense to pursue).

You kind of have to wear All of the Hats. I still do a lot creative thinking and problem-solving, which I love, but I also have really gotten into leading teams, moving the ball forward, that sort of thing.

My job involves a lot of empathy for our clients, end users and coworkers, which I dig. At least then it's not all beep-boop robot talk. I like feeling I'm digging in and figuring out how to solve problems that affect real people.
Why You Might Want to Learn to Code Anyway
Even if you're able to make that leap to tech without knowing how to code, it's still not a bad skill to pick up.
Weekend or evening online courses through companies like Code Academy, Skillshare or Udemy are good places to start. You could also see if your current job or school offers courses free of charge for you to expand your skill set.
What types of soft skills does coding offer? Plenty that are in demand in any field!
Communication skills
Problem solving
Teamwork
Research
Creativity
and more!
Plus, when you have coding as a skill on your resume, you'll make yourself that much more interesting to hiring managers. In addition, you can connect better with the true techies on your team if you speak the same language.
Jobs in Tech That Are Hot Right Now
If you want to get a tech job, you can always look at positions that are hot hot hot for 2019, and ones that could be a good place for a crossover candidate like yourself. They include:
Data Scientist: Analyze all that great data companies are constantly obtaining. If you can make sense of numbers, organize information into reports or trends, or even show off some taxonomy skills like a librarian, you could make a great data scientist. Our data shows data scientists make an average salary of $91,494/year.
Scrum Master: A type of project manager, being able to lead a cross-department team is a big plus to any organization that operates with an Agile format. Scrum Masters earn an average salary of $86,000/year according to PayScale data.
Application Architect: While often tech-focused folks who get to design applications, they also must have people skills to herd those cats and get a team to play nice. PayScale data puts the average application architect salary at $109,220/year.
Plus, you can look for careers in growing industries that are tech based, but still need lots of non-techies. You might peruse jobs with companies working on cloud computing, artificial intelligence or mobile apps.
TELL US WHAT YOU THINK
Have you made a switch to a tech job? How did that leap go? We want to hear from you. Share your story in the comments or join the conversation on Twitter.