Quitting your job sounds like it should be easy. As long as you don't flip over a table, Housewives-style, or call anyone any names, you're golden, right?
In all seriousness, there is a science and an art to quitting in a way that won't haunt you down the road. Most industries are like living a small town: mess up with one person, and it's liable to get around. The key is to do your prep work ahead of time, so that you can exit as elegantly as possible.
Brittany Schlacter at Come Recommended has a list of things to do to prepare for your eventual departure. What struck me about it was how heavily each suggestion relied on thinking long-term, far ahead of your quit date.
1. Assess the situation. Don't just think about your blue-sky perfect job. Assess your skills, ideal working environment, and goals to figure out what you're looking for today and down the road. "This sort of assessment helps combat two completely opposite situations: sporadically quitting your current job out of frustration or staying in it for far too long," Schlacter writes.
2. Make a plan. Come up with a rough timeline of when you want to leave, what your job search goals are, and how you plan to search for your dream gig. Update your resume and your social media to reflect your new direction. (At home, and after carefully updating your settings to make sure the boss can't snoop on your search, of course.)
3. Find a mentor. Using your professional connections, try to find someone whose career you respect to guide your process.
Finally, it almost goes without saying that when you do find your new job, you'll need to be professional about exiting the old one. Give plenty of notice, speak to your manager face-to-face, and thank everyone at your old company for the experience. Even if the job itself was terrible, the experience is part of your road to the career you deserve. Be gracious — and move on to that next gig.
Tell Us What You Think
We want to hear from you! Do you have a great quitting story? Leave a comment or join the discussion on Twitter, using the hashtag #MakeItHappen.
More from PayScale
Why 90% of Startups Fail [infographic]
Mastering the Art of Asking for a Raise
5 Things to Think About Before You Accept a Job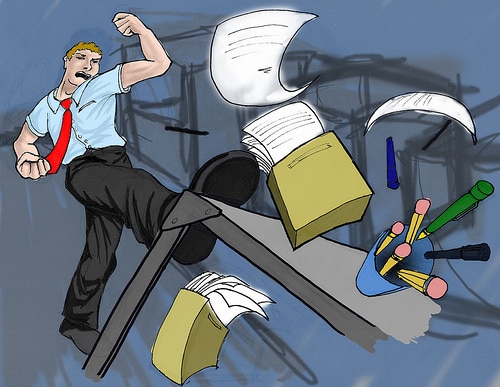 (Photo Credit: rocketace/Flickr)