During a slow economy, it's hard to turn down even the least appealing job offer. But there are a few danger signs which, if they come up during an interview, are a definite sign that you should not take the job.
Learnvest has a full list of signals that you shouldn't accept the offer, but for the purposes of this post, I'm just looking at things that come up during the interview. After all, if the company can't hold it together for an hour or two, things probably aren't going to get better once you sign on the dotted line.
1. You Feel Like a Nuisance
The person you were supposed to meet with isn't there. The interviewer herself is absorbed in her phone, her email, or the inner workings of her own mind. No one makes eye contact, and everyone seems distracted. Get out of there while there's still time.
2. The Interviewer Doesn't Know the Answers to Your Questions
Provided you're not asking super tricky questions — e.g. the air speed velocity of an unladen swallow — your prospective employers should be able to give you answers. If they don't know the scope of the job, the pay range, or anything about your day-to-day responsibilities, don't accept a job with them.
3. They Offer You the Job on the Spot
Sounds amazing, right? Not necessarily. If an interviewer does a hard sell during your conversation, and presses you to accept right away, you should probably ask yourself why he's so keen to get you to accept on the spot. No matter how amazing you are, most companies will give you the time to consider before accepting an offer. If they don't, you should question their motives.
Tell Us What You Think
We want to hear from you! Did you ever get a sign during an interview that this wasn't the job for you? Leave a comment or join the discussion on Twitter, using the hashtag #MakeItHappen.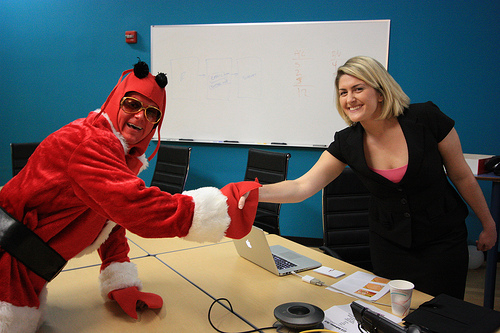 (Photo Credit: Ted Murphy/Flickr)