Would you walk ten miles in the snow just for a shot at a minimum-wage job? Indiana teenager Jhaquell Reagan did just that, netting himself a better-paying gig, media coverage, and almost 27,000 likes on Facebook in the process.
Reagan's story starts out a sad one: after losing his mother two years ago, the teenager quit school to care for his younger siblings. He got his GED, but was unemployed when he heard about a job opening at a convenience store ten miles from his home.
One day in late February, during an ice storm, he made the journey to interview for the position. He didn't have any money for bus fare, so he set out on foot.
Part-way there, he ran into local restaurant owner Art Bouvier, who was putting ice-melt on his parking lot, and asked him for directions. Bouvier advised him that the store was still seven miles away, and advised him to catch the bus. The teenager thanked him, and kept walking.
Some time later, Bouvier was driving home when he spotted the teen, still on foot. This time, Reagan admitted he didn't have money for bus fare. Bouvier was so impressed, he gave him a ride — and a job at his restaurant.
"You hear too many stories about people that want work, but it's got to be the right work. It's got to be glamour work; it's got to be high paying work, a management position. And then here's a kid who knows there's work available, and it's hard to get, and it's hard to do, but he'll do it," said Bouvier in an interview with WLFI.com.
So the next time your grandparents tell you about how they walked to school, three miles, barefoot, in the snow, tell them about Jhaquell Reagan, the hardest working teenager in the U.S.
Tell Us What You Think
We want to hear from you! Would you walk ten miles in the snow for a job? Leave a comment or join the discussion on Twitter, using the hashtag #MakeItHappen.
More from PayScale
How the Recession Replaced Mid-Wage Jobs With Low-Wage Jobs
3 Productivity Tips for Lazy People
3 Things You Can Learn From Your Not-So-Dream Job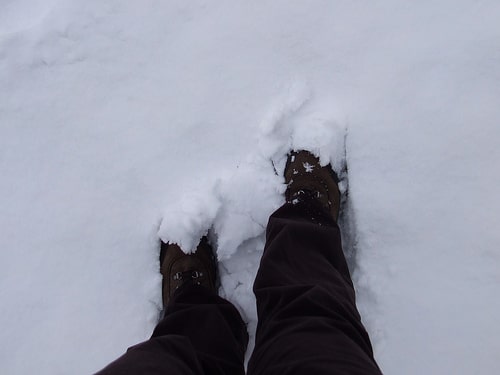 (Photo Credit: chatiryworld/Flickr)