The career search isn't just for the unemployed, and in a recent column, Paradigm Staffing founding partner Lindsay Olson offered five tips for job-hunting when you're employed. While you'll probably want to do the majority of your research from the privacy of your home or another out-of-office location, these strategies will hopefully help you land your next position.
Dedicate set periods for the job hunt. This ensures you don't shirk off existing responsibilities at work or home. Allot time for cover letter and resume preparation, as well as time spent following up with hiring managers.
Stay organized. Create a spreadsheet or similar system to track jobs to which you've applied. Catalog key details such as the hiring manager's name, information about the position and other contact information in this spreadsheet.
Use tools to streamline your job search. Track relevant Twitter hashtags, subscribe to email updates or RSS feeds of niche job boards, and use job aggregators like Simply Hired and Indeed.com.
Schedule interviews wisely. You may need to get creative with your paid time off or vacation days if there's no way an interview can take place outside of business hours. Olson suggests scheduling a job-hunt vacation day, ideally spent with multiple job interviews and networking coffee breaks with local business groups or other key contacts.
Don't talk about your job search at the office. You don't want to have an uncomfortable conversation with your boss before you're ready.
What tips would you add for job-hunting while still employed?
More From Payscale
Man Blames Google for Unsuccessful Job Search
Online Marketplaces for Independent Workers Continue Growth Spurt
Kai Herbert Sues J.P. Morgan Over Salary Typo in Contract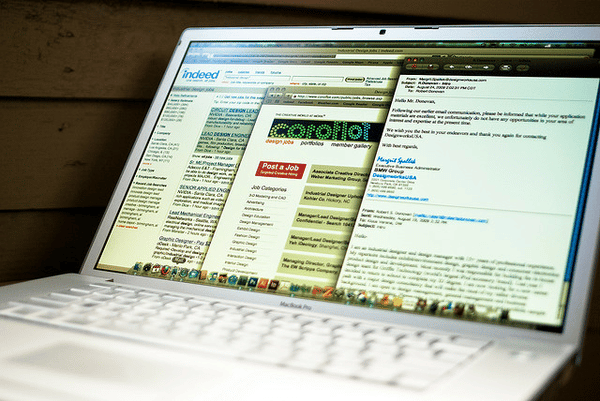 (Photo credit: Robert S. Donovan/Flickr)