You love beer, but you don't necessarily want to sling pints behind the bar. Good news: selling beer by the glass isn't the only way to earn a living from hops. Here are some happy, hoppy beer jobs for anyone who wants a beer career.
Become a Beer Expert With a Cicerone CertificaTion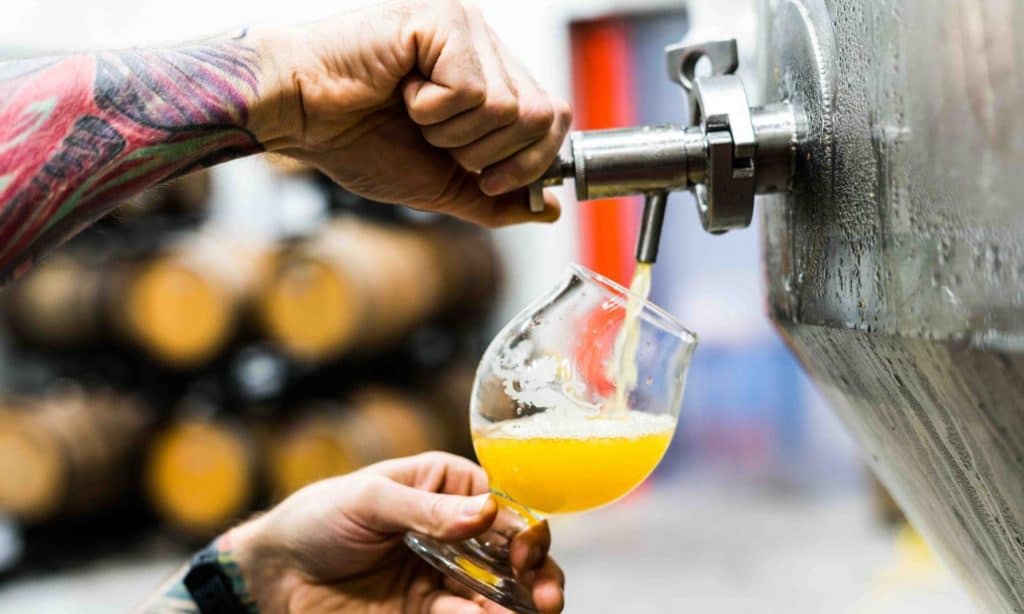 What's a Cicerone? Think of a sommelier, but replace wine with beer. A Cicerone can select and suggest appropriate beer for a customer or social situation, based on food pairing or preference. This is one great way that you can take your passion for beer to a place of authority. You get certified as a cicerone through a series of exams, administered in the U.S. by the Cicerone® Certification Program.
"Those who earn the title of Certified Cicerone or above have demonstrated knowledge in a number of areas, like beer styles; beer service; beer and food pairing; and beer processes and ingredients," says Jenny Pfafflin, Advanced Cicerone and Exam Manager at the Cicerone Certification Program in Chicago, in an interview with PayScale.
In her day beer job, Pfafflin coordinates and schedules the second-level exams for North America. She also writes tasting exams and proctors them, which often involves traveling across the country. She came to the Cicerone Certification Program after a lifelong love of beer lead her to the industry.
"I like working with my hands; I like exploring taste and flavor; and I spent a lot of time in Wisconsin," Pfafflin says. "I also like working for small, family-owned businesses. It's what I've known my entire working life."
In fact, Pfafflin loves beer so much, she works at a side job that's suds-focused, as well. At Dovetail, a local brewery, she serves traditionally brewed continental European-style beers in the taproom. She's even had a chance to help influence their offerings.
"I took a taproom job, because I think it's important to practice what you preach," Pfafflin says. "The brewer / owners also gave me control of the social media accounts, so I try to be a good voice for the brewery."
"I went to Prague and came back inspired to write the recipe for our Czech Dark Lager," she says.
Ultimately, to move ahead, Pfafflin recommends getting a certification, like the Cicerone program.
"I think having at least the second level of Cicerone Certification is a way to open doors to positions in training and education within the industry, since it's a snapshot that you can bring to people to demonstrate your beer knowledge," she says. "There are a lot of internal opportunities for training and education in-house at breweries and distributors."
With the certification comes an increased opportunity in an industry that has a lot of "fans" but maybe not as many "experts." The good news is getting a certification like Cicerone can be a big boost to your earning potential. According to PayScale salary data, the average yearly salary of someone with Cicerone certification is $45,000.
Help Restaurants Buy More Beer as a Beverage Director
Perhaps with that certification under your belt, you can find a job helping restaurants plan their beer menu. As a beverage director, you'd work at a larger space, like a major restaurant chain or a banquet hall. You'd partner with management as well as chefs to plan out beer (and wine) for the menu, as well as keeping the finances under budget. The key to making all this happen is having good knowledge of what's available and interesting to your clientele, as well as what's appropriate for food pairings.
It's not an easy job. The beverage director can get caught in a squeeze between good times and profits. It's also a challenge to stay on top of industry trends. (Are IPAs in or out? What do we think about Zima's comeback? What of lavender?)
You may also be interested in a similar job as a sales rep for distribution companies or breweries. Having a thorough knowledge of your product doesn't mean that you sit around drinking all day (though you probably need some first-hand knowledge). Instead, a background in sales is helpful, as is a willingness to make friends and build relationships with various restaurants, bars and their respective management staff.
In this role, you'd likely work with marketing staff and others to develop new clients in an area. It would likely involve a flexible schedule (think nights and weekends, plus travel) and some willingness to work at promotional events, as well as do mundane things like prepare spreadsheets and reports.
Food and beverage directors earn an average salary of $67,692, according to PayScale data. Sales representatives can be harder to pin down, as they often have quotas and incentives to factor into base salaries. Our data shows that a regional sales manager earns an average salary of $80,986.
Get in the Dirt as a Beer Farmer
Those who grow, know. The farmers who produce wheat and barley for brewing are valuable members of the cult of beer. But let's also not forget those who grow the hops, without which we wouldn't have any brews at all.
Hops farming has had a lot of growth (sorry) in recent years, as hoppy beers like IPAs are all the rage. But hops farming is still farming — and it takes a lot of grit to make it profitable.
American hops have primarily been grown in the Pacific Northwest, but are hearty and can be grown nearly anywhere, notes Dan Nosowitz in Modern Farmer.
"Hops can be a lucrative crop to grow," writes Nosowitz. "The giant providers out in the Pacific Northwest are wholesaling for as little as $3 per pound, but Gorst Valley's small-scale hops can net as much as $15 per pound, giving the crop the potential to be an extremely profitable plant. At that higher price, hops yield around $25,000 per acre. Compare that to, say, asparagus, which nets less than $1,200 per acre."
"That kind of money can cause potential hops farmers to develop dollar signs in their eyes," Nosowitz says.
But the crop can also be ruined if picked late by a matter of three days, can rot, be riddled with disease, be covered in fungus, or any other host of problems. Plus, because of the tall trellises that they grow on, you have to spend a great deal of time training the vines by hand so they grow the right way. Miss that mark, and your vine won't yield much at all.
Hops farming isn't all about sitting back with a cold one and growing money on trees (or vines), that's for sure.
Determining how much you'll earn as a farmer is hard to pin down even with data on your side. PayScale salary data shows an average hourly income of $12.63, but earnings a vary by crop, yield and market price.
Make it all Clean as a Draft System Maintenance Technician
How does the beer get into the glass? Draft lines are how. And every respectable establishment needs a trained maintenance tech to keep those lines running clean.
"Line cleaning should be performed a minimum of every two weeks. Trace minerals, namely calcium oxalate, take a foothold in a beer line's minor imperfections. This buildup is called beerstone, and it's the barnacle of beer," writes Bryan Buser in The Growler. "Over time, beerstone traps bacteria, mold, and yeast, and creates a miasma of bugs hell-bent on destroying the flavor of your beer. After two weeks, beerstone can build to a point where these creatures begin to produce traces of off flavors."
Pfafflin says it's a key beer job that you can break into easily, albeit at the bottom. You can keep an eye out for job openings, or take some initiative.
"Go to your favorite bar or brewery and ask who cleans their lines (hopefully, they have someone!) — then, it's just as easy going to that company and asking, 'Hey, this is something I'd like to do!'" she says. "No background in beer or plumbing is needed, though, familiarity on how draft systems work will make you a more successful technician, but this is something you'll learn on the job."
While PayScale doesn't have specific data on this role, a maintenance technician earns an average hourly salary of $45,034, according to our survey.
Beer Jobs Won't Make You Rich. But They might Pay Off in Other Ways.
Ultimately, those who are drawn toward the beer industry are often into the idea that beer is down-to-earth. The beverage has a long history as a working-class beverage of choice, and for good reason: before clean water was a thing, it was a working person's best bet for a drink that wouldn't make them sick.
The quality of our tap water may have improved (somewhat), but working in beer is still a bit of a working-class gig. You likely won't earn a fortune in beer, unless you count warm fuzzies in your tally.
"There's a lot of long hours, a lot of turnover, and you might just make enough money to be comfortable, but it's probably not going to make you rich," warns Pfafflin, when asked about the trials of working in the beer industry.
But "sharing a beer is like sharing bread, so there's a lot that's born out of tradition and community," she says. "The best spaces in the industry provide this; and there's something very rewarding about being part of that."
TELL US WHAT YOU THINK
Do you have a dream beer job? We want to hear from you! Leave a comment or join the discussion on Twitter.