PayScale has always been interested in making sure you're paid what you're worth. Now, professional networking powerhouse, LinkedIn, is joining the effort in a fresh partnership between the two companies. Are you negotiating a raise, planning to take your skills to a new city or reviewing a job offer? You have a stronger team than ever to support and inform you.
PayScale and LinkedIn have partnered to help you research and prepare for nearly any career and salary negotiation scenario. LinkedIn users can now compare their salary to their professional peers based on key data, such as tenure and geographic location. Just head to PayScale.com and login via the "Sign in with Linkedin" button. (You must have a profile on LinkedIn, but who doesn't by now?)
You will use your LinkedIn profile to get an instant salary report. How you ask? All you have to do is follow the steps to confirm your job title, while importing your current job info from your LinkedIn profile, and a PayScale Instant Salary Report will magically generate. It's super simple and yet the report is chock full of valuable information, such as an analysis of salaries of other professionals with the same job title, the median salary by type of degree and even jobs available in your profession.
And if you hunger for even more knowledge, you can provide additional information about your current role and receive an even more comprehensive report to get the full picture. This additional input includes things like certifications and specific skills you may have that may further differentiate you from your peers. Now if only they could do the negotiating for you…
Privacy is paramount to both companies and they promise they won't share your personal data or post to your LinkedIn account without your explicit permission.
Author Bio: Sandy Jones-Kaminski is a self-described networking enthusiast and the author of "I'm at a Networking Event–Now What???" She's been an executive in the HR industry and was recently the VP of Networking for one of the largest chapters of a national professional development and trade association. Sandy shares her professional insights on LinkedIn, personal branding and effective networking via webinars, one-on-one coaching, workshops and by facilitating in-person networking events called Pay It Forward Parties. You can connect with her via her website at http://www.belladomain.com or via sandy@belladomain.com or 415.613.8508.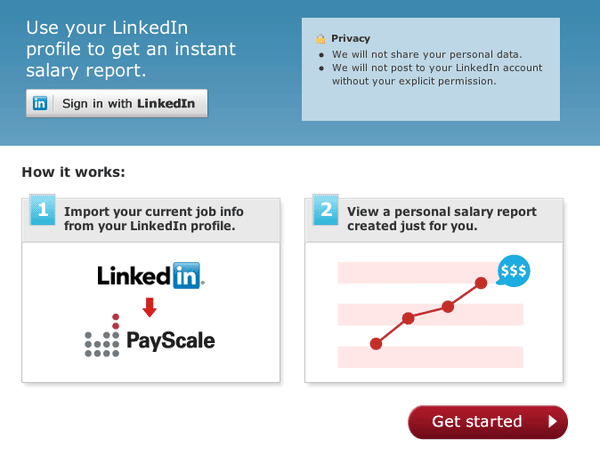 More from PayScale
5 Things Employers Look at While Screening Your Facebook Profile
Woman Interviews 10 Times for the Same Job