Last week, after we released our Office Romance Report, we asked you to tell us your most romantic work stories. Turns out, many of you met your spouse in the office. In honor of Valentine's Day, we at PayScale are wearing red, eating chocolate, and getting a little mushy over your stories. Grab a box of chocolates and read these stories that will melt your heart. 
A Pizza Romance
Even though they met first in a bar — he actually offered her a light for her cigarette — their paths didn't cross again until they became coworkers. M was working as a customer service representative for a Texas pizza chain and her future husband, another M, was one of the delivery drivers. Soon, he had worked his way up to store manager and their days continued to intersect. Finally, frustrated with how slowly things were moving, M's roommate S arranged a movie date for the two shy pizza-lovers. Their romance wasn't without turmoil, as a few coworkers complained about special treatment with weekend scheduling, but they persevered and have been married since 2002. They have opened two new pizza stores and have one beautiful son. How's that for a slice of romance?
The Ultimate Ultimatum
R, a project manager, and M, a telecom manager, were friends and coworkers who attended an executive mixer one evening. Neither were directly invited to this mixer but both ended up there, by some twist of fate or Cupid's arrow. They soon started dating. Their employers told them their romance was to stay a secret until either A) they got engaged or B) one of them left the company. M got a new job six months later, and six months after that they were engaged. R and M have now been together for almost 14 years and married for almost 12. 
Startup Romance
S and D were both employees at a small startup in Austin, Texas. She was in sales and he was in IT. They soon married and now "have three kids and have lost all the sanity we ever had!"
Bill Gates: Matchmaker
S and U were working on the same team when they met, though not directly. A few months later, a mutual friend introduced them on a ski hill. U considers this day their actual "meet-a-versary" and says she recognized S as, "that guy who had asked me questions in meeting a couple times." They were married in 2012. Today, U says, " It's funny to think now that we did all that talking shop with zero idea how deep a personal connection we would eventually forge."
A Physical (Therapy) Connection
A describes meeting J: "We were hired the same year, but in completely different departments. I had an ankle injury, hurt my achilles running, and went to him to do rehab on it. We've been together ever since! He even proposed at our workplace — sounds odd, but it was sweet! Ankle injury turned out to be the greatest thing!"
You Complete Me
The best love story today comes from Nick R. We will let him tell you his story in his own words. 
"I was fired from my sports management job, decided to start my own agency, and a co-worker joined me on the new adventure. At the time I was engaged, but as that relationship started to fall apart I started to get closer to the co-worker and her son. Long story short, the co-worker and I got married, it almost fell apart, but then I repeated something I overheard in an elevator once and now things are fine."
Congratulations on making it work, Nick! We look forward to seeing a movie of your love story someday.
Tell Us What You Think
We want to hear from you! Did you meet your spouse at work? Share your story in the comments. 
More from PayScale
Office Fashion Week: Playing Dress-Up
5 Ways to Manage Your Emotions at Work
How Successful People Spend Their Weekends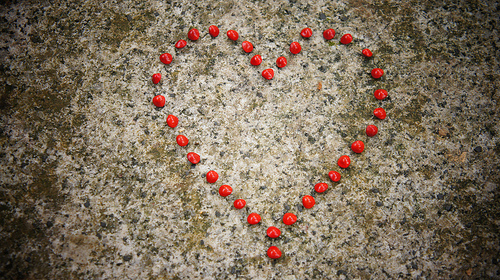 (Image Credit: epSos.de/flickr)