Forbes contributor Mark Fidelman recently visited a Microsoft Technology Center and called the tech giant's vision of workplaces of the future "brilliant." What factors drive this glowing description?
First, a little context: MTCs are essentially storefronts for enterprise customers, placing Microsoft products and technologies in office simulations so corporate customers can envision them in a variety of circumstances. The MTC Fidelman visited was overwhelmingly digital in nature, forming an infrastructure that enables the easy integration of mobile, social, content, analytics, collaboration and learning. This adaptive workplace meets employees' needs and is thereby far more personalized than offices used in prior generations.
The specifics are quite promising: a network of digital smart boards and screens that enable, say, meeting leaders to push content from the screen to attendees' mobile devices, and for participants to share content from their mobiles back to the screen. Fidelman also described a ceiling grid that, "at the press of a button, moved curtain walls, increased Wi-Fi bandwidth, chanegd the lighting and set up a smart board with the previous day's work." Such flexible workspaces, he continues, shape-shift according to that particular employee's work needs.
Other technologies described facilitate information capture, real-time employee feedback, measuring emotional IQ and continuous company improvement. Are you excited for the future as presented by the Microsoft Technology Center?
More From Payscale
Top Tech Dollar: Which IT Employer Pays Best?
How Much Do Workplace Distractions Cost Businesses? [infographic]
19-Year-Old Secretly Lives at AOL for Two Months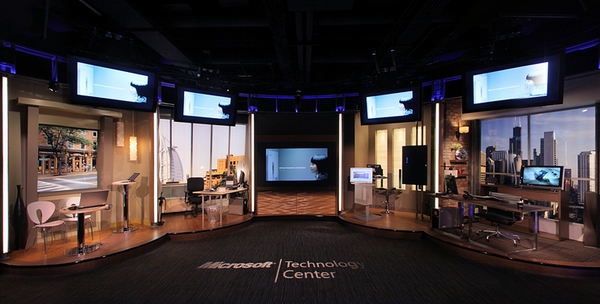 (Photo credit: Forbes)