The recession has influenced nearly every fiber of society, but especially the relationship between businesses and their employees. New Harris Interactive research reveals that 57 percent of employed Americans had paid vacation time that they hadn't used before December 31, 2011. These findings come hot on the heels of a Sageworks study that found company profits-per-employee are the highest they've been in 10 years. Have we, as a nation, sworn off vacation to stay employed?
Experts posit that recession-induced layoffs and larger workloads for employed Americans may contribute to the profit bump. Put simply, folks with jobs may not feel they have the ability to take time off due to their work responsibilities, personal finances or job security. "We don't have exact information on why profits increased, but I think it's safe to say it's a combination of people spending more time at work and technological advancements," said Libby Bierman of Sageworks to CNN Money.
Part of the issue could be that the U.S. doesn't mandate paid time off for employees. The governments of the U.K., France and Germany require 28, 25 and 20 days of paid vacation days, respectively. Here's a breakdown of required paid time off by country: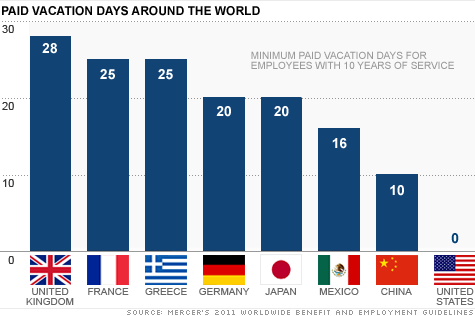 The average vacation time in the U.S. is paltry in comparison to some of the countries in the European Union. Here's our data on the average number of vacation weeks broken out by years of experience:
Average Vacation Weeks by Years Experience – Country: United States (United States)
Compare your salary: Get a free
Salary
Report
Americans' collective reticence to take a vacation from work has untold effects on various facets of health and wellness. We know that disengaged workers, or those who are "pulled" to work rather than "pushed" to work, have higher rates of burnout. And job-related stress has ties to decreased productivity, overeating and even rates of death due to heart disease.
Do you take your company-allotted vacation time each year? If not, why?
More From Payscale
Why Your Boss Shouldn't Want You to Multitask
5 Peculiar Facebook-Related Firings: Will the Facebook IPO Change How We View Free Speech Online?
Simple Ways to Work Out at Work [infographic]
(Photo credit: Kennymatic/Flickr)