Path.to is the latest startup that's promising to reinvent the job search through personalization. (For more, see ApplyApp.ly, Tidepool and Company Muse.) Users first link their Path.to profile to social media and professional communities like Twitter, Facebook, Github, Behance and Dribbble; Path.to then analyzes your activity on these accounts to recommend jobs that mesh best with your expertise and interests.
"It's not just about where you want to work, it's about where you're going to have the most success," founder Darren Bounds told Mashable. "What are you going to enjoy?"
So how does Path.to differ from, say, eHarmony? "What eHarmony is looking for is a deeper, emotional understanding of a person for a broader set of reasons," explained Bounds. "Ours is for a more specific purpose."
Path.to opted to launch by only listing tech jobs in the Bay Area; over 120 startups have signed up to have their job openings posted thus far. Do you think the startup can shake up the job-search experience?
More From Payscale
Finnish Study Links Work Burnout to Overeating
Smart People Take Less Sick Leave
Gender and Salary Perception: Are Men or Women More Positive?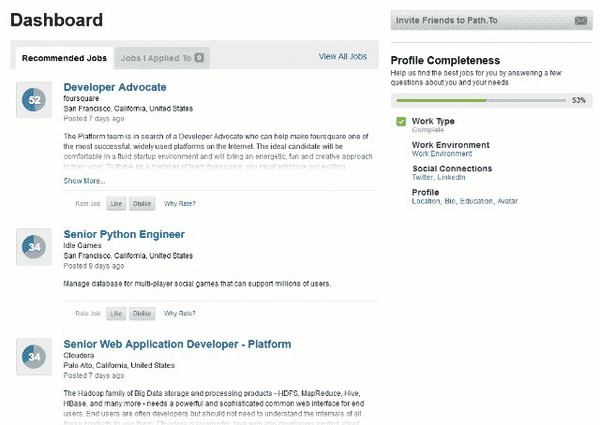 (Photo credit: Mashable)