Bosses in the U.S. and Europe are far less strict about employee punctuality than they used to be, according to new research, and the rapid adoption of cloud services, mobile productivity solutions and smartphones is partially to blame. Mozy, a data protection company, studied 1,000 employees and employers and found that 73 percent of managers are understanding about late arrivals. Considering the amount of time employees are putting in outside of the standard 9-to-5 workday, they have no reason for concern.
Chew on this: by 7:00 a.m., 20 percent of employes have already checked their work email. The average employee begins checking work email at 7:42 a.m. By the time the average worker strolls into the office at 8:18 a.m., she has already done up to 46 minutes worth of work. After she leaves work for the day at 5:48 p.m., she'll continue working until 7:19 p.m., adding up to a workday that hovers right around 12 hours when you factor in a one-hour lunch break.
The relaxed attitude towards timekeeping doesn't stop at office hours. About 15 percent of managers in the U.S. reported that they feel comfortable calling or contacting employees anytime before 9:00 p.m.; in the U.K., 16 percent said it was acceptable to call employees as late as midnight.
"Employers are giving employees better tools and more flexibility around work time and work place, but in turn they are asking that they be more available throughout the day," said Gytis Barzdukas, the senior director of product management at Mozy, to Mashable.
Where do you stand on this work-life tradeoff? Would you prefer to work a flexible schedule but risk all-hours calls from your boss, or work the standard 9-to-5 workday with a strict expectation of punctuality but avoid the after-hours contact?
More From Payscale
How Does Digital Stress Affect Your Brain? [infographic]
Measure Your Personal Productivity Quotient With David Allen's GTD-Q Test
To Succeed, Don't Emulate Bill Gates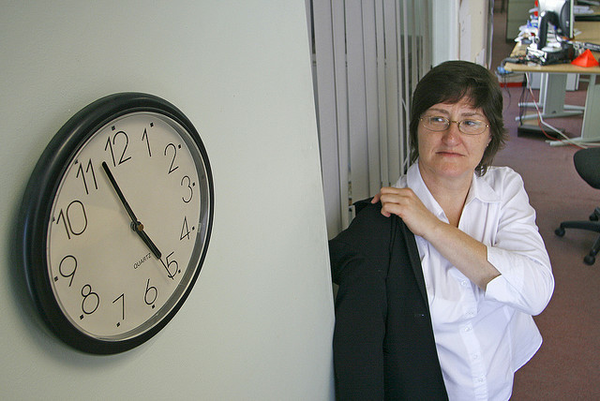 (Photo credit: Alan Cleaver/Flickr)