We all know that not all jobs are created equal, and this infographic outlines some of the most thankless jobs in the U.S. based on public opinion, salary, stress and work environment. Can you guess what service workers have the worst combination of pay and job conditions?
Perhaps unsurprisingly, dentists are the best of the worst in this infographic. Their median salary of $142,870, high public esteem and relatively stress-free work environment are a stark contrast to the plight of social workers, who make just $39,350 annually and don't enjoy nearly the same degree of public respect.
Even social workers are better off than those in the military, who earn an average of $28,018 annually and had by far the most stressful jobs and least favorable work environment in the group. Garbage collectors, firefighters and IRS agents also reported having particularly stressful jobs.
Check out the full infographic below. Are you surprised to see any of these positions classified as one of the most thankless jobs?
More From Payscale
Writer Posts Fake Craigslist Job Ad to Size Up Competitors
3 Things You Can Do to Make Your Office Healthier
Are Female Doctors Really Getting Paid Less Than Male Doctors?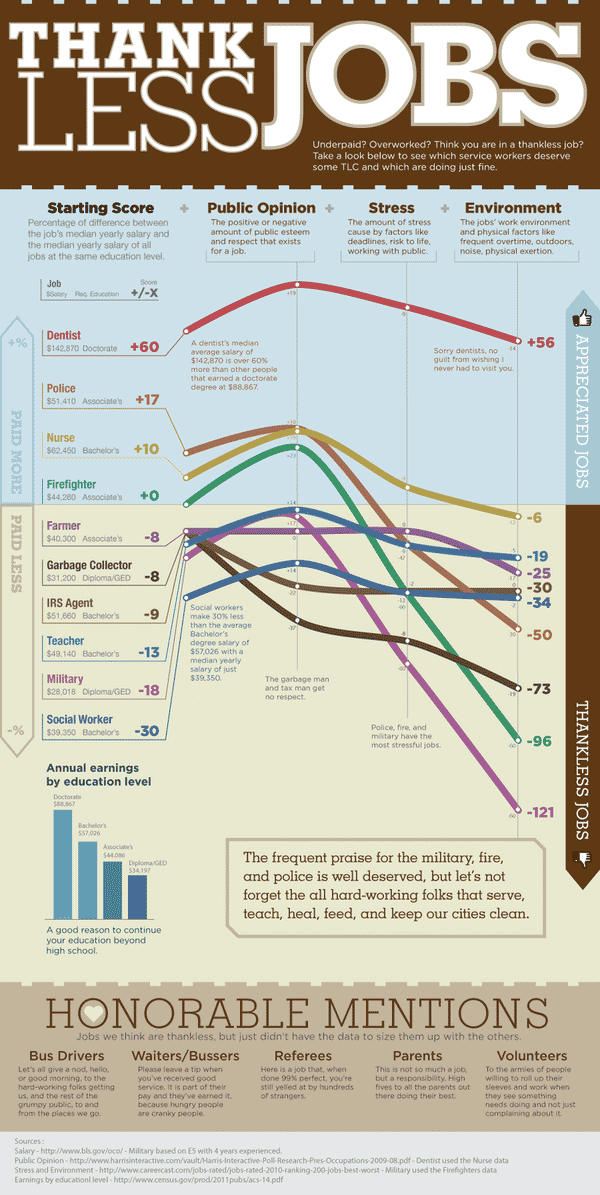 (Photo credit: Visual.ly)