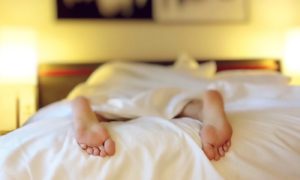 How much sleep did you get last night? If you're like most people, the answer is: not enough.
According to a 2013 Gallup poll, Americans average 6.8 hours of sleep a night. That's down more than an hour since 1942, and shy of the CDC's recommendations of seven or more hours of nightly sleep for adults aged 18 to 60.
We're not the only ones burning the midnight oil, either. More than 92 percent of Japanese people say that they don't get enough sleep, according to a survey from health-products maker Fuji Ryoki. Now, one employer hopes to change that.
Crazy, Inc., a wedding organizer in Japan, will award points to employees who sleep six hours a night for five or more days per week. An app by a mattress manufacturer will track workers' sleep; those who get enough rest can exchange their points at the company cafeteria for food valued at up to 64,000 yen ($570) annually.
Better Sleep May Lead to Higher Productivity
"Employees with happier lives will lead to better performance at the office," said Kazuhiko Moriyama, CEO of Crazy, Inc. "You have to protect workers' rights, otherwise, the country itself will weaken."
Japanese culture prizes commitment to work … sometimes to employees' detriment. Death by overwork has become a recognized cultural phenomenon. In 2015, Matsuri Takahashi, a 24-year-old worker at an ad agency died by suicide after working "hundreds of hours in overtime," per The Telegraph, which reports that 12-hour or longer workdays are common in Japan.
Moriyama's plan may indeed help Crazy's bottom line, as well as improving workers' lives.
"There's some evidence that more sleep will lead to improved business performance and higher economic growth," wrote Marika Katanuma at Bloomberg. "Insufficient sleep costs the U.S. economy as much as $411 billion a year, or 2.28 percent of GDP, according to a 2009 study by Rand Corp. For Japan, the loss is estimated to be $138 billion, or 2.92 percent of GDP."
Tell Us What You Think
Would you choose an employer based on a benefit like this? We want to hear from you. Share your thoughts in the comments or join the conversation on Twitter.