All parents want their kids to succeed, but some are really willing to go the extra, slightly creepy mile to make that happen. For example, the recent Adecco Graduation Survey reveals the three percent of recent college grads had mom or dad come with them to job interviews. One percent of grads said their parents then wrote their thank you notes for them afterwards.
Perhaps it's desperation that's driven parents to this. Half of all recent college grads report being unable to find full-time employment, and many are surviving by crashing with their folks for longer and longer periods of time.
The Adecco survey offered further terrifying statistics for parents of recent grads:
Half of recent grads say that their parents help cover some of their living expenses, such as food, healthcare, internet access, and cell phone bills.

 

 
Two percent say their parents foot 100 percent of their bills.

 

 
One-third say that their parents are helping them to find work. This includes assistance preparing resumes and cover letters. Ten percent of grads said their parents gave them a lift to their interviews.

 

 
One in four students said they wouldn't take a job that didn't allow them to take personal phone calls at work. Twelve percent said they weren't interested in jobs that wouldn't let them check Twitter or Facebook during working hours. And perhaps best of all, 20 percent said they wouldn't work at a place that wouldn't let them shop online.

 

 
Perhaps least realistically of all, three out of four grads surveyed said they expected to find jobs with security and health benefits.

 

More From PayScale

Intelligent Spending: Best and Worst Colleges for Tuition ROI

Do Men Really Earn More Than Women?

5 Ways to Manage Your Emotions and Avoid Venting at Work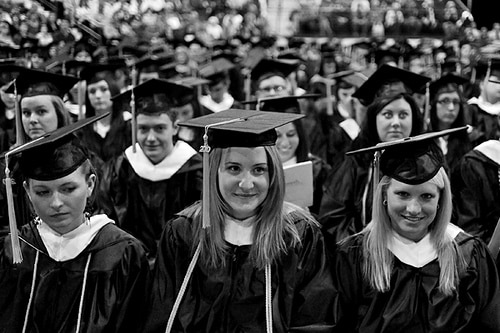 (Photo Credit: Brady Dillsworth/Flickr)