Back in 2011, Obama promised the complete withdrawal of troops from Iraq and a significant reduction of troops in Afghanistan by year's end, both of which would cause a significant influx into the U.S. labor market for 2012. Where are these veterans going to go? What type of jobs are they suited for? And, what industries are even hiring in today's hurting economy?
We decided to address these questions by looking at what current veterans are doing in hopes of providing advice to those coming home from the Middle East. Continue reading after the break to see what we found.
Are you a veteran and curious about jobs that are available to you with your given set of skills and experience? Visit our PayScale Research Center to discover what people like you are doing.
Technology Jobs are Tops for Veterans
Using our extensive database at PayScale, we determined the sixteen most common, well-paid and quickly growing professions chosen by veterans. Specifically, these jobs are held by a higher percentage of veterans than the typical job, pay more than the typical job and are predicted to be growing faster than the typical job (as predicted by the Bureau of Labor Statistics).
| | | |
| --- | --- | --- |
| Job Title | Median Annual Pay (5-8 Years of Experience) | BLS Growth Projections (2008-2018) |
| All Veteran Jobs | $52,900 | 10%* |
| Management Consultant | $87,000 | 24% |
| Program Manager, IT | $91,000 | 17% |
| Systems Analyst | $70,500 | 20% |
| FBI Agent | $77,600 | 17% |
| Field Service Engineer, Medical Equipment | $62,400 | 27% |
| Systems Engineer (Computer Networking / IT) | $67,300 | 23% |
| Information Technology (IT) Consultant | $74,000 | 20% |
| Intelligence Analyst | $69,500 | 17% |
| Helicopter Pilot | $58,600 | 19% |
| Network Engineer, IT | $62,500 | 23% |
| Project Manager, Construction | $66,000 | 17% |
| Technical Writer | $53,400 | 18% |
| Business Development Manager | $72,200 | 12% |
| Network Administrator, IT | $50,000 | 23% |
| HVAC Service Technician | $42,000 | 28% |
| Fireman | $41,900 | 19% |
*BLS Growth rate of 10% is for all jobs, not just jobs held by veterans.
There is a strong trend across the jobs listed in the table above — the majority of the jobs (10/15) are in technology. Therefore, it appears the military prepares its veterans well for today's technological age. We can further see this fact when we look at common skills among veterans. Vets hold the following skills more frequently than the typical worker:
Cisco Networking
Computer Security
Contractor Management
Electronic Troubleshooting
Leadership
Microsoft SQL Server
Program Management
Security Policies and Procedures
Security Risk Management
Similar to the top jobs, the top skills are also dominated by technology skills (6/9). And, fortunately for veterans, technology is a good place to be right now. According to The PayScale Index, pay has been rising in the IT job family since the end of the recession in mid-2009. Rising pay levels signal an increase in labor demand, which means more jobs to fill.
Using some of the data described here, we decided to put these ideas into an infographic that highlights the opportunities for veterans in the tech world, as well as outside efforts being utilized to hire vets. You can see a snippet of the infographic below. For the full infographic, click here.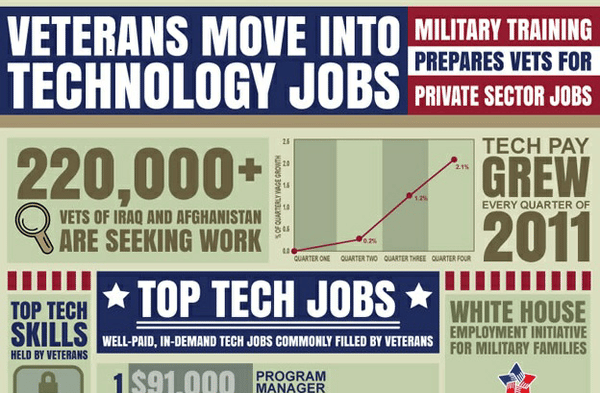 Are you a veteran working in the private sector and wondering how your pay compares to others like you? When you want powerful salary data and comparisons customized for your exact position or job offer, be sure to build a complete profile by taking PayScale's full salary survey.
Regards,
Katie Bardaro
Analytics Manager, PayScale, Inc.