PayScale's third annual Equal Pay Day event just wrapped up and we had a great group of HR leaders, executives and D&I professionals in attendance. We enjoyed rich, honest conversations about how organizations can make real, and faster, progress on pay equity for women, people of color and other historically marginalized populations in the labor market.
Too often, organizations get mired in discussions around the ideal approach or legal considerations and stall out before they begin. The intention for this year's Equal Pay Day event at PayScale was to help organizations move away from one-size-fits-all, high-level discussions and move toward cultivating real tactics that can be implemented within organizations. Our goal for the attendees was that they would leave the event with a vision for what's possible as well as some actionable takeaways to implement immediately.  
Creating an environment for truly equitable earning power touches a lot of different areas. So, we invited leaders who work in the HR and D&I space to lead small-group discussions on everything that matters to ensure equal opportunities for all employees. These mini work sessions covered everything from pay equity analyses to overcoming legal objections to recruiting to career advancement.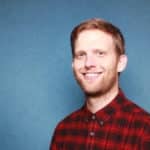 Pay equity analysis was one of the breakout tracks at our event, led by Chris Martin, Senior Manager, Compliance and Analytics at Starbucks.
Pay equity analysis is multi-faceted and complicated. Many organizations are unsure of where to start. In this work session, attendees discussed everything from defining the goals and scope of a pay equity analysis, to how to group jobs for comparisons to messaging.
This blog post aims to provide a perspective on pay equity analysis, based on the conversation from the compensation and D&I professionals in attendance at the event. Pay equity analysis is typically different from a proactive analysis of potential pay discrimination. The content below does not constitute legal advice. Pay discrimination represents legal and financial risk for an organization and typically has stricter requirements and guidelines than a pay equity analysis.
Is closing the "pay gaps" between men and women situated in the same or substantially similar jobs really the right conversation to be having?
Pay equity analyses are typically framed around the idea of examining workers' compensation to understand whether there are unjustified differences in pay, or pay gaps, between workers doing the same job or substantially similar jobs.
However, one of the biggest reasons the unadjusted pay gap is 79 cents on the dollar is because women experience discrimination when it comes to access to the best jobs in the labor market.
The jobs with the highest compensation, including STEM jobs and leadership roles, are disproportionately going to white men. The key to closing the large wage gaps is ensuring executive teams, boardrooms and certain job families are more reflective of the demographics of the overall labor market. We call this uneven access to high-paying jobs the labor market the opportunity gap.
Therefore, framing the pay equity analysis solely around uncovering pay gaps does not account for everything that contributes to the opportunity gaps that exist within organizations.
For example, it is possible an organization has achieved equal pay within the same job level, but women are hired into lower level roles than men with equivalent qualifications and experiences. This type of issue can be hidden. That's why it's important that a pay equity analysis starts with companies looking at their grades and levels, labor markets and making the time to have in-depth conversations with people managers to understand whether current job titles and descriptions reflect the actual duties employees are performing.  
How should we define pay equity?
Every organization has to think through how it wants to define equity. It could mean strictly equal pay for equal work. It could mean having equal representation of employees, regardless of gender, among each levels of the organization. Looking at equity at an organizational level gives you a picture, but it might show the specific area where there are gaps or problems.
The truth is, there are multiple paths to addressing the pay gaps.  
A common question organizations have when approaching a pay equity analysis is this: how should we group the jobs for the analysis? Which groups of employees should be paid the same?
Identifying the "right" groupings of jobs is critically important to ensure accurate and useful results. However, there isn't a one-size-fits all answer to this question, and there are multiple considerations at play.
Ultimately, the solution requires an organization to hone in on their specific situation. Which is the real problem: 1) A lack of female representation in higher levels of the organization? 2) Women at the same level as men aren't being paid the same?
For example, if a company has retail locations and corporate jobs, and there is strong female representation in stores but lower female representation in executive roles (70 percent women in stores, but 50 percent in executive roles), that means the average pay for men is pulled up due to the characteristics of the underlying data.
If an organization is in this situation, they have choices to make: does compensation need to be adjusted, or does representation need to be adjusted? These are two different paths to addressing the pay gaps.
Part of the challenge with figuring out the right job groupings is to determine what jobs truly need to be analyzed together. Typically, analysis is done to understand whether workers within the same level are paid equitably. However, are the levels themselves what they should be? Are the levels consistent across job families and functions so data can be analyzed effectively?
If the initial goal is to determine whether employees doing equal work are paid the same, how do we define equal, which can be hard to measure depending on the kinds of functions?
This is a thorny question. Job titles and job levels are a good place to start, but not necessarily enough. Some titles are extremely comparable (e.g. a barista is a barista). Other job titles may not be as comparable. For example, a data analyst who works in Excel may be performing a different job than a data analyst who works in Python and advanced statistical software. Different locations also have different requirements. For example, Ontario Canada has legislative requirement that different jobs that represent "work of equal value" also must be compensated similarly.
Beyond base pay, what additional measures of rewards should be included in assessing the pay equity situation?
Yes, it's important to consider total compensation, rather than base pay alone, when conducting a pay equity analysis. In general, if target bonus is set as a percentage of base salary, as long as the base is okay, the bonus should be fine as well. However, spot bonuses (awarded based on manager discretion) and sign-on bonuses could be problematic, because these rely upon the judgment of individual hiring managers. When managers within an organization have wide latitude in awarding bonuses, which is common, organizations open themselves up to biases which may result in inequitable total compensation.  
What are some important metrics to look at if we want to see whether we have opportunity gaps or problems with access in our organization?
It is important to examine the proportion of employees within different levels (or pay grades) within an organization. It is possible women are under-represented at higher levels of an organization, or promoted at a slower rate relative to men. Also, it is important to understand how quickly different employee populations are moving up within an organization (promotion velocity), to make sure promotion practices are equitable.
How do you get employees onboard with the analysis you or an external firm perform?
If you share with employees the reason you are conducting an analysis is to examine and ensure people are compensated accurately for the work they do, this can help them get onboard. To enable a sound analysis, it's important to make sure your job descriptions are up-to-date and reflective of the duties an employee is performing. This lends an opportunity for you to have a quality conversation with an employee to understand what duties or tasks are involved for their specific role.
It's also helpful to be transparent with employees around the methodology of how you make pay decisions. Certain information should be shared because transparency helps foster trust. It starts with making sure employees understand what level/grade they are in, what's their range and range penetration, and how they are performing.
What can organizations do if they don't have the bandwidth to conduct a robust analysis?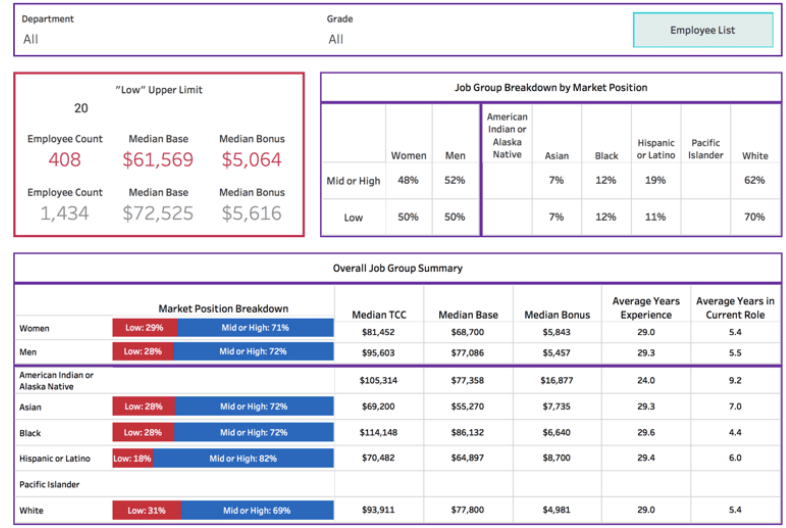 This example report shows employees who are low within their respective salary ranges. It is modeled after UK's Gender Pay Gap Reporting guidelines. 
If you are short on resources to conduct a complete pay equity analysis, you can get some useful insights by starting with simple statistics. The UK gender pay gap reporting requirements are a good place to start. These requirements include looking at the mean gender pay gap in hourly pay, median gender pay gap in hourly pay, mean bonus gender pay gap, median bonus gender pay gap, proportion of males and females receiving a bonus payment and proportion of males and females in each pay quartile. For more information about the gender pay gap reporting regulations, see this article from Mercer.
Once you have these basic statistics, you can drill down deeper and look at those statistics by job level, job family, etc. to see is there are pay gaps you need to address.
Want more content on how you can accelerate progress towards pay equity and equal opportunities at your workplace?
You can check out our existing posts about Equal Pay Day 2019.
We'll also be posting more tactics, tips and takeaways from our Equal Pay Day event over the next couple of weeks. To get the latest content, subscribe to our newsletter, follow us on Twitter, LinkedIn or Instagram.
You can also visit our Pay Equity Hub, the central destination for all pay equity resources.