In the past, compensation may have been limited to ad hoc planning. It may have been an annual behind-closed-doors event. An urgent email with the question, "What's our percentage increase going to be this year?" could have served as the kick-off for salary reviews. 
For organizations winning talent and retention, those days are long gone. Today's employees and markets demand a more sophisticated approach from employers. To be ready for unprecedented challenges, organizations need to push beyond the routines of the past and adopt methods that support a more agile approach to employee pay.  
Compensation maturity impacts readiness
Compensation maturity involves many components: people, processes, technology, data, and a philosophy. Maturity not only impacts how your organization competes in attracting, retaining, and engaging employees — it also affects the overall cost of talent.  
Before organizations can employ advanced strategic compensation programs, they first must cultivate compensation maturity. Most respondents to our annual survey, the Compensation Best Practices Report, rate their organization's compensation management maturity somewhere in the middle of the spectrum. They're above "as needed," but not yet "optimizing" either.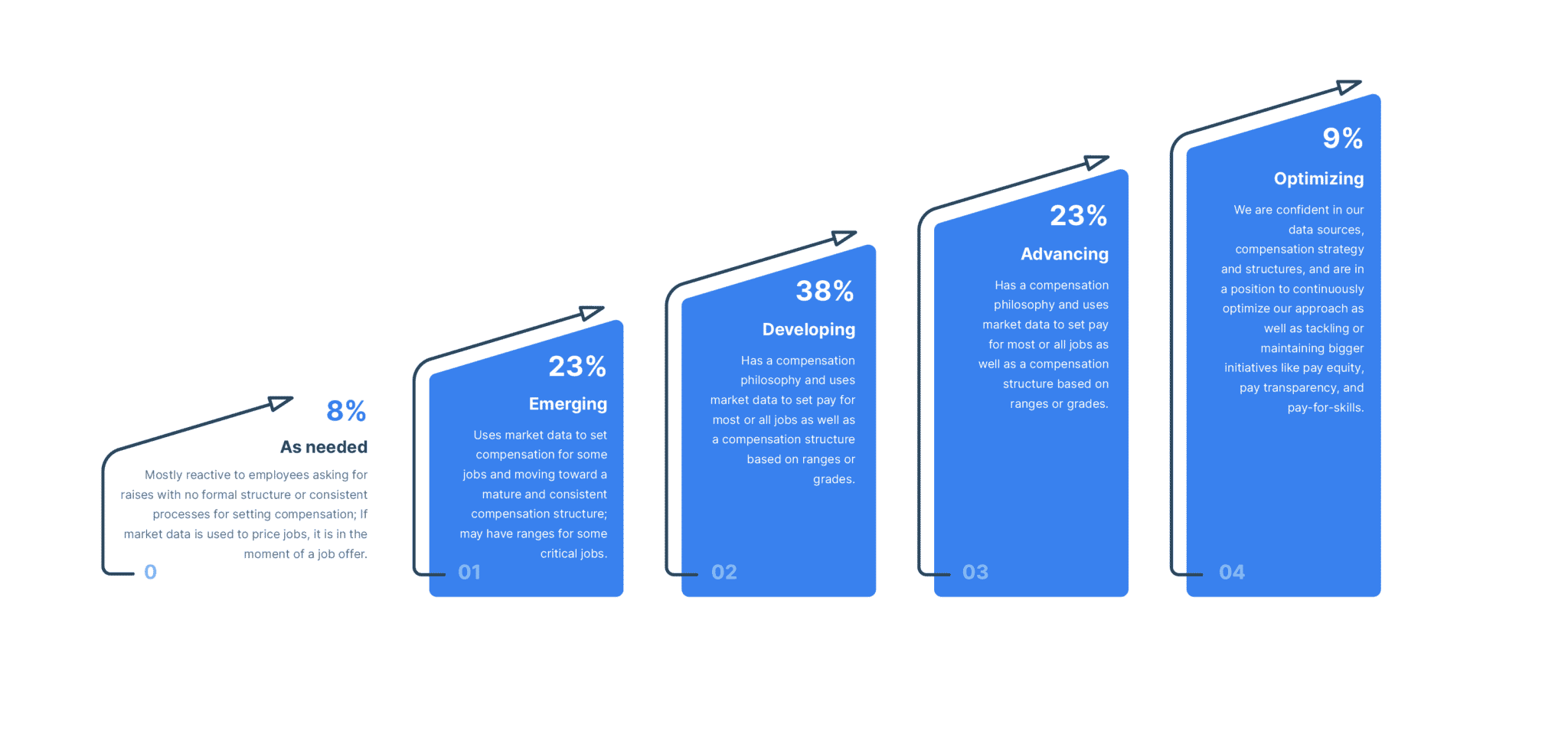 Chaotic labor market conditions in recent years have motivated respondents to mature along the compensation journey. Less than half of organizations — 48 percent — say they have a formal compensation strategy or philosophy, but an additional 38 percent of orgs report working on one. A lack of resources was cited as the primary reason for the absence of a compensation strategy.
Compensation fundamentals to face the future
So far in 2022, many organizations have had to respond to demands for wage increases led by rising inflation and a hot talent market. Leaders have had to recalibrate pay for a distributed workforce while also ensuring compliance with emerging pay legislation focused on fairness and transparency. In addition, talk of a potential economic downturn also links compensation management to a stronger focus on budget control and greater cost optimization. When looking at the significant global, political, and economic changes taking place, it's safe to say the need for mature compensation approaches will only increase.
Not surprisingly, developing a compensation strategy and structures in 2022 is the top priority for the majority (61 percent) of organizations.  HR and comp professionals know that today's ever-changing employment environment presents compensation challenges that must be addressed. Unfortunately, many employers find themselves lost when it comes to having the resilient compensation strategy, data, and processes needed to attract new hires and retain talent.
Key areas for building compensation resilience
We recommend a strategic and proactive compensation approach that will allow you to continuously adapt to the market based on the unique needs of your workforce, industry, and the external environment.
While HR and comp professionals may understand the need — and have a desire — to advance on the compensation maturity spectrum, we must remember that many say they're prevented from doing so due to a lack of resources. As such, making the case for devoting resources toward building a compensation strategy is an important first step. Compensation resilience is appealing and necessary but navigating the journey to get there may seem like a lot to tackle. We recommend dividing the process into four key areas to help you face compensation challenges with resilience.
Establish a comp philosophy and strategy
A compensation philosophy should link compensation to your organization's purpose and strategic goals. At the most basic level, a philosophy serves as a compass for how an organization manages compensation. An initial philosophy might be as simple as identifying pay rates based on specified market pricing. Ideally, it should serve as a guiding point for all members of an organization as to how compensation is handled.
With a philosophy in place, the next step is building a compensation strategy that defines how you intend to make your philosophy come to life. It helps ensure you achieve your goals by identifying the compensation mix (pay and benefits) you will use to attract, engage, and retain talent. A compensation strategy, no matter how basic, is crucial for consistently managing pay.
Build a solid foundation
The journey to building a solid foundation for compensation management can take time because there are multiple layers to the process: from understanding the value of your jobs to thinking about how to pay for performance and how to compensate employees in special roles or circumstances.
To get pay right, you must understand how you are competitively compensating the workforce both internally and compared to the market. The foundation of compensation management includes the following fundamental areas:
Job management
Salary data and market pricing
Pay structures
Variable pay
Complex compensation
Setting up your foundation takes time, but by investing your attention in these areas strategically rather than reactively, you become more resilient when managing compensation in an ever-changing talent market and legislative environment. 
Manage the comp cycle
Several components are involved in the cyclical process of managing compensation and fair pay. Pay analysis and reporting are key to providing business insights. Analytics will support compensation decisions and confirm if you are executing your compensation philosophy and strategy.
That pay analysis is key to enabling and planning for pay increases as part of the ongoing comp cycle. It supports pay recommendations that are consistent, fair, and on budget. In addition, managing the compensation cycle requires collaborating with leaders to ensure the best outcomes and impact. Strategic alignment around compensation facilitates the implementation of a successful compensation strategy.
Finally, more transparent pay communications are integral to compensation management. For greater compensation maturity and trust, transparency requires communicating more openly with employees about how compensation works in your organization.
Track pay trends and hot topics
As part of the ongoing compensation cycle, it's important to keep up to date on new legislation and concerns of the public that impact compensation management as a function. Pay is a hot topic that matters to a lot of people and is constantly being discussed by the media and in business councils around the world. Tracking and responding to pay trends and compensation hot topics will inform your compensation approach and enable resiliency.
Conclusion
Organizations are always changing. People join and leave them all the time. Companies acquire other companies, including all their pay practices. Market data changes, too, with some positions becoming more valuable at certain times. New laws require new processes for compliance. What competitors are doing to attract and retain talent can also change the game. Managing compensation and moving up in maturity is therefore a constant exercise.
In Compensation Challenges: Fundamental elements and best practices to face the future with certainty and readiness, we identify key elements of compensation management as well as the contributing factors and considerations within each, with an eye for how to become more strategic in your approach. Whether you're an HR department of one or a dedicated compensation professional, this resource will help you evaluate, enhance, or craft compensation best practices at your organization.