This is an excerpt from our recent ebook collaboration with BambooHR entitled Everything You Need to Know About Communicating Pay. Download the full ebook here.
It's only when we see pay in the context of the emotional landscape of an employee that we're able to frame the compensation conversation in a way that yields a favorable outcome. We tend to approach pay from a myopic perspective, which can be damaging — we must always put ourselves in the employee's shoes.
16 Elements of Engagement, Satisfaction and Performance
There are 16 elements that make up an employee's emotional landscape.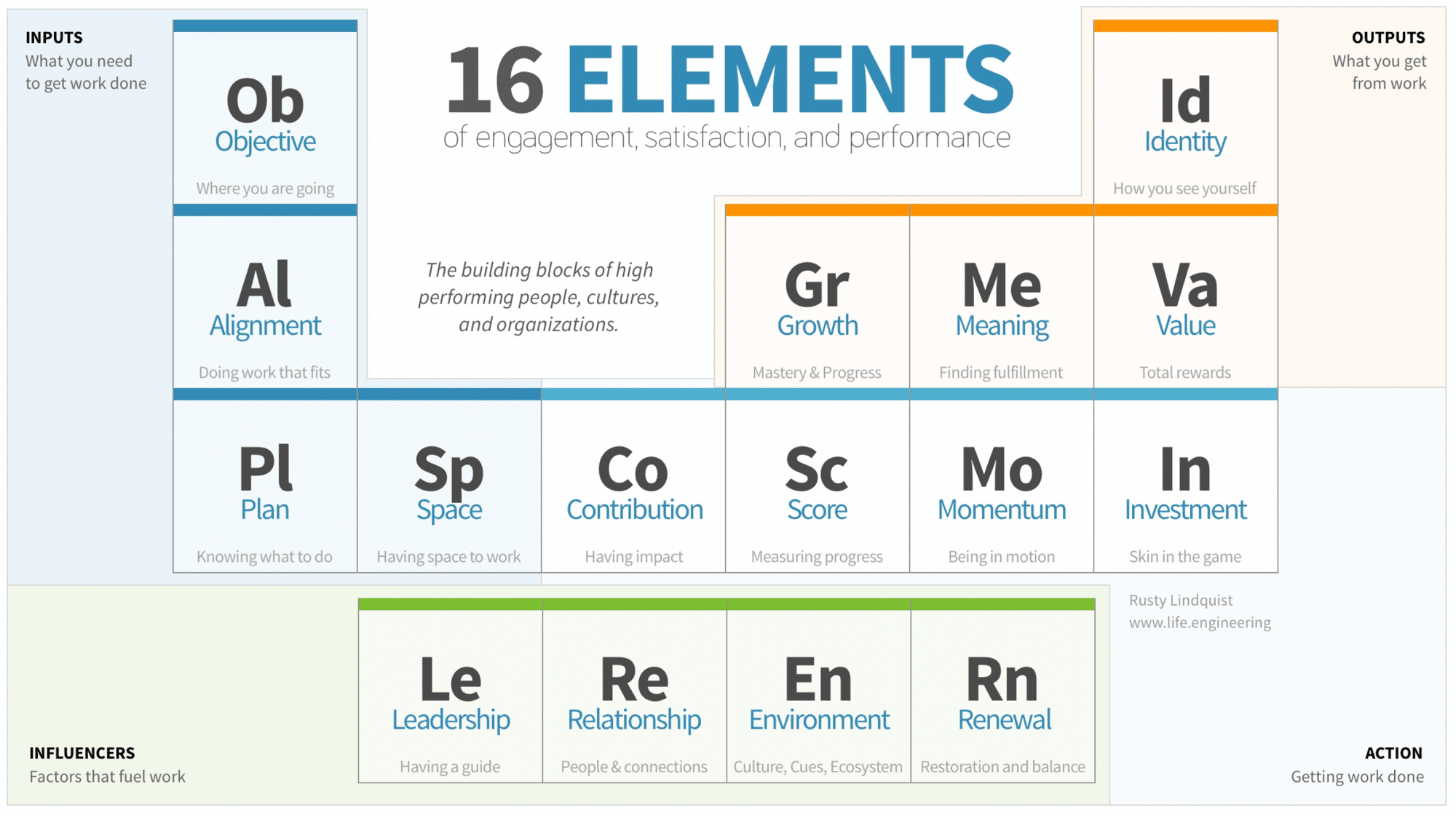 Comprised of Inputs, Influencers, Action and Outputs, these are the building blocks of high-performing people, cultures and organizations. Together, these 16 elements lead to engagement, satisfaction and performance among employees. And in terms of compensation, the "Value" element is especially relevant.
The Exchange of Value
Value is not so much about the actual dollars of a salary as it is about the employee's perception of how valuable their employer considers them to be. That feeling of being appreciated and adequately rewarded for your efforts is what employees are really looking for.
Now yes, a component of value is pay. But it's more than that. As HR/comp pros, we need to be sure we're looking at compensation from a holistic perspective, and answering one critical question: On an employee-by-employee basis, does each individual feel valued?
Value Drivers
There are both employee value drivers and employer value drivers.
On the employee side, these are things they feel they're bringing to the exchange of value equation, like: experience in industry/market vertical/adjacent markets/discipline/adjacent disciplines/competitors, product and competitor knowledge, education and more.
Employer value drivers go beyond pay, extending to things like PTO, benefits, travel, culture, work flexibility, etc. It's critical to have an understanding of both sides of the equation, because when an employee feels they are not adequately comped in this equation, they feel one or more of the sixteen elements is causing them to be out of alignment with what they're getting back.
There are emotional motivators for individual employee value drivers, and they differ among each individual. Our goal is to ensure the equation works out, and that looks different for every employee (For example, some people would take less money for more autonomy). To get compensation correct for each employee, we need to understand what each individual sees as their most valuable contributions, as well as know which of those employee value drivers truly matter to the employee.
We then need to be able to articulate those in the right context, so that the employees sees that we're not taking these as "gimmes"; we're not taking them for granted. They're part of the total value exchange — what we call "compensation."
Perception of Pay Matters
Employees don't always understand how their compensation is determined. There's a real need to tell people how you're paying them, because it's not just about pay; it's also about perception of pay.
A PayScale survey of 71,000 people found that most people don't know if they're paid fairly or not. Notably, 80 percent of people who are paid above market think they're at or below market. That's a missed opportunity — and a waste of money! Additionally, 64 percent of people who are paid at market believe they're paid below market.
The takeaway is clear: It's not enough to pay people well or have a good value exchange. If that message isn't communicated, it's not appreciated — and employees will not give you the benefit of the doubt.
Want more tips and tricks for effective compensation communications? Download the ebook Everything You Need to Know About Communicating Compensation today!
Tell Us What You Think
What's the biggest comp challenge facing your organization? We want to hear from you. Tell us your thoughts in the comments.
Image: Pexels