Last week, we announced a free offering of our Crowdsourced and Company Sourced compensation data to new and existing customers of PayScale MarketPay.
This week, we hosted a live webinar with PayScale's SVP of Product Management, Vishal Ghotge, and Data Research Manager, Sudarshan Sampath, to learn more about our compensation data and particularly how it can help HR leaders and compensation professionals manage the workforce in the present crisis.
This webinar (now available as a recording) takes a deep dive into three different types of compensation data sources – traditional survey data, Crowdsourced data, and Company Sourced data – to understand why PayScale compensation data is especially valuable in the current economic climate.
Why Does Compensation Data Matter?
We believe that transparency leads to better relationships and that better relationships lead to better business outcomes. PayScale helps employers build better relationships with employees by enabling honest and transparent communications about compensation. Through these conversations, employees understand how they are valued by the business and what they have to do to progress in their careers, which in turn makes them more engaged and invested in the success of the company.
Fresh, verified, reliable compensation data is what powers pay communications because it gives employers confidence that they are paying employees fairly and allows them to be proactive and strategic in how they build, manage and incentivize their workforce. PayScale has an enormous amount of data related to compensation, more than any other vendor on the market.
Why Does Compensation Data Matter Right Now?
We are all dealing with an unprecedented economic crisis brought on by the coronavirus pandemic and the social distancing needed to combat the spread of infection.  To adapt to swiftly changing circumstances, organizations need to be decisive. In order to make good decisions quickly, you need reliable data.
The current crisis is evolving rapidly. 22 million people filed for unemployment at the end of last week and millions more are expected as layoffs continue to rise. Wage data is likewise changing fast. Fluctuations in wages are normal and impacted by many things other than the current state of the economy. However, having a pulse on these changes gives organizations more information to make confident decisions.
Many businesses assume that compensation data is only useful when the labor market is competitive and talent acquisition is a top concern. However, this is a short-sighted view. Compensation data is extremely useful for pricing jobs, of course, but that only scratches the surface of how it can be valuable. Compensation data can also be used to monitor (and correct) pay inequity within the organization, manage the compensation of green-circled (underpaid) and red-circled (overpaid) employees, and track how employees are compensated according to their performance. It can also be used to forecast how wage increases will affect overall payroll budgets.
As such, compensation data and software should be an intrinsic part of how HR manages the workforce, and the need to manage the workforce doesn't go away when unemployment increases. If anything, managing the workforce is more critical during a strained and stressful time when employees are anxious and overworked and coming in to work can be hazardous.
In addition, although many businesses are not hiring right now, hiring will pick up again eventually, and when it does, employers will need up-to-date compensation data to pay people correctly. This includes adjusting compensation for changes in the market as well as the valuation of hot skills that people may look to acquire while unemployed.
In other words, if hiring is currently at a lull, now might actually be a good time to take on a strategic initiative such as defining your compensation strategy and building out a compensation structure so that you will be ready to hit the ground running when hiring resumes.
Learn more about why compensation planning matters right now.
Understanding PayScale's Compensation Data
PayScale offers three types of compensation data: third-party traditional surveys, Crowdsourced data, and Company Sourced data. Each has its advantages. All together they represent the richest and most up-to-date compensation data ecosystem on the market.
Third-Party Traditional Survey Data
Third-party surveys are what compensation professionals traditionally use to determine salary ranges for job positions. These surveys are managed by HR and management consulting firms such as Mercer, Radford, PwC, and AON Hewitt. Employers are surveyed for what they pay employees and the data is then aggregated, analyzed, validated, and shared with participants as well as made available for sale.
PayScale allows for the integration of any third-party salary survey that has been purchased by customers as well as easy access to Mercer surveys, with whom we are partnered.
Third-party salary surveys help organizations with many workforce management challenges, including addressing the gender pay gap, globalization, mergers and acquisitions, and competing for top talent. There are many types of salary surveys available, including geography specific surveys, industry specific surveys, occupational specific surveys, surveys on total rewards, executive rewards, new graduates, incentive plans, fast moving jobs, and more.
However, third-party salary survey participation is a long process and so is validation of the data, so third-party surveys are usually released at a frequency of once a year or less. The data from third-party traditional surveys is highly trusted by compensation professionals, but also the slowest to react to the market.
Crowdsourced Data
PayScale's answer to the lack of freshness in traditional third-party survey data is Crowdsourced data. Through search engine optimization, PayScale drives 10 million monthly users to free online salary data generalized across the population. To provide users with more accurate salary estimates, PayScale directs users to fill out a dynamic salary survey that asks a variety of compensation related questions, resulting in 300,000 detailed salary profiles being added every month to our overall database of 65 million profiles. This data covers over 15,000 jobs across 365 industries with nuanced information related to titles, skills, location, education, certifications, years of experience, and other compensable factors in addition to other questions that feed continued innovation and thought leadership.
Compensation professionals accustomed to traditional third-party surveys sometimes question the viability of PayScale's crowdsourced data, but profiles go through multiple layers of validation. This includes removing profiles with in-congruent data as well as extreme outliers. Suspicious spikes in data, such as an influx of specific positions on a specific date, are also discarded. In addition, PayScale's Crowdsourced data has been validated against traditional survey data from Mercer and verified to be accurate.

PayScale's Crowdsourced data is especially valuable because of its freshness. It is collected in real-time with validated profiles added to the database every few weeks. In addition, PayScale's Crowdsourced data is more useful for pricing jobs in rural locations than traditional third-party surveys. This is because participants in third-party surveys tend to be larger enterprises located in major metros whereas users filling out survey profiles can be from anywhere.

Traditional third-party surveys can therefore over-inflate the value of certain jobs. For example, the range of the base salary for a technical project manager will be weighted higher with surveys from traditional third-party providers than with PayScale. This is because PayScale's Crowdsourced data collects salary information from real technical project managers all over the country. You can see this in the image below where PayScale median salary data is represented in shades of green and lower overall than the third-party survey data represented in yellow and orange.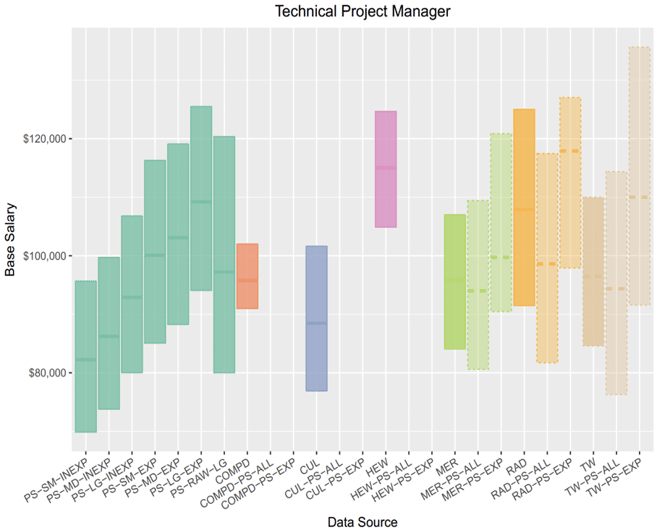 Company Sourced Data
PayScale also leverages HRIS aggregated data to create an employer sourced dataset which can be used just like a traditional survey. PayScale's Company Sourced data includes salary data from over 1,900 participating companies with over 2.5 million employees and 5,500 jobs. These are all employer-submitted and many of them are from Fortune 1000 companies. This data fills in the gaps between our Crowdsourced data and third-party survey data.
This data is also updated quarterly rather than annually, is representative of more locations than most traditional third-party surveys, and also has executive compensation data, which is not as easily obtained using our Crowdsourced methodology. Overall, this provides a rich data ecosystem to help employers compare and contrast crowdsourced data with employer survey data to feel really confident in decisions about pay.
Additional Unique Insights with PayScale's Data
With data as rich as PayScale's, our data scientists are able to merge different datasets to create unique and highly valuable insights for customers. The following are just a few examples:
Skills Differentials
One of the most exciting features of PayScale's compensation management software is our Skills Differentials Engine. The economy is fast moving from an industry-based economy to skills-based economy.  This means that employers are increasingly valuing skills over industry experience or are at least increasing compensation for hires with hard-to-find or highly valuable skills.
PayScale's incredibly detailed data includes skills, which means we are able to provide insight into which skills are most in demand and which skills are deserving of more compensation for jobs with the same titles.
As an example, let's consider an organization hiring a senior software developer. A standard senior software developer likely has skills in JavaScript and C#. However, a more advanced senior software developer might also have skills in Scala, Distributed System, or Cloud Computing, all of which are in high demand right now and earn more compensation on the market. In real terms, a senior software developer with all of these highly compensable skills is worth $27,000 more than the standard senior software developer with only C# and JavaScript.
That is critical for employers to know. Using PayScale's Skills Differentials Engine, you can look at the base salary for a senior software developer and then add in hot skills to get a market adjustment for the particular job you are pricing.
Location Differentials
Location is a similar concept to skills. Salary surveys often include market adjustments for cost of living by location, but with PayScale, these calculations are factored in for a specific job in a specific location, which is a much richer and more accurate way to adjust compensation.
As an example, we know that Seattle is a hot job market. Holistically, Seattle incurs an 18 percent increase in compensation compared to the national data. However, this number varies when looking at specific jobs. With PayScale's Differentials Engine we can see that, in Seattle, accountants incur a 15 percent increase to compensation on average whereas software developers incur a 23 percent increase to compensation on average.
In other words, PayScale allows employers to really dig into compensation differences and optimize the budget to give the right amount of pay for a specific job in a specific location.
Minimum Wage Data
Minimum wage is constantly changing and varies according to state law. Tools to manage minimum wage for jobs across the U.S. is something our clients often say they need. This data can be hard to capture for a variety of reasons. For example, in some economies, hourly workers are compensated heavily with tips, which are not always tracked. There are also bad actors who pay workers less than minimum wage or pay portions of wages under the table. This makes the minimum wage question a compliance question as well as a data question.
To solve this challenge, we mapped all of the state minimum wage laws across the U.S. so that clients who are pricing jobs close to minimum wage can be confident that they are compliant to the law in addition to paying fairly for the position.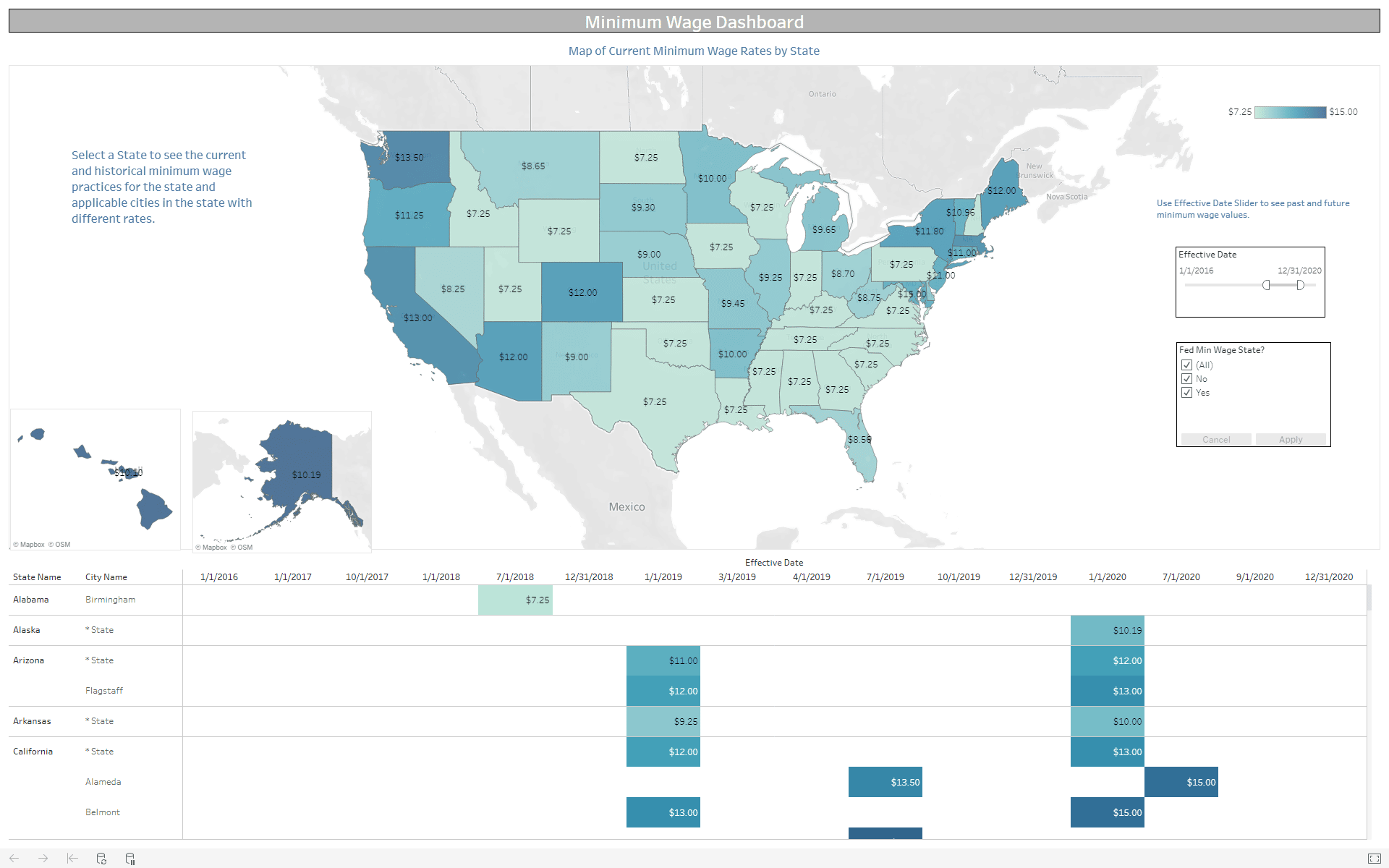 What the Future Holds
Today, PayScale is a compensation technology company that helps employers make decisions about pay. Although this will always be our mission, we are just scratching the surface of what else we can do and offer in the future. The amount of data we have presents a wealth of opportunity to provide more and better insights to our customers. Here are just a few examples being explored by our data scientists and software engineers:
Nuanced Industry Data
One of the things we are excited about is mapping industry-specific nuances in skills that result in higher pay for certain positions. For example, in the transportation industry, truckers who haul loads cross country are paid more than truckers who make shorter trips. We can add questions to our dynamic survey to capture this specialized information in order to provide more accurate compensation data that factors in all influences for that industry.
Open API
We are a SaaS company that helps employers price jobs, but not everyone is interested in our software solutions. However, some highly strategic companies are interested in using our compensation data. For example, some customers might want access to our compensation data to inform their products, such as an application that uses salary data to score loan applications.
Forecasting Wages
We love the idea of being able to forecast future wages. When you look at our data today, you're seeing snapshot of the economy, but if you need to understand where the economy is going, we are able to forecast that out to inform compensation planning.
As an example, during the Covid-19 crisis, we were able to see that wages in the retail sector declined by 8.8 percent in the month of March. We knew this before the U.S. Bureau of Labor and Statistics reported that retail sales declined by 8.7 percent. This validated that we are ahead of the curve; the level of freshness in our data and ability to capture momentum sets us apart.
Special Promotion: Free Salary Data Offering
There's a pervasive belief that compensation data only matters during hiring, and that in the current situation when organizations are going through layoffs, compensation management matters less.
However, compensation is still critical in a time like this. In some ways, compensation is more critical during a crisis than in times of prosperity. Although many people are just happy to have a job, compensation is still tied intrinsically to self-worth and has a large impact on employee morale, engagement, and loyalty to an organization. This is especially true when employees are being asked to do more with less or work in more hazardous conditions.
As we've seen, access to data is critical for organizations to make important decisions for their businesses. Compensation data is absolutely part of that equation and plays an important part in managing payroll, which is the largest expense for most business.
As such, during this current economic climate, PayScale is pleased to offer a special promotion. For a limited time, PayScale is offering its Crowdsourced and Company Sourced data free of charge to new and current customers of PayScale MarketPay. This promotion runs through the end of June 2020 and includes free access to both data sets for one year. More information can be learned at https://discover.payscale.com/free-data/ or by contacting your customer representative.
Watch the recorded webinar.
Ready to get pay right? Interested in learning more about PayScale's compensation data and compensation management software? Request a demo.