For many organizations, it's merit cycle season. If you are currently amid the substantial undertaking of this annual program, you are acutely aware that this process is not done in a vacuum. With up to 70% of a business's operating expenses associated with human capital costs, it's clearly a companywide effort. The foundation of which, starts with well managed job descriptions.  
How is your organization collaborating with the key stakeholders that influence and make merit decisions? Are you using job descriptions as the cornerstone? Do your job descriptions support your compensation and talent strategy? Do they provide a baseline for managers to communicate with their employees the quality of their performance for annual reviews and merit conversations? If your organization is still managing job descriptions the old-fashion way, with shared documents and emails, these questions may leave you trepidatious.  
Consider this: Inaccurate, out-of-date job descriptions compromise the foundation of all your HR initiatives. A clear understanding of each job is essential to operate in a way that best serves the business and the individual. You can bring structure, efficiency, and validity to the way you manage job descriptions across your organization, illuminating your people strategy, with MarketPay Jobs, powered by JDXpert.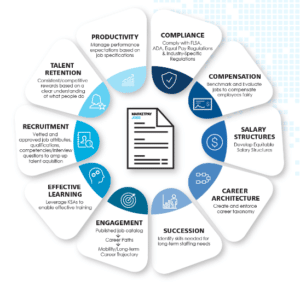 ENHANCE RECRUITING AND TALENT PRACTICES 
A robust up-to-date job description solution ensures that all aspects of your HR and talent management activities are reading from the same playbook. Technology reduces the administrative burden and allows for easy integration with other systems such as integrated data feeds to third party systems: HRIS platforms, Applicant Tracking Systems, and Talent Management Platforms, to a name a few. Automating these processes further elevates job descriptions as an integral part of your entire talent management landscape.   
Finding the right talent, centers around having the right job description and conducting interviews that align with each job description. That same job description should be used to pay and grow talent along the career ladder that shows progression over the tenure of an employee. MarketPay's integrated job description management tool powered by JDXpert, enables your people team and hiring managers with such career ladders and interview guides tailored for each job as well as the robust capabilities of MarketPay to align compensation. 
BOLSTER PERFORMANCE MANAGEMENT AND PRODUCTIVITY 
Current employees need to know they have a future at your company and that the future is interesting and attainable. They need accurate job descriptions, so they are aware of what other positions are available, what each job entails, and what job qualifications they need to have. That way they can work on getting any skills, knowledge and abilities they're lacking to support their career aspirations and your organization's goals.  
Your organization needs to have confidence that it's paying talent in-line with the market, aligning compensation decisions with accurate job data, and ensuring that employees know what is expected of them; so, they can meet and hopefully exceed your work expectations. Concurrently, managers throughout your organization need to know what the job requirements are for each job so they can work with every employee to develop their skills and help them grow in their careers. Moreover, protecting the future of your organization with effective succession plans by identifying the skills needed for long term staffing needs. 
ENGAGE (AND RETAIN) YOUR MOST IMPORTANT ASSETS
If the job description management process is difficult or disruptive, managers and even HR will limit their interaction with these critical data-sources. The convenience of sharing well-vetted accurate job information across all your HR platforms with MarketPay Jobs integrated data feeds, curtails this barrier. Reconnecting people teams and managers, to better align jobs with skills, competitive compensation and defined career paths that marry your people strategy.  
MarketPay Jobs powers transparent employee development and pay conversations, establishing job description management as one of the most effective engagement tools for managers, recruiters, and employees, both perspective and tenured.