Price jobs in pharma with fresh market data
From lab technicians and chemical engineers to sales reps and back-office support roles, those working in the pharma industry cover a wide range of needed functions. Payscale delivers the salary data and software solutions that helps leading organizations build modern compensation programs to attract and retain talent.
See what's possible
Top Challenges for the Pharmaceutical Industry
Hiring to support rapid growth
During the pandemic and recovering post-pandemic economy, the pharma industry has seen extensive growth. Compelling salary offers and total rewards packages are essential to attract talent in a competitive job market.
Planning for pay increases
In a hot job market, you have to think about pay equity. The talent you are most anxious to keep is also the talent you are most likely to lose if your employees' pay doesn't keep pace with their peers.
Workplace flexibility
Following the pandemic, employees want to be able to work from home at least some of the time. Businesses are now having to consider location-based pay strategies that can accommodate remote work.
Pay communications
With all the challenges in the current job market, it is imperative for employees to understand pay policies and for managers to be able to discuss why compensation is fair.
Stop waiting on surveys
Payscale gives you access to current salary data that you can cut any way you like it — even by competitors! — so you can make pay decisions right now.
Learn more about our data
Salary data in the pharmaceutical industry available from Payscale right now
25
%
Participant growth (2021) - Peer
59
%
Incumbent growth (2021) - Peer
28,500
Profiles - Employee Reported
Our technology, your transformation
Explore the products that are transforming pay practices.
View Payscale products
How payscale customers are leveraging the power of pay
We now have more accurate and reliable information [from Payfactors] that enables us to make better business/ compensation related recommendations and decisions. [Payfactors'] software has saved me countless hours with its reporting and modeling
by Randon W., Compensation Analyst, Western Governors University
We moved from keeping everything on spreadsheets to have one data repository, that allows us to analyze the data. The data is easy to upload and once on the tool is easy to update and customize. The availability to download pretty much any kind of report is amazing for reviews. Start using the tool immediately – easy to use with in-depth features.
by Pedro Mendoza, Senior Compensation Analyst , Long Beach Memorial Medical Center
Coming from using other compensation tools, we've never experienced this level of gold standard customer service before as we have with Payfactors. We love the entire platform, and how user-friendly it is. The Payfactors Data Insights team is incredible and has turned around projects for us so quickly. I would highly recommend Payfactors for any HR Comp professional looking to be more thoughtful in their compensation strategies and for the critical support in doing so.
by Jenny Mao, Director of Compensation, MAXIMUS
Customer Stories
Learn how organizations like yours consolidated salary data onto one trusted platform and modernized their compensation management practices with Payscale.
View more customer stories
Track annual and quarterly wage growth
The Payscale Index is publicly available data that tracks and compares wage growth by city, industry, company size, and job category. The Payscale Index draws from Payscale's Employee Reported data which includes a salary data cut specific to the finance and insurance industry.
See the latest Payscale index
Explore research and insights
Compensation Best Practices Report
Payscale's annual Compensation Best Practices Report (CBPR) is the largest survey dedicated to compensation, gathering information from thousands of respondents with data cuts by industry, performance, and organizational size.
End of Year Report on the Hottest Jobs of 2021
Payscale analyzes which positions job seekers were most eager to research salaries for in the 2021 calendar year and ranked the top ten with additional data and insights on the fastest growing jobs by wages and guidance around compensation planning.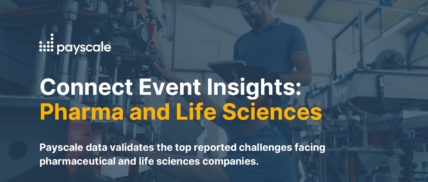 Connect Event Insights: Pharma and Life Sciences Whitepaper
Payscale hosted a Connect Event to hear from and better understand the comp challenges impacting pharma and life sciences organizations. We then validated those challenges with research data and provided resources for potential solutions in this insights document
Ready to see what's
possible with Payscale?
Many pharmaceutical organizations have already turned the corner on compensation. Let's meet to discuss how Payscale can help your teams reinvent inefficient processes simply and cost-effectively.