Introduction
The last few years have been tumultuous, but change is coming. The state of the economy is uncertain, but the storm brought by the pandemic is subsiding, and the labor market is calming down. However, despite recent layoffs, unemployment is at a 50-year low, workforce participation continues to decline, and the skills organizations need to grow are still scarce. Workers have also reprioritized their values, needs, and expectations when it comes to work experiences. Collectively, what this means is that although employers are taking back some of their power, it is still an employees' market, at least for the foreseeable future.
Even if we go into a recession and the dynamic shifts, 2023 looks to be a pivotal year for compensation strategy. Many organizations got themselves into trouble by not revising their total rewards program during the pandemic or putting guardrails in place to maintain pay equity in the Great Resignation that followed. Navigating choppy waters without a compass, some organizations over-hired, overpaid for talent, ran into pay compression problems, and contributed to a culture where "quiet quitting" was the only option for employees who felt unrecognized, insufficiently rewarded, and burned out.
The introduction of pay transparency legislation only added fuel to the fire. Organizations who have not matured their pay practices need to do so in a hurry, as it won't be long before job seekers expect pay ranges to be advertised in every job posting. In addition, tension has been building between employers who want employees to return to offices and job seekers who are flocking to opportunities where they can continue to work from home. Organizations that have embraced distributed workforces need to align on pay strategies for compensating employees fairly across geographies.
These tug-of-war challenges between employer and employee priorities only scratch the surface of what HR leaders and compensation professionals may face in the year to come. Inflation is still high, pay increases are projected to be higher than previous years, and employees continue to expect pay equity as well as more attention on total rewards and benefits. 2023 might feel relatively calm in comparison to the chaos of 2020 and the madcap competition for talent during the Great Resignation, but that also makes 2023 the year to hone in on compensation strategy, reinvent the employee experience, and differentiate your employer brand.
Labor challenges
2022 was a interesting year that saw rising wages, rapid inflation, and hikes to interest rates by central banks in an attempt to cool the economy. Waves of layoffs were conducted in the technology sector in reaction to having over-hired — and in some cases, overpaid — during the Great Resignation, plus a sense of pessimism toward the economy going into 2023. However, according to Payscale's Compensation Best Practices Survey, 63 percent of organizations overall said they would either meet of exceed revenue goals in 2022, with only 15 percent saying they would not meet revenue goals.

Despite news of layoffs in certain sectors, 60 percent of organizations feel that labor challenges were greater in 2022 than in previous years — and that looks to continue into 2023. However, employees are feeling the economic pressure too. Voluntary turnover has dropped from 36 percent last year to 25 percent this year, indicating that workers are beginning to think twice before jumping ship. Importantly, most organizations cite compensation as most to blame for higher voluntary turnover (35 percent).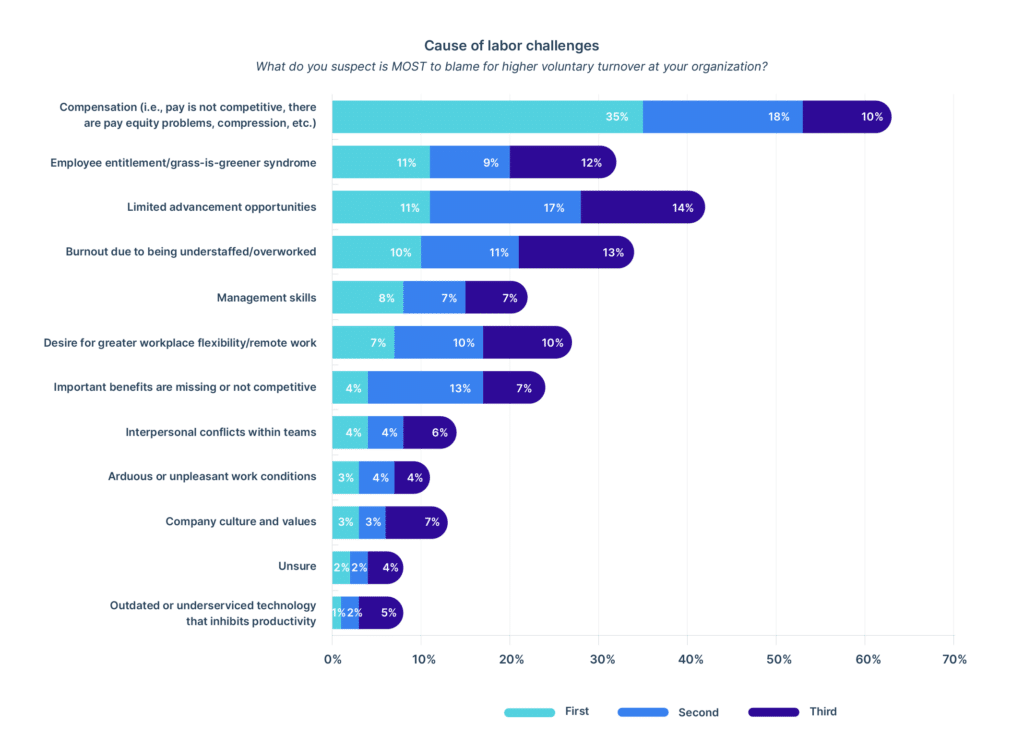 The state of the economy in 2023 is as uncertain now as it was in 2020, but for different reasons. Although the job market is cooling from the hyper state of 2021 and 2022, job openings remain elevated, as do quits rates, suggesting that we are still in a hotly competitive talent market — although it varies by industry. You can use the interactive chart below to toggle between categories in the JOLTS (job openings and labor turnover survey) data from the Bureau of Labor Statistics (BLS) by industry to see how each fared at the end of 2022 compared to previous years, going back to before the Great Recession.
Quiet quitting
Quiet quitting isn't going away. The concept of "quiet quitting" gained worldwide attention in 2022 as employees discussed hustle culture, burnout, and the lack of tangible rewards for going "above and beyond" at their jobs. According to our survey, 55 percent of organizations understand "quiet quitting" to be mislabeled work/life balance. However, 29 percent said that "quiet quitters" risk termination if discovered.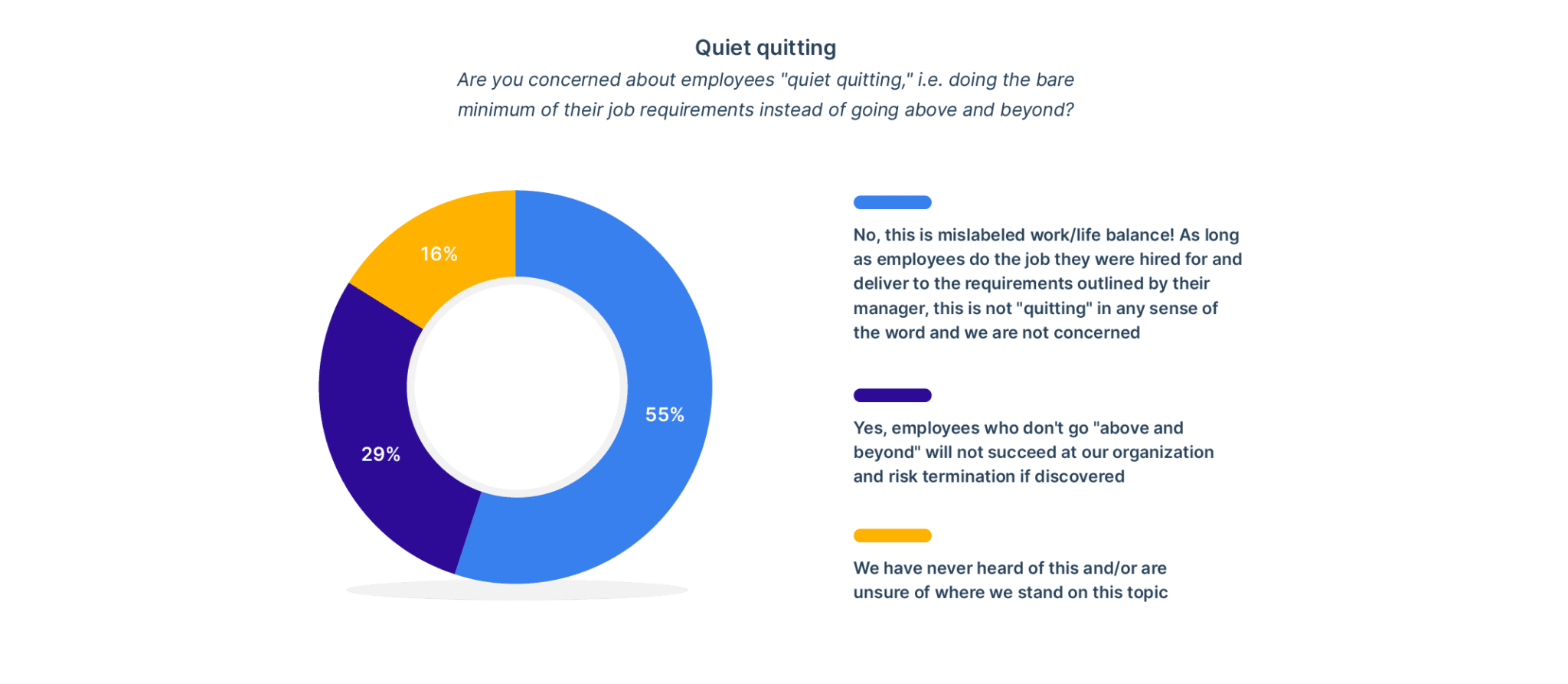 Remote work
Remote work is still a hot topic in 2023. Organizations understand the importance of workplace flexibility, but still want employees to live within a commutable distance to the office and come into the office at least some of the time. Indeed, 89 percent of organizations in 2023 will have work environments that are either traditional (27 percent), hybrid (31 percent), or split by job type (31 percent), suggesting that physical offices are not going away. Only 11 percent of work environments are truly remote, and these organizations will have a differentiated hiring advantage as studies show most workers (over 60 percent) prefer the ability to choose where they work.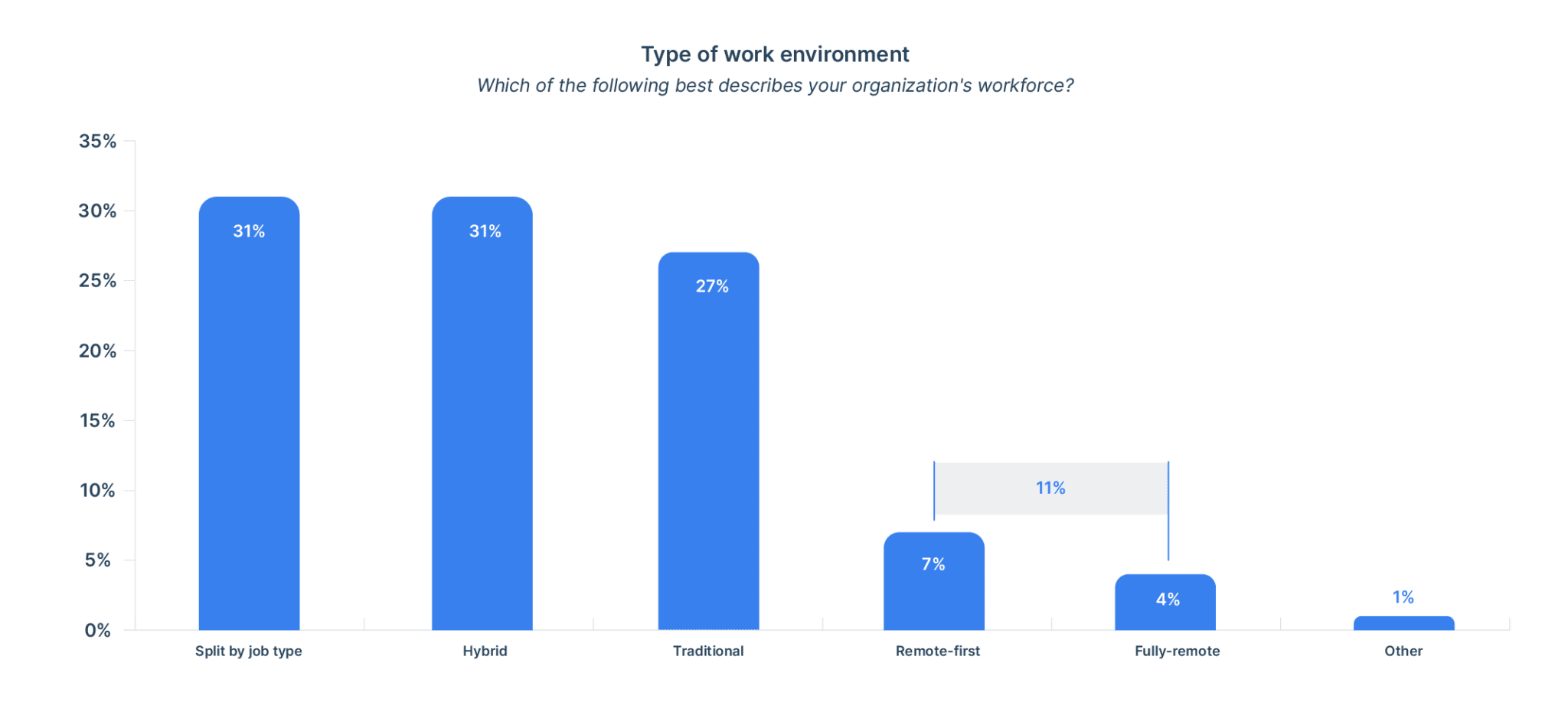 Most organizations (51 percent) said that they are experiencing resistance from employees around returning to offices, but only 22 percent feel that the impact is great enough to consider a policy change. In other questions, we asked about pay strategies for remote workers and found that 66 percent of organizations do not consider working from home to be a compensable benefit and do not lower pay. We also found that 48 percent of organizations are interested in pay methodologies using geo-differentials for distributed workforces, up from 40 percent last year (see full report).
Pay raises
Fewer organizations plan to give base pay increases in 2023 compared to 2022, with 80 percent of organizations saying they will and a whopping 15 percent saying they are unsure (see full report). In addition, pay increases look to be higher in 2023 compared to years prior, with 56 percent of organizations planning to give base pay increases over 3 percent compared to 2022, when 53 percent of organizations gave over 3 percent. However, more organizations look to be giving between 4-5 percent in 2023, whereas in 2022, the percentage of those giving more than 5 percent was higher (see full report).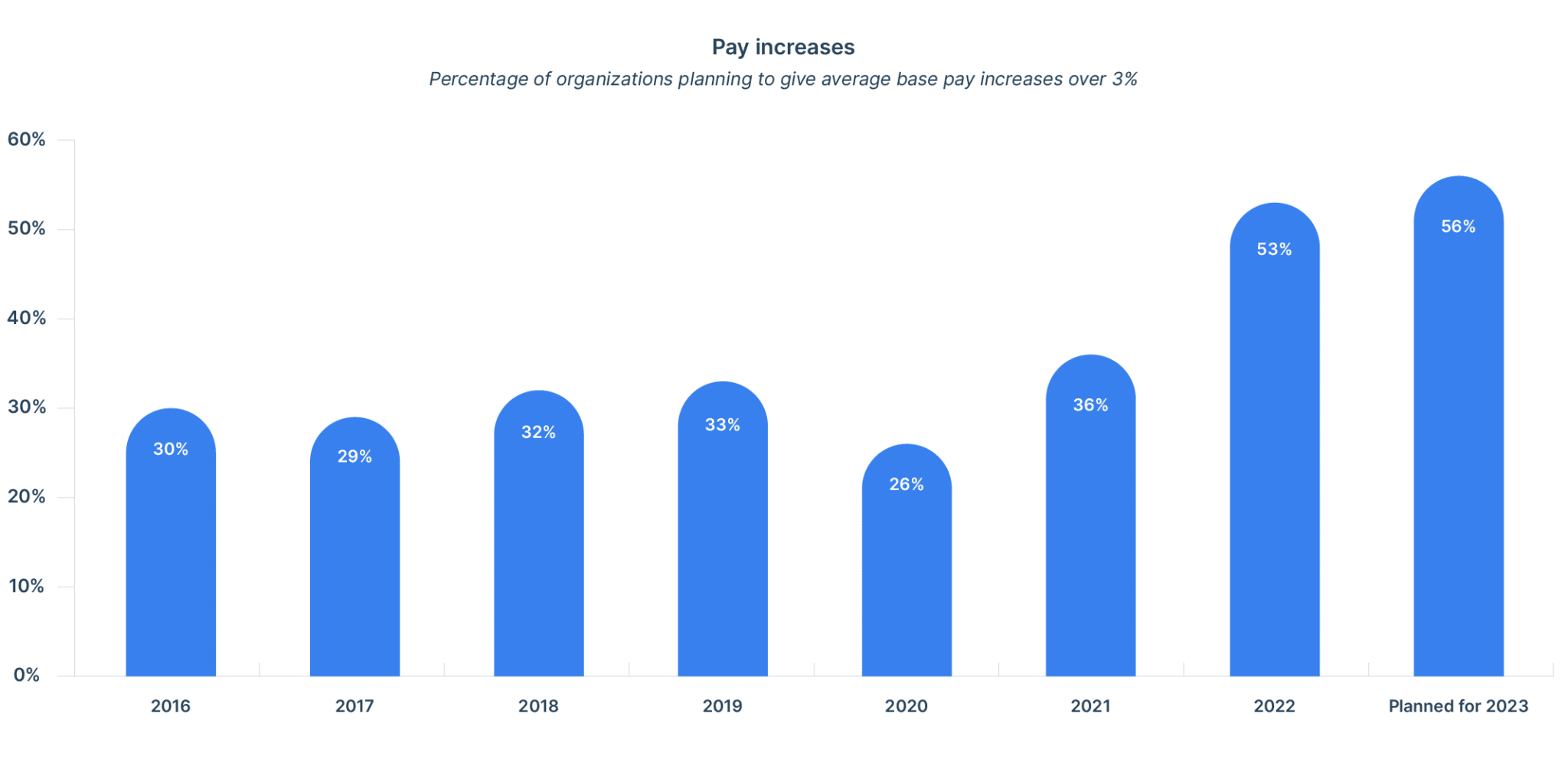 A majority of organizations (58 percent) say that they are addressing inflation with base pay increases (see full report) and 54 percent are including inflation as a consideration for base pay increases given in 2023. We also see an increase in organizations saying that preparations for pay transparency are impacting base pay increases in 2023 compared to 2022. Holistically, we can see more attention being put on more areas that impact base pay (location, tenure, skills, pay transparency, etc.), which contributes to why pay increases will be higher in 2023 than in previous years, as organizations mature their approach to compensation strategy and pay equity.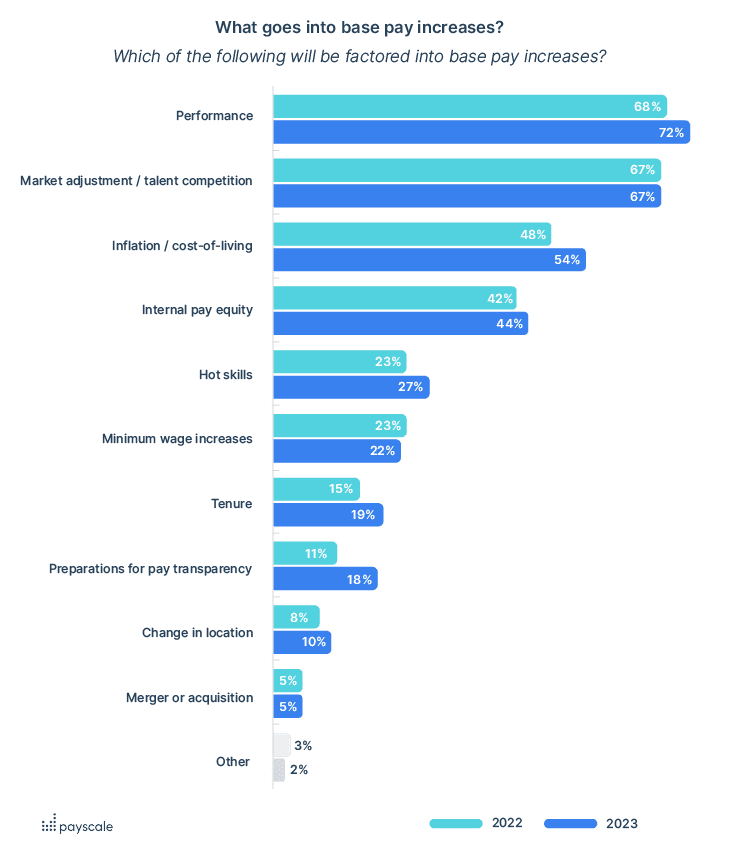 In addition, organizations are increasing the rate at which they review pay and give pay increases.  Annual pay raises may not be enough to retain the current workforce, especially if inflation continues to climb or if the labor market heats up again in 2023. The number of organizations that give formal pay increases twice annually has more than doubled since last year, and eighty-six percent of organizations will give pay increases out of cycle, either frequently or at least occasionally for the needs of the business.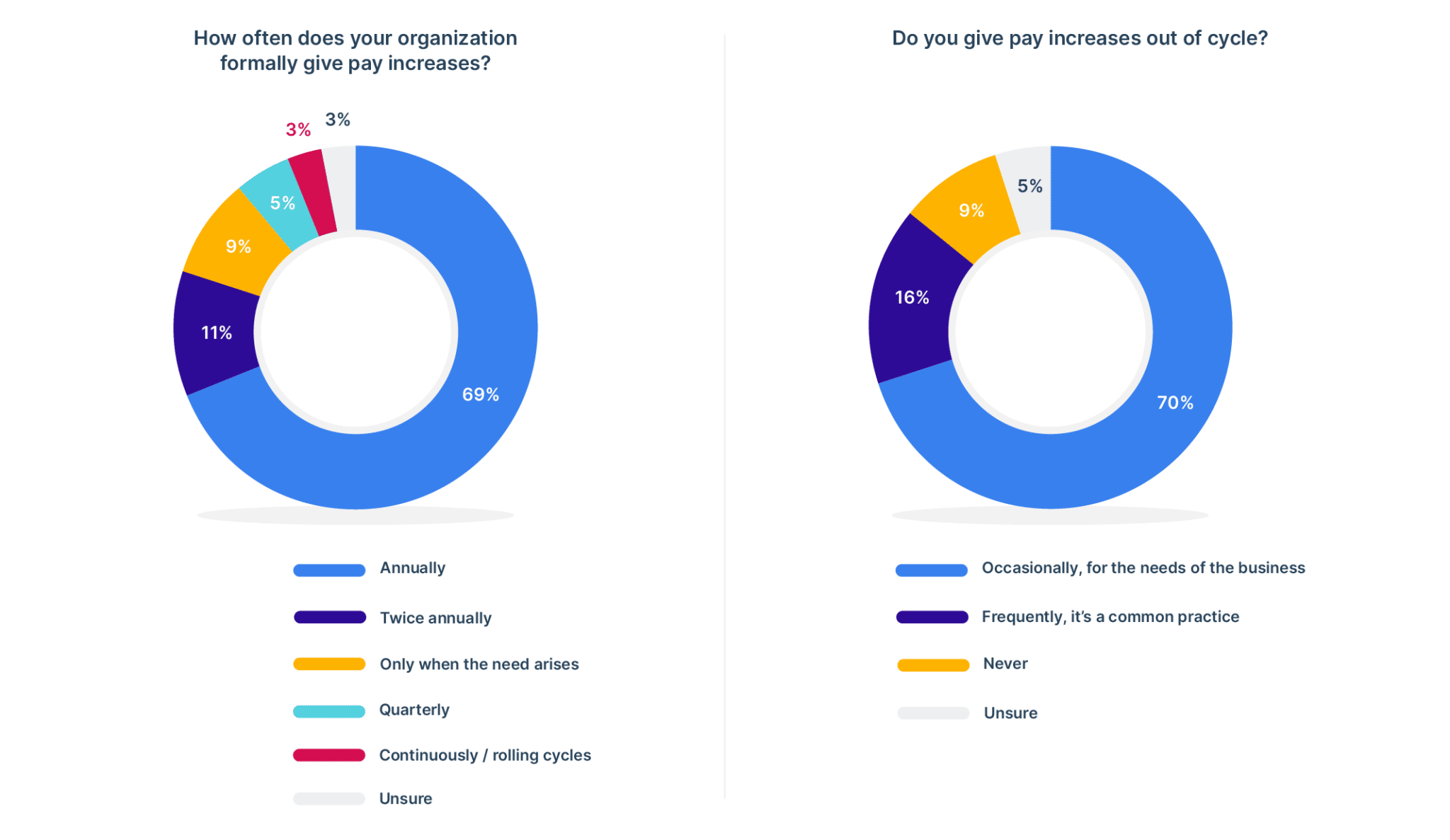 Pay equity
According to our survey, 63 percent of organizations say that pay equity is a planned or current initiative — which is down from 66 percent in 2022, but still much higher than in previous years when it was well below a majority. Commitment to doing pay equity analysis is stronger for top-performing organizations (69 percent) and Payscale customers (69 percent) among other indicators of compensation management maturity.
However, acting on inequity can mean different things to different organizations. When we asked what organizations do to take pay equity to the next level, most do not take it beyond measuring pay gaps and only 21 percent investigate systemic reasons for inequality in the workplace. The largest reason for not taking action is a lack of preparedness, such as a lack of compensation strategy and pay structures (25 percent — see full report).
Pay transparency
2022 was an important year for pay transparency as many states and metro areas either passed legislation or proposed bills to require organizations to publish pay ranges in job ads. Only a minority (45 percent) include pay ranges in job postings at present, and 18 percent of those only do so when it is required by law. However, this is up from 22 percent of orgs last year who said they first shared pay ranges in job postings. As more states are likely to propose and pass pay transparency laws in 2023, compensation strategy — which is foundational to pay transparency — is becoming all the more urgent.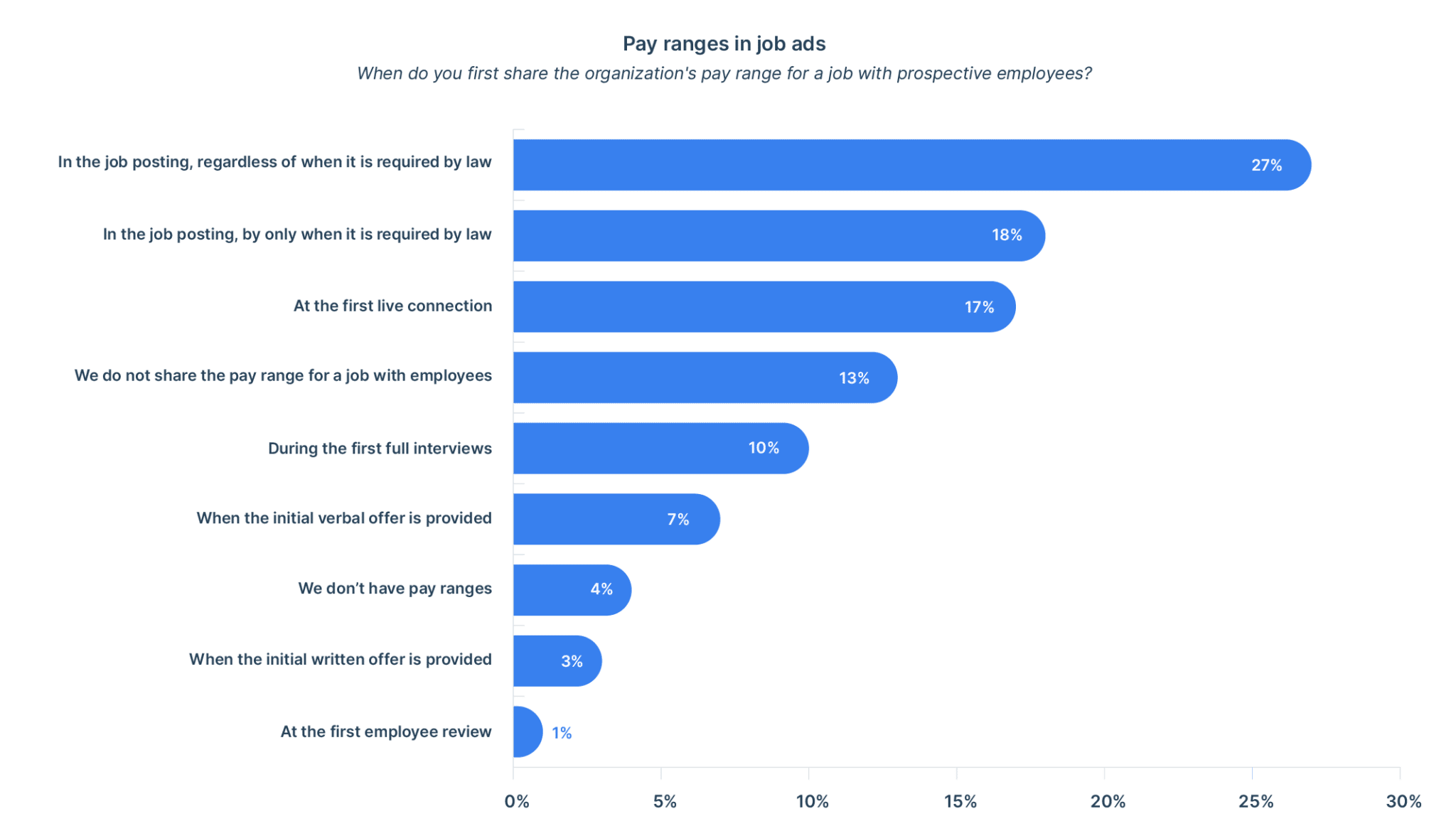 Many organizations don't add pay ranges to job ads because they suspect it will lead to discontent in their current workforce due to a lack of confidence in their salary data and pay structures or maintenance of internal pay equity. However, ready or not, pay transparency legislation is requiring organizations to publish pay ranges. According to our survey, 19 percent of organizations are posting salary ranges without confidence in how current employees will react (see full report) and 48 percent of organizations say "yes," pay transparency legislation is driving change to improve compensation practices as they are either rapidly trying to improve their pay data, pay structures, and pay equity, or are investing in equitable pay structures for the first time.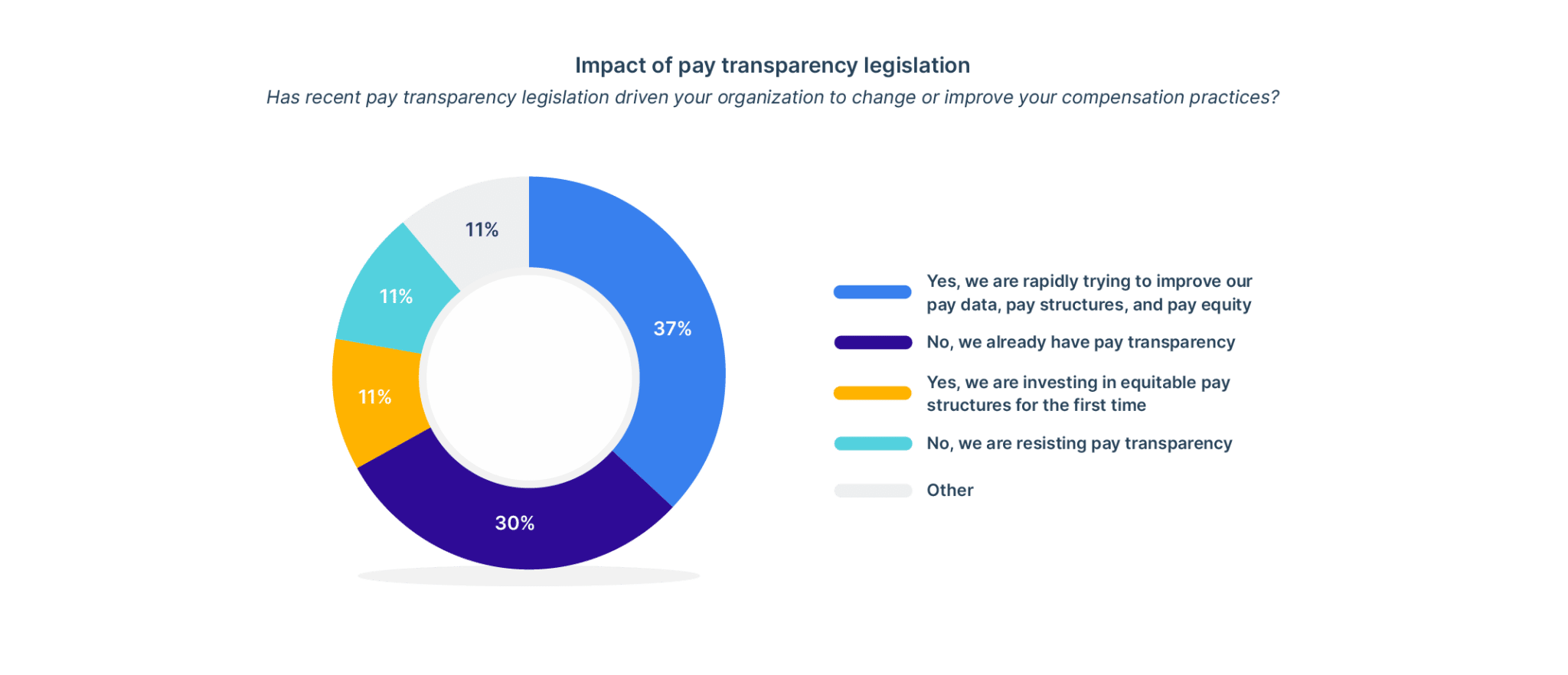 Compensation strategy
Given the challenges of the last few years and the changes on the horizon, compensation strategy is an indispensable aspect of overall people strategy. Despite this, only 55 percent of organizations have a compensation strategy. This is an increase of 7 percent from last year and considerably higher than before the COVID-19 pandemic. However, organizations still have a lot to do when it comes to maturing their compensation practices.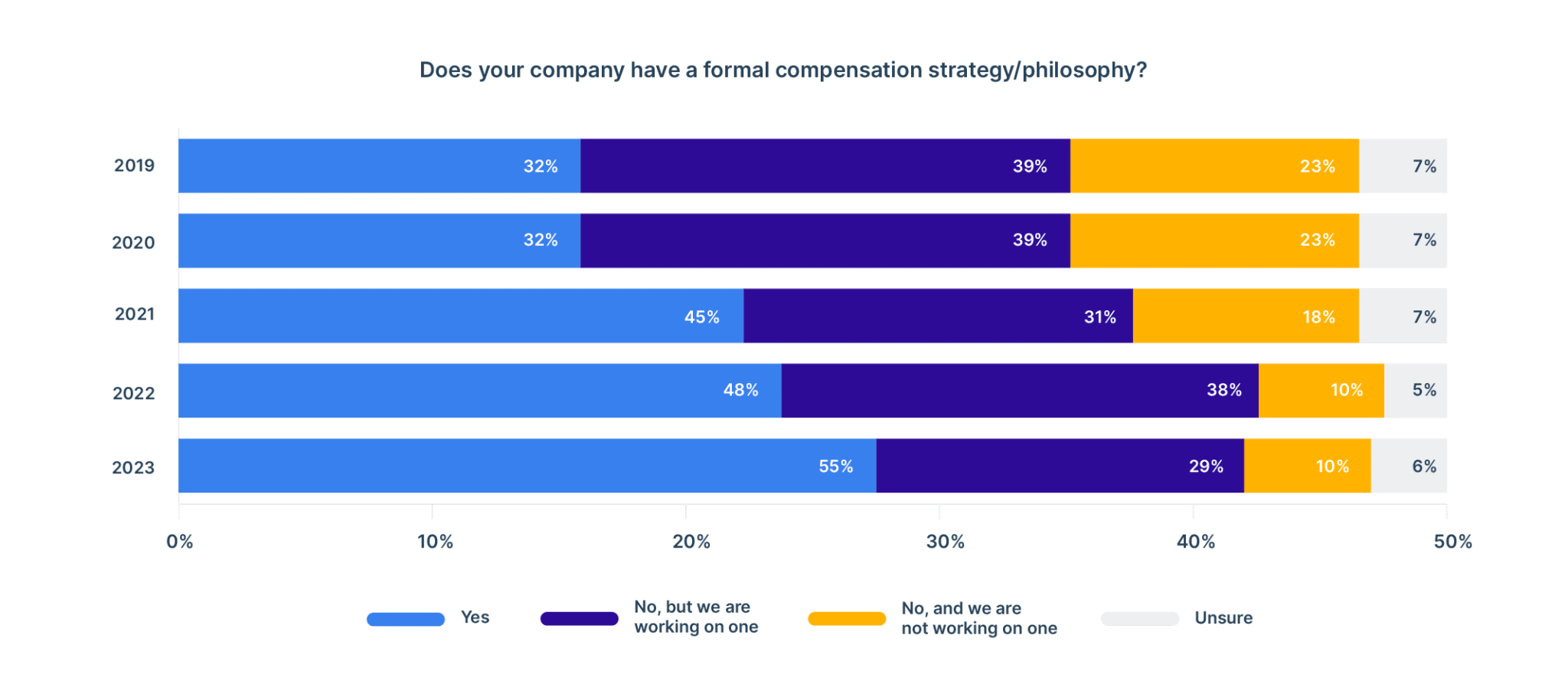 Compensation preparedness
Most organizations (61 percent) have a person or team dedicated to compensation. Having a compensation person or team is a key differentiator when it comes to compensation maturity. Although the likelihood of having a dedicated compensation function increases with company size, any size organization can make this a priority — or outsource to a consulting service get the skilled expertise they need.
Variable pay and benefits
Seventy-eight percent of organizations offer variable pay, which is about the same as last year. However, this number has gone up 8–9 percentage points compared to several years ago.
Variable pay constitutes all cash compensation that is paid to employees above or in addition to their base pay. Variable pay includes any type of bonus, incentive pay, or sales commission that is based on performance or not guaranteed. The difference between bonuses and incentive pay is that bonuses do not have to be tied to measurable performance objectives.
When it comes to benefits, not every organization offers everything, which is why benefits can be a differentiator in attracting and retaining talent. When comparing benefits offered in 2023 compared to 2022, we are seeing increases in mental health or wellness programs, paid sabbaticals, and extended family leave. We are also seeing small increases in student loan repayments, financial/debt services, travel benefits, and the four-day workweek.
Finally, given the importance of gender equality in the workforce and attention to pay equity as a measure of equal pay for equal work, we asked organizations how they have responded to the overturning of Roe v. Wade in the United States. Disappointingly, 52 percent of organizations have taken no direct action. However, organizations that have taken action are more likely to be top-performing organizations that exceeded revenue goals in 2022.
Methodology
The 2023 Compensation Best Practices survey gathered 4,933 responses from between October 2022 and December 2022. The completion rate (55 percent) was the highest of any CBPR in recent history and contains more international responses, enterprise responses, and responses from executives than previous years.
Top Performers
Top-performing organizations are defined as those who exceeded their revenue goals in 2022. In this year's study, a quarter of respondents (25 percent) fit this criterion.
Organization Size
We separate out six organizational sizes for comparison. About 29 percent of respondents reflect organizations with fewer than 100 employees; 31 percent of respondents reflect mid-sized organizations with between 100 and 749 employees; 21 percent of respondents reflect organizations with between 750 and 4,999 employees; 6 percent reflect organizations with between 5,000 and 9,999 employees, 8 percent reflect organizations with 10,000 to 49,999 employees, and 5 percent reflect organizations with more than 50,000 employees.
Industry
Our report provides response data for organizations in 15 industries. As in prior years, the top industries represented in the survey were Manufacturing, Technology (including software), Healthcare and Social Assistance, and Finance & Insurance.
Location
Respondents spanned the globe, including 3,347 respondents (69 percent) headquartered in the United States, 406 respondents (8 percent) headquartered in Canada, and 845 respondents (17 percent) headquartered in EMEA (Europe, Middle East, Africa), with concentrations notably strongest in France, Germany, and the United Kingdom.
Job Level
Respondents were a mix of job levels this year. Managers or directors made up a majority of respondents at 52 percent combined. Executives made up 20 percent of respondents with VPs and C-Suite positions combined. Individual contributors made up 29 percent of respondents.
Roles
Our respondents play a variety of roles in the compensation process including reviewing and making pay increase recommendations (54 percent), completing comp market studies (46 percent), creating or managing job descriptions (63 percent), selecting data sources (50 percent), using compensation software to manage pay (30 percent), and more.
Labor Market Data
Data on job openings, hires, and separations comes from the Job and Labor Turnover Survey, December 2022 release, from the Bureau of Labor Statistics (BLS). https://www.bls.gov/jlt/
Download the full report
Payscale's 2023 Compensation Best Practices Report is nearly 100 pages of charts and analysis on compensation management trends from our survey of nearly 5,000 compensation professionals, HR leaders, and business executives.
Chapters include: The state of the labor economy, strategy and preparedness to handle compensation challenges, compensation planning and base pay increases, variable pay and benefits, job management and pay structures, salary data and market pricing, remote work and geographic pay strategies, pay equity, diversity, and ESG, pay transparency and communications, HR and compensation management predictions, and an explanation of methodology with respondent firmographics.