Summary
The year 2022 saw an extension of the Great Reshuffle of 2021, with labor demand continuing to outstrip supply and driving up wages for talent. However, it was also the beginnings of troubled times as inflation soared, the stock market floundered, and layoffs hit parts of the workforce. With the hiking of interest rates by the Federal Reserve to control inflation, the toll of an impending recession has begun to sound, but the future is still uncertain. Overall, as this tumultuous year lurches to a close, the future of the job market is speculative at best, with reason for both cautious optimism and prudent concern.
Despite the gloom, it's still an employee's market heading into 2023. Job openings continue to outstrip the number of workers available to take those jobs, with the latest unemployment rate hovering at a healthy 3.7 percent — which is close to where it was going into the COVID recession of 2020. Workers have reacted with demands for higher wages, workplace flexibility, benefits, and safety. Meanwhile, "quiet quitting" and "act your wage" have also become trends as employees frustrated by toxic or stressful conditions, work bleeding into home life, and a lack of pay raises and promotions have rallied over social media to disengage from "going above and beyond" and embrace work-life boundaries.
In other cases, workers are actually quitting for opportunities at competing companies or in totally different industries with better compensation and benefits packages. Which jobs are the hottest and which are the most at risk? To find out, Payscale analyzed over 1.1 million salary profiles completed between October 2021 and October 2022 by U.S. workers. Included in this report are the top jobs by fastest-growing wages and the top jobs with the highest quit rates. We include profiles of the top 10 jobs with the fastest-growing wages as these are positions where the outlook is sunniest — even with a possible recession looming.
Of course, job candidates now want to know the salary range before they apply to these positions. Publishing pay ranges in job ads not only attracts more qualified candidates but also has a positive impact on DEIB as pay transparency has been shown to close pay gaps for women and racial minorities. Policymakers have taken notice and pay transparency legislation is now making waves across the United States. As a result, compensation strategy has had to modernize. For employers struggling with this new reality, Payscale offers a suite of solutions and services as well as resources on best practices for salary negotiation in the new age of pay transparency.
State of the labor market going into 2023
To contextualize the state of the overall labor market, we have analyzed data sourced from the Bureau of Labor Statistics Job Openings and Labor Turnover (JOLT) Survey.
Looking at this data year over year from before the COVID-19 pandemic crisis to fall 2022 demonstrates that the biggest impact on the job market has been the surge of job openings that followed the initial layoffs in 2020. The sheer amount of opportunity in combination with a reduced workforce has created an employee-driven market all throughout 2021 and 2022 that will continue into 2023.
As job openings have increased in that time, so has people quitting their jobs. Basically, people can be pickier about their working environment and rewards — including compensation and benefits — because there are a lot of jobs to choose from.
In addition, job separations from layoffs are not as severe as news reporting might suggest. Although layoffs are happening — especially in the technology sector — and may ramp up in the future, layoffs had been decreasing through October. However, job openings and hiring have edged down in late 2022 compared to 2021, which might make getting a job feel more difficult, and there has been more news coverage of layoffs in recent weeks.
If a recession does hit in 2023, hiring freezes will drop the job opening rate and hires rate and we may also see more layoffs. This situation could deter employees from quitting their jobs or asking for pay raises, which would rebalance the labor market in favor of employers and slow wage growth.
When we analyze JOLTS data by industry (see interactive Tableau chart below) we can see which industries have higher job openings, meaning they have a higher demand for talent. Industries with job openings above average include Accommodations & Food Services, Arts, Recreation, & Entertainment, Healthcare, and Professional & Business Services (which includes the technology sector). Although above average, the latest data from the BLS shows that even these sectors are experiencing a downturn in job openings as appetite to hire diminishes.
We can also see which industries have the highest quit rates, which is where voluntary turnover is high. Voluntary turnover increases competition for labor and may indicate which industries could continue to be employee-driven going into 2023, even if hiring freezes temporarily stall the job market. Those with higher quit rates than average are mostly the same as the industries with the most job openings, but with the additions of Retail and Transportation & Warehousing. However, from the data, we see that although voluntary turnover rose throughout the Great Reshuffle of 2021, it is now dipping downward, which suggests a cooling off period.
Finally, although layoffs have been ticking up in recent weeks, not all of this data is visible yet. We can see layoffs increasing slightly in Arts, Recreation and Entertainment and Professional and Business Services (including technology), but for now, this upswing has not brought unemployment to previous levels.
Impact of inflation on pay raises
One of the more challenging aspects of 2022 has been soaring inflation impacting the cost of living as prices increase on everyday consumer goods. Some inflation is normal, with the annual average being around two percent for the United States economy. However, in 2022, inflation climbed to almost eight percent — the highest it has been in 40 years.
Inflation impacts everyone, but it is particularly hard on low-wage earners. Many workers have been forced to change jobs — even if they like where they work — in order to get a bump in pay to make ends meet. Inflation is also hard on retirees living on savings, which have suddenly decreased in value, and especially for those hit by the plummeting stock market. Some have needed to reenter the workforce.
The staggering inflation of 2022 has multiple causes. Most economists cite the impact of the pandemic on market demand and supply chains as the primary culprit, along with Russia's invasion of Ukraine and — to a lesser extent — government stimulus spending. This is evidenced by high inflation being a global phenomenon. Although inflation in the United States is high, inflation in some countries is up to the triple digits. According to Trading Economics, among G20 countries in October, Turkey has the highest inflation rate at over 85 percent. The UK is seeing inflation at around 11 percent and Russia at 12.6 percent. In other words, compared to other G20 countries, inflation in the United States is about average.
When it comes to wage adjustments, the outlook for employees is grim. It is unlikely that organizations will increase pay to keep up with inflation for all workers. Wage increases can cause prices to increase further, begetting a vicious cycle. Instead, organizations adjust pay to keep pace with the cost of labor. The Payscale Index, which tracks wage increases, shows how the cost of labor does not keep pace with the cost of living. When nominal wage increases are adjusted for inflation (real wage increases), there is a gap in earning power that has been widening over the decades following the Great Recession.
The fact is that wages have not been keeping up with inflation for decades — and, in many cases, wages aren't proactively adjusted for the changing cost of labor either. Workers realize this. In many ways, the COVID-19 pandemic was just the last straw, which is now causing workers to "act their wage" or "quiet quit" given the declining value of wages, worsening working conditions, subpar benefits, and the lack of opportunity for advancement, especially considering that productivity and profits for corporations have been trending up.
The top "recession-proof" jobs by wage growth
In 2022, we are seeing wages for the hottest jobs grow by double digits — topping 14–30 percent. The top positions earning more pay compared to previous years include Waiters/Waitresses, Private Bankers, and Media Directors. Most of the positions on this list represent jobs that have been particularly challenging to staff during the COVID-19 pandemic, the Great Resignation, and the volatile market we are experiencing now.
These jobs can be considered "recession-proof" because employers are spending more to fill these roles due to labor scarcity and increased competition. The jobs on the list tell a story, with a mix of essential service jobs and office jobs, where the opportunity to continue working remote is also part of what is driving the market. In looking to attract candidates for these competitive positions, employers should also be considering pay transparency, meaning that they should be publishing pay ranges in job ads.
Note about salary data: Payscale's list of recession-proof jobs shows salaries at the national median. Median pay for these positions will vary significantly depending on geographic and firm characteristics. Generally, larger companies and coastal cities have higher average pay across the board.
For job seekers, what the pay range is and where you fall on it can be more important than the median — especially if the offered salary is adjusted for distinguishing factors like company size, industry, location, skills, and experience. For this reason, it's important to ask for the organization's pay range for the position in question and bring several data points to the negotiation table. Filling out a salary profile with Payscale with as much detailed information as possible will provide you with one data point to reference during salary negotiation.
Profiles: The top 10 "recession-proof" jobs
Below is a bit more information about the top 10 jobs in the hottest jobs list by fastest-growing wages for 2022. To get a more complete understanding of the salary range for your position, fill out an online salary profile with Payscale.
Waiter/Waitress or Server
Food and Accommodation was one of the hardest hit industries during the COVID-19 pandemic, and restaurants haven't had an easy time ramping back up. Many people who held service positions were let go and had to find jobs in other industries — and a lot of them didn't come back. In short, a lack of labor supply has driven up wages for servers.
The median pay of $19,900 a year might be misleading, though. Wages for servers include tips, but base pay for servers outside of tips varies tremendously by state, with servers making as little as $2.13 an hour before tips in some locations. Tips are also not always reported — but with them, servers can make pretty good wages, which makes this occupation attractive to anyone who also needs a flexible work schedule and enjoys social interaction.
It should be noted that although pay for servers has increased, whether that increase is enough to make up for lost income endured during the pandemic is less certain. There's also the concern that raising the base pay for servers might result in lower overall wages as tipping can decline as a result.
Private Banker
It's not surprising to see private bankers on the top jobs list for fastest-growing wages. Financially, the last year has been a bit of a ride. With rising inflation, a plunging stock market, and both the rise and fall of cryptocurrencies, ultra-high-net worth individuals are looking for advice on what to do with their assets.
The pay range for this position can be quite broad, but with the median at nearly six figures, it's an attractive job — especially as other banking positions are at risk for layoffs. Banks are particularly subject to the volatility of the market. With interest rates being hiked by the Federal Reserve to control inflation, there is less business for mortgage lenders and investment bankers. In fact, layoffs are already happening in mortgage management and layoffs for investment bankers may be looming.
But widening wealth inequality means that private bankers are still in high demand, and for the time being, that demand is outstripping the supply with multiple firms on the hunt to recruit. That means wages for these private wealth managers are on the rise.
Media Director
A media director plans and executes advertising campaigns. This job pays well, although it can depend on whether the position is held internally at a corporation or at an advertising agency, as well as the size and renown of the company or agency. Pay for this position can also vary depending on whether it is an individual contributor who directs media campaigns or someone who directs a team of media professionals.
Advertising is important for most businesses, but many industries completely depend on it — and especially so during the pandemic when people were sheltering at home and consuming more media than ever.
To be competitive in a digital world, organizations need savvy media engagement — and that means having skilled professionals with strong leadership skills, strategic thinking, and the tactical know-how to drive more in revenue than is spent on advertising. Finding these individuals is competitive, and the increase in opportunities translates to higher starting salaries.
Emergency Dispatcher (Police, Fire, or Ambulance)
It's been a rough couple of years for emergency response. After all, there have been a lot of emergencies. Emergency dispatchers support emergency responders by fielding calls and sending out the team to investigate inquiries that require it. In recent years, that job has become more stressful. The COVID-19 pandemic put the whole world at risk, and at times, hospitals were overflowing. There has also been an increase in natural disasters, crime, protests, and rioting, requiring attention from the police and other forms of emergency response. Police have also been experiencing scrutiny for racial profiling and brutality, which has created controversy over funding, pay, and training, which would include dispatchers.
This has made a difficult job more difficult. In order to attract and retain people for emergency response positions, compensation has had to become more competitive. However, salaries for police and firefighters are paid by local governments and backed by unions, so the process to increase wages can take some time, which could also impact support roles like dispatchers. Salary increases for police have been reported around the country, often with backpay to cover the time period needed for negotiation or to address past issues around underpayment. That could also mean pay increases for the people who manage inquiries to emergency lines.
Sales Consultant
Sales are always important to businesses, so it's never a surprise to see sales positions in the top fastest-growing jobs by wages. But sales strategy is especially important in the current economy, where revenue has been subject to a volatile stock market and the vanishing value of the dollar due to inflation.
A sales consultant works on behalf of clients to increase their revenue through the sales engine. A sales consultant is responsible not only for building relationships and inking deals, but also for devising sales and promotional strategies to move products and services, often in an advisory capacity through a consulting firm that analyzes the market in order to help clients compete.
This position is attractive because it comes with a lot of autonomy, perks, and growth potential. The base salary is also supplemented by commissions and bonus pay-outs, which vary by organization. A career as a sales consultant can be very lucrative for the right person — especially if you have what it takes to be a persuasive and strategic problem solver — and the pay is increasing.
Microbiologist
Given the world-changing impact of the COVID-19 pandemic, it's no surprise that microbiologists are on the list of top jobs with the fastest-growing wages. As it's turned out, more than one vaccine has been necessary for dampening the mortality rate of COVID-19, and more research is also being done on the impact of vaccines.
Of course, microbiologists are responsible for more than vaccines, and there are also more vaccines to devise than the ones for COVID-19. Microbiologists study all kinds of microorganisms, such as viruses, bacteria, fungi, algae, and parasites. Microbiologists work in labs at medical research facilities, pharmaceutical companies, and biotechnology companies. They usually develop new drugs but can also work on other projects, like biofuels.
This position is an attractive one as microbiologists do interesting, important work, and also keep regular hours. It is also a position that is likely to continue to grow in demand. The challenge is keeping these folks around when ample opportunity beckons, including planning for future promotions to different positions.
Marketing and Business Development Director
Marketing and business development professionals are responsible for devising strategies to push products and grow a business. This is a unique dual role that combines both marketing expertise and sales expertise, potentially with oversight of a team of regional sales and marketing staff. People in this role may be responsible for booking meetings with potential customers, developing marketing collateral, and/or building and maintaining strategic partnerships, particularly if the position is within an agency or consultancy. This job is likely featured on the top jobs list because of the importance of attracting and retaining new customers during a difficult year.
Unsurprisingly, this is a highly paid position, and the base pay is likely supplemented by commissions or bonus pay which can vary by organization and industry. The pay range can also be quite broad depending on where this position is located, the size of the business, the experience of the professional, and the number of people they manage. The bigger the budget and the more successful the marketing strategies devised by the individual, the higher the pay is likely to be.
Dock Worker
Dock workers, or longshoremen, prepare for incoming ships, load and unload cargo, mark the condition of goods, and manage records for arrivals and departures. This position requires technical training with mechanical equipment such as forklifts, gangways, booms, hand trucks, pallet jacks, cranes, and grain trimmers. The job can also have unpleasant and dangerous working conditions.
Dock workers have an incredibly important job. In fact, forty percent of trade in the United States depends on 29 dynamic ports running between San Diego, California and Bellingham, Washington. Even though we are starting to move past the COVID-19 pandemic in the United States, its impact on the supply chain was felt across the world and continues to reverberate.
Without dock workers, the entire port system shuts down — which was a problem during the height of the COVID-19 pandemic when there was a shortage of dock workers but more shipping than ever. The importance of moving cargo safely and efficiently commands good wages that keep up with market demand.
It should be noted that dock workers who are part of the International Longshore and Warehouse Union (ILWU), one of the strongest unions in the U.S. with a fascinating history, can make significantly higher salaries — well above six figures — as well as benefits and a pension.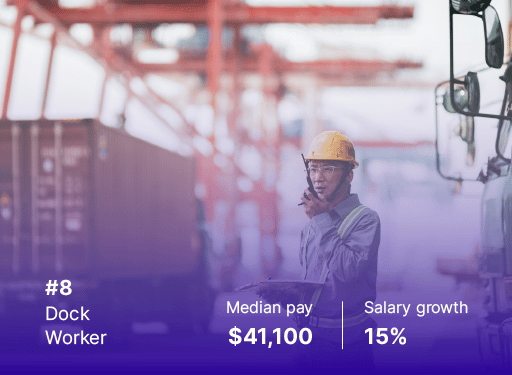 Electrocardiogram (EKG) Technician
Healthcare has had a difficult time as of late, and the need for frontline positions in particular has grown — which includes EKG technicians. EKG technicians operate equipment that measures, monitors, and graphically traces the electrical activity of the heart. According to BLS data, the number of job opportunities for cardiovascular technologists is expected to grow 22 percent by 2024. This is due in part to the advancement and growing affordability of the machines required for monitoring the heart and lungs, as well as the fact that cardiovascular disease rates is general are continuing to rise in the U.S.
In addition, COVID-19 has increased the need for frontline healthcare workers over the past few years. Although it's primarily thought of as a respiratory virus, COVID-19 has also been shown to correlate with an increased risk of myocarditis, or inflammation of the heart. Therefore, EKG technicians have become an important part of treatment for patients hospitalized with COVID-19.
Even outside the context of COVID-19, frontline hospital positions are stressful jobs that are incredibly important but receive less recognition, esteem, and pay than other healthcare practitioners, which worsened over the course of the pandemic. This makes it difficult to attract and retain these individuals, so seeing wages rise is not surprising.
Installation Technician
Installation technician is a broad job title that refers to service people who handle the installation of systems and devices in both private residences and commercial buildings. Installation technicians were also among the essential workers who were put at risk during the pandemic, which are covered in Payscale's Essential Workers Report.
Installation technicians have been actively fighting for higher wages throughout the pandemic. In 2022, the Communications Workers of America union fought for and won substantial wage increases, job security, and privacy commitments for wireless workers with AT&T, which included technicians. The agreement raises base wages by nearly 15 percent over the course of the contract, with additional adjustments made based on the Consumer Price Index to account for rising inflation.
Although it applies to just one segment of the market, this achievement is a bellwether for similar positions at other organizations that will want to pay competitively in order to attract and retain these valuable employees. It should also be emphasized that the job of installation technician represents a career path in the trades, for which new trainees are in high demand. It can be lucrative for hard workers without a college degree as it involves honing a niche skill learned from years of experience on the job.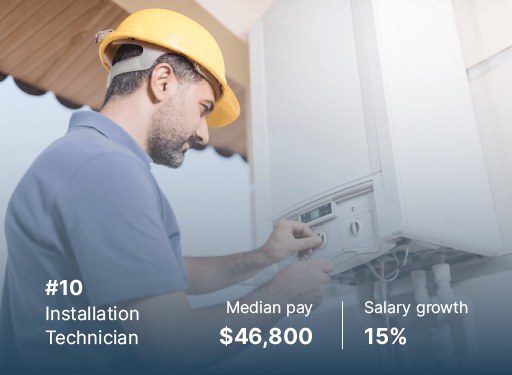 Jobs people are most likely to quit
Payscale also ranks the top jobs employees are leaving according to our online salary survey. Employees could be leaving these positions for the same position at another organization or for a completely different position. Regardless, these jobs represent occupations where employees are stressed, burned out, or unhappy with their pay and benefits compared to what they think they can get elsewhere.
Benefits that impact employee satisfaction include workplace flexibility, a perk that is highly desired by employees as covered in our State of Remote Work Report. This is particularly worth noting since most of the jobs on this list are office jobs that may have been performed remotely during the pandemic but are now being forced to return to an office.  Even among those who may still work remotely, the expectation to work around the clock and be available 24/7 could lead to the increasing prevalence of burnout.
In addition, workers who remain in these roles may still be unhappy and are more likely to be "quiet quitting" or "acting their wage." With a possible recession on the horizon, workers may hesitate to leave an established position for an unknown future in another organization, but engagement is still an issue that employers need to watch out for and try to address.
Topping the list are Senior Customer Service Representatives, which have seen decent salary growth but where the work is stressful and can be unrewarding depending on how employees and customers are treated and valued, and where employees are also being asked to return to office environments.
Also heading the list are Software Development Managers. People in this position make good salaries. However, the market for software development talent is competitive and the technology industry has also been under strain in recent months, leading some developers to eye greener pastures.
Two final positions to highlight on this list are Human Resources Assistants and Human Resources Specialists. Human resources has continued to be an important but challenging profession over the last few years, and the difficulty has not been letting up post-pandemic. For lower-paid and entry-level human resources positions, the burden may be too much — especially if pay increases are meager and promotions don't materialize.
Pay analysis along with pay transparency and pay communications can help address challenges with attrition. Organizations need to analyze how individuals are compensated for their work and how that compensation compares to the external market as well as to other employees — i.e. pay equity — on a continuous basis. Employers interested in tracking the impact of compensation on attrition should check out our whitepaper on the basics of pay analysis.
About our research
Payscale provides a list of hot jobs which have seen the highest growth in wages and job offers from our employee-reported online salary survey from 2021 to 2022. We also provide other annual trends from our data, including: a top list of jobs with the highest quit rates, nominal vs. real wage trends from the Payscale Index, and BLS labor market metrics.
Methodology
Payscale analyzed over 1.1 million salary profiles completed between October 2021 and October 2022 by U.S. workers to curate our 2022 hot jobs list.
We also leveraged respondents who answered the following research questions:
In the next six months, I plan on actively seeking new jobs outside of my current company: Yes / No
BLS Labor Turnover: Data sourced from the Bureau of Labor Statistics Job Openings and Labor Turnover (JOLT) Survey, October 2022 release.
Definitions
Total Cash Compensation (TCC): TCC combines base annual salary or hourly wage, bonuses, profit sharing, tips, commissions, and other forms of cash earnings, as applicable. It does not include equity (stock) compensation, cash value of retirement benefits, or value of other non-cash benefits (e.g., healthcare).
Median Pay: The median pay is the national median (50th percentile) annual total cash compensation. Half the people doing the job earn more than the median, while half earn less.
% Salary Growth: The percent increase in median pay for a given job title, collected from Payscale's employee-reported online salary survey.
% Job Offer Growth: The percent increase in median job offers for a given job title, collected from Payscale's employee-reported online salary survey.
"Seeking New Job" Rate: The percentage of respondents with a given job title who intend to seek a new job in the next six months, collected from Payscale's employee-reported online salary survey.
Nominal Wage Growth: Wage growth not adjusted for inflation.
Real Wage Growth: Wage growth adjusted for inflation using the Consumer Price Index (CPI) from the Bureau of Labor Statistics.
Hire Rate:  The percentage of newly hired employees among the employed workforce. [BLS JOLTS Data]
Job Openings Rate:  The percentage of job openings among all filled and unfilled positions. [BLS JOLTS Data]
Quits Rate:  The percentage of employees that voluntarily left their job among the employed workforce. [BLS JOLTS Data]
Layoffs Rate:  The percentage of employees that were laid off among the employed workforce. [BLS JOLTS Data]
Whitepaper: The new playbook for salary negotiation in the age of pay transparency
Listen up, human resources, recruiters, people managers, executives, and compensation professionals! The tacit rules that govern salary negotiation have changed. Today, job candidates expect pay ranges to be in job ads, and more cities and states are passing legislation to make pay transparency the law. If you want to stay ahead of market trends to attract and retain talent, you need to improve your pay practices and pay communications to align with changing expectations. Learn more by downloading our whitepaper.