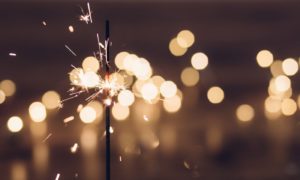 Did you make a New Year's resolution last year? If so, it was probably about health, fitness or maybe your spending habits. And, odds are, you didn't stick to it.
So, why not try something a little different this year instead? Setting small and realistic goals related to your career could have a tremendously positive impact in the long run.
Here are a few career resolutions you might want to make this year:
1. Get to work a little earlier
Changing up your morning routine, even just a little, could make a big difference for your career. Getting to work a bit earlier — even by only 20 or 30 minutes — can help you in all kinds of ways. It will allow you to feel more prepared and in control when the official day starts, for example. And, others will probably take note of your efforts, too.
2. Learn something new
You could resolve to learn something new in the year ahead. Taking a class, reading more or working on teaching yourself a new skill could skyrocket your career.
Maybe there's an educational opportunity that you've been considering for a while. Perhaps 2019 is the year to make the commitment and get it done.
3. Improve communications with your boss
Your professional relationships can have a huge impact on how you feel about your job, for better or worse. So, improving your communication with your boss could help you enjoy your workday a little bit more in 2019.
Consider resolving to stop surprising her in the halls with questions and set up regular meetings instead, for example. Or, commit to asking for more concrete feedback from your boss in the year ahead. Your relationship will probably improve if you put more effort toward strengthening your communications. And that could do wonders for your career.
4. Be better about updating online professional profiles
Doing a little networking in the year ahead could help you get ahead, no matter what stage you're at in your career. These days, a lot of that legwork can be done online.
Professional networking sites like LinkedIn provide an opportunity to keep tabs on your contacts and to keep them up to date on what you're doing too. So, resolve to keeping these profiles more up to date and active in the year ahead.
5. Make some friends
Having friends at work is more important than you might think. Enjoying time your work pals could do wonders for your career. They can help you be more productive and more creative. And, they'll certainly help you feel happier and enjoy your work day a little more. So, think about working toward improving your bonds with your coworkers in the year ahead.
6. Keep more up to date
These days, there's no excuse for being out of the loop. There are so many ways to keep current with what's happening in your industry. Make a New Year's resolution related to staying more up to date. You could resolve to read industry news every morning or even just listen to a new relevant podcast once a week.
7. Polish up your resume
Chances are, it's been a while since you've updated your resume, especially if you've been with the same company for a long time. But, doing so will be to your benefit, no matter what 2019 and the years beyond might bring. So, dust off the old resume and make some improvements. Then, you'll be ready should an exciting opportunity present itself. You never really know what the future might bring.
Tell Us What You Think
Are you going to make any career-related New Year's resolutions this year? We want to hear from you! Leave a comment or join the discussion on Twitter.