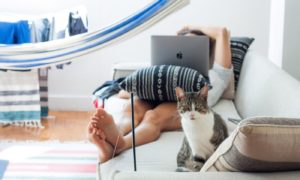 Americans spend a lot of time at work — 47 hours a week on average, according to a Gallup report, compared with 35 hours a week for many workers in Germany or Sweden.
Add to that an ever-expanding daily commute, and the difficulty balancing work and family in a country with no guaranteed paid leave, and it's no wonder that so many people say they'd like to telecommute. (Eighty to 90 percent want to give working from home a try, according to Global Workplace Analytics.)
But remote work isn't all sleeping in and wearing jammies to your home office. There are a few downsides to telecommuting, as well as many rewards. Remote work also isn't for everyone — if you enjoy collaborating with teammates in person or find it easier to stick to a schedule when the boss is in the next cubicle, you might not enjoy working on your own.
That said, many of the obstacles are relatively easy to overcome, if you know what to expect. Here's what you need to know before you start telecommuting:
1. Sometimes, Remote Jobs Require a Location
If you're looking for a work-from-home job, the first thing you should know is that many employers will still require you to live in a certain state or metro area.
"…people tend to think of remote jobs as being the same as 'work from anywhere' jobs," writes Sara Sutton, founder and CEO of FlexJobs, on the job search site's blog. "Although these types of jobs are out there, the reality is that the majority of remote jobs our researchers (typically about 95%) find actually have geographic requirements to them, whether it's a state, city, or even region of the country."
She continues, "This can be for many reasons, from an employer's comfort level of having remote workers, to state tax requirements."
Unsurprisingly, some states offer more work-from-home opportunities than others. FlexJobs identified the top 15 states with the most remote job listings. So, if you live in California, Texas, New York or one of 12 other states, your odds of finding a telecommuting gig are a little bit better.
Does your remote job pay enough? Take the PayScale Salary Survey and get a free salary report in minutes.
2. A Remote Job Isn't a Substitute for Child Care
In many places in the U.S., child care costs as much as in-state tuition at a four-year college. As of 2016, the cost of child care exceeded that of the median rent in Kentucky, Montana, Oregon and Wisconsin.
So, it's no wonder that many parents may see working from home as a potential solution to their child care problems. Unfortunately, telecommuting just isn't a substitute for daycare or a nanny. If you have very small children, you can probably guess why: it's hard enough to get a minute to eat or answer the call of nature, never mind answer email or write reports.
But what if you have older children? Then, it probably depends on the kid — and on the employer. Although it's legally risky for employers to mandate that people can't work at home with kids around, many will try anyway. Some go so far as to ask employees to produce proof that they have child care before they'll grant telecommuting privileges.
If you're trying to negotiate remote work with your current employer and you're meeting with resistance because of these concerns, you could ask for a trial period. Just be sure that you'll be able to devote your time and attention to your work — for the sake of your stress levels, as well as your productivity.
3. You Might Work Longer Days
A recent study found that remote workers were willing to put in longer days than their in-office colleagues. Seventy-three percent of telecommuters said that they were put in more effort than required, compared to 68.5 percent of employees who worked on-site.
"The evidence suggests that remote workers are over-compensating to prove to their colleagues they are not in their pajamas at home and prove to their employers they are a safe pair of hands willing to go the extra mile in return for the discretion an employer gives them to work at home or in a remote location," says the study's lead author, Professor Alan Felstead of Cardiff University's School of Social Sciences, speaking with The Daily Mail.
In addition to wanting to prove that you're not napping on the company dime, you might find yourself having trouble calling it quits at the end of the day. Without the visual cue of cubicles gradually emptying around you, it's easy to work long past your usual quitting time.
4. Prepare for a Few Technical Difficulties
Of course, even when you work on-site, technical problems are a fact of working life. But when you work from home, those challenges are compounded by the fact that you're working at another location — one where tech support isn't as readily available.
Plus, some companies may restrict access to certain programs for data security reasons, making it harder to get all the tools you need to do your job. If you're telecommuting for an employer where most other workers are in-house, you might want to ask about any restrictions before you start working at home.
You should also have a backup plan in case anything goes wrong on your end. What will you do if you lose internet or power? Have other options in mind if technical issues arise. Most coffee shops and libraries have free WiFi, or you might have access to a local co-working space that will let you pay the day rate for internet and coffee and a place to work.
5. You'll Have to Become an Ace Communicator
Whether your entire team is remote or you're the only one with a home office, working together when you're not at the same location is a communication challenge. Count on being a lot more proactive about reaching out, following up … and watching your tone.
Constructive criticism can be especially hard when you're not there to deliver it (or receive it) in person.
"If you don't word it correctly, people can take offense at something very simple. You have to be very pointed in how you ask questions or give feedback," says Michael Fry, president of Deepwater Subsea, a company that inspects oil rigs, in an interview with Inc.
Fry says that he often conveys any critiques via phone or video chat, to avoid miscommunication.
6. Setting Boundaries With Friends and Family Can Be a Challenge
Telecommuting is on the rise, but the majority of workers still do their jobs at a defined workplace. If you're the only remote worker in your household, you may have to set some boundaries.
Don't be surprised if your partner (or kid or roommate) assumes that because you're home, you're available to work or to play. Lay down the ground rules as soon as possible, so that there's no room for confusion about your availability.
You don't have time to clean the house during your lunch breaks or run errands between meetings. You probably shouldn't volunteer to dog-sit or babysit or watch your friend's prizewinning orchid. You will not be able to prepare Thanksgiving dinner on a nightly basis, just because you're home while most people are commuting.
Once you're used to your new schedule, you'll probably be able to sneak in a load of laundry now and then. But don't let your newfound freedom turn into a trap. Again, you might not have as much extra time as you expected — and if you do, it's not a bad idea to invest some of that in self-care, not additional chores.
7. You Might Love It More Than You Ever Expected
According to a Leadership IQ survey, telecommuters were 87 percent more likely to love their jobs than people who worked in an office — and for very different reasons than you might expect.
"To work remotely and love it requires striving harder and working longer," writes Mark Murphy, founder of Leadership IQ, at Forbes. "And while that's certainly not for everybody, those traits are a far cry from the negative stereotypes we often hear."
Murphy says that his company's survey suggests "that to love working remotely you've got to have a hard-charging, go-getter, self-motivated mindset."
So, while working remotely isn't for everyone, it's also better suited to ambitious, driven workers than you might have been led to believe. If you don't mind being proactive about communication, setting boundaries with coworkers and loved ones and being willing to adapt to unexpected changes, telecommuting could be the best thing that ever happened to your career.
Anyway, you'll lose that commute.
Legal Disclaimer: The information provided is for informational purposes only. Although every reasonable effort is made to present current and accurate information, PayScale makes no guarantees of any kind and cannot be held liable for any outdated or incorrect information. If you have any concerns, consult an employment lawyer.
Tell Us What You Think
Do you work from home? We want to hear from you. Tell us what surprised you the most about telecommuting. Share your story in the comments or join the conversation on Twitter.