You may have worked on the same team together as peers, been classmates in school, and come up for promotion at the same time. But only one of you made the cut this time, and it was not you who was promoted. Now your peer is your manager, and as much as you resent it, there's little you can do but accept her in her new role. Assuming you're not in a rush to head out the door, here are a few ways you can handle the transition.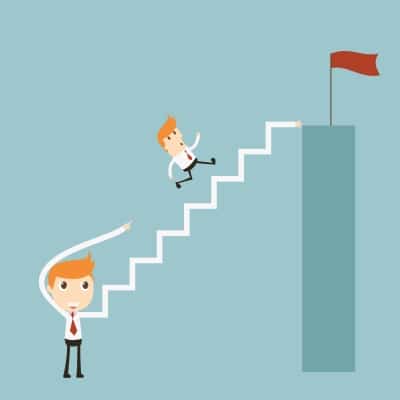 (Photo Credit: jumpe/freedigitalphotos.net)
1. Congratulate her: Set aside your ego and jealousy. Even if you absolutely hate that she's been promoted over you, put on a smile on your face, and congratulate her on her promotion. This person is going to be your boss and you're much better off starting out on the right foot. If the two of you competed with each other, were good friends or the only two contenders for the role, she is going to look out for your congratulatory mail or in-person handshake. Your attitude will be more conspicuous when you don't do what is expected of you.
2. Talk to your one-over manager: This is the person who most likely promoted your peer over you. If you feel both of you were equally competent and capable for the promotion, set some time to figure out what your shortcomings are. Start by giving your one-over manager the confidence that you are mature enough to handle a setback. Assure her that you look forward to working with your new manager but just want to understand how your career growth gets affected by this change. This is a perfectly valid question, especially because you were this close to the promotion and now that role is filled. Understand the plans for your role. If you do see a long-term association with the organization, suck it up and stay put.
3. Work on your developmental areas: Having sought input on your performance and potential, try and focus on areas highlighted as the areas you need to work on. Give it your best.
4. Acknowledge the changed relationship: Even if your new manager reassures you that your relationship is not changed, that the two of you could still have lunch together, bike back home together, etc., understand that the peer-peer relationship is different from the manager-subordinate relationship. You will not be able to maintain the same level of camaraderie that existed before the change in relationship status. She is now responsible for your performance and has the power to influence your career on the team.
5. Have an open discussion: The change in relationship can remain the elephant in the room if you don't discuss it. Set some time with your new manager to discuss how you plan on supporting her going forward. Understand what kind of working relationship would best work for both of you. This will help clarify a lot of gray areas and get rid of the everyday awkwardness.
6. Keep an open mind: Because she knows you as a peer, she may also already know how you operate in the team — what your strengths are and how you like to be managed. If she chooses to acknowledge your contribution, you can end up with a trusting relationship where your strengths and skills are put to good use.
7. Apply for lateral moves: There is every possibility that your team cannot accommodate another candidate on your new manager's level. If that is the case, check to see if you can apply to other teams that may have openings, where you could qualify. Obviously your new manager will be involved in the process, but use your discussion with your one-over manager to make your case. Chances are that your new boss may be more than happy to help you find a new job in the same organization — the transition in relationship might be awkward for her, as well.
8. Give it some time: It is possible that your new manager is making work difficult for you, and not giving you enough opportunities, because she knows you are just about as good as her. If you feel that all the effort you are putting into reassuring her that you accept her leadership is not making any difference in her attitude, and that she is sabotaging you, discuss it with HR, or meet with your manager's manager to share your concerns, if you trust that they can address your situation. But give it some time (six months to a year) before you escalate to them. For all you know, your manager may change for the better in that time!
Tell Us What You Think
Have you ever worked for a friend? We want to hear from you! Leave a comment or join the discussion on Twitter.