If the time commitment or cost of attaining a bachelor's degree gives you pause, or if you know you won't need a bachelor's degree to pursue your career of choice, an associate degree might be a good option. The best associate degrees can be springboards into a well-paying career; holders of the top-58 associate degrees on our College Salary Report's list of majors that pay you back make at least $60,000 a year in mid-career median salary. And holders of the top-16 associate degrees make at least $70,000 a year.
Many of the best-paying jobs for holders of associate degrees are also in rapidly growing fields; engineering, healthcare and tech jobs hold many of the top-paying jobs on this list.
It's fair to say that the best associate degrees to have at any given time are reflective of the current economy. When there is a need for a specific job market, it greatly influences young college-bound students who want to earn a steady living with job security down the road. It also influences what types of courses and majors colleges and universities offer. In PayScale's latest College Salary Report, we zoomed in on data from two-year schools to find out what the best associate degrees are in 2017. These associate degrees are considered the best because students who choose to major in these subjects have the highest salaries by the time they reach mid-career.
10) Nursing Science
Mid-Career Pay: $72,400
If you study Nursing Science, you'll be learning about science, research, interpersonal communication, and related areas that inform the practice of nursing. The need for nurses in the United States — due to, among other issues, an aging population — has been well documented, and the job prospects for nurses are generally good.
9) Economics
Mid-Career Pay:$72,400
Pursuing a degree in economics means your classes will focus on building both qualitative and quantitative skill sets. If you're analytical and fascinated by numbers, then an economics major might be a good choice for you. Holders of a degree in economics can work in many areas, including analysts, financial managers, and even reporters for economic media outlets.
8) Engineering
Mid-Career Pay: $72,500
The engineering field is extremely broad and contains innumerable specialized fields, each with a more specific emphasis on particular areas of science, technology, mathematics and social knowledge to design, build and maintain … pretty much anything, depending on your focus. There are several specialized types of engineering degrees on this list, including …
7) Electrical Engineering Technology
Mid-Career Pay: $72,600
Electrical Engineering Technology focuses on the application, theory, and applied design, and implementation of electrical engineering. It is the largest branch of engineering technology and includes a diverse range of sub-disciplines, including electronics, embedded systems, control systems, telecommunications, and power systems.
6) Electrical Engineering
Mid-Career Pay: $73,200
Electrical engineering is a field of engineering that generally deals with the study of, theory and application of electricity, electronics, and electromagnetism. It is subdivided into a wide range of sub-fields including electronics, digital computers, power engineering, telecommunications, control systems, radio-frequency engineering, signal processing, instrumentation, and microelectronics.
5) Construction Management
Mid-Career Pay: $73,400
Construction Management uses specialized, project management techniques to oversee the planning, design, and construction of a project, from its beginning to its end. Construction managers control a project's time, cost and quality.
4) Nuclear Medicine Technology
Mid-Career Pay: $74,600
Nuclear medicine is a medical specialty focused on the application of radioactive substances in the diagnosis and treatment of disease. One specialty of the field is nuclear medicine imaging – almost a reverse x-ray – in which radiopharmaceuticals are intravenously or orally given to a patient, and gamma cameras capture and form images from the radiation emitted by the radiopharmaceuticals.
3) Management Information Systems
Mid-Career Pay: $78,800
Management Information Systems is the study of people, technology, organizations, and the relationships among them, usually as it relates to business. Holders of a degree in MIS usually work in roles where they help organizations maximize the benefit from investments in personnel, equipment, and business processes: Chief Technology Officers, IT Directors, and Chief Information Officers often have a background in MIS.
2) Radiation Therapy
Mid-Career Pay: $87,500
Radiation therapists plan and administer radiation treatments to (most often) cancer patients, and with advanced degrees can also prescribe medications and radiation and interpret tests results.  After an oncologist has decided that application of radiation will benefit the patient, it then becomes the radiation therapist's responsibility to interpret the prescription and develop a treatment plan for treatment delivery.
1) Instrumentation Technology
Mid-Career Pay: $95,200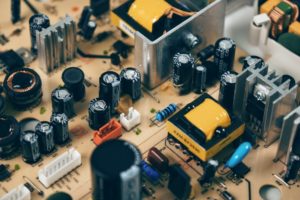 Instrumentation technology graduates install, maintain and repair devices that measure or control pressure, flow, currents and speed for gas, electricity, chemicals and other systems. Equipment of this sort is used by a variety of businesses, making the degree applicable in numerous industries.
Tell Us What You Think!
Do you have a degree in any of these majors? We want to hear from you! Comment below or join the discussion on Twitter!