Payscale's annual Compensation Best Practices Report is now available for download and the insights are informative and important, especially given the challenges of the current labor market and the urgency with which organizations are approaching 2022 pay increases in the midst of rising inflation.
If your organization is worried about what it will take to attract and retain talent in the post-COVID "Great Reevaluation", the data and insight in this report is imperative to help you strategize, plan, and mature for the future of work.
The full report is 60 pages with 100 charts distilling data from our Compensation Best Practices Survey fielded between November 2021 and January 2022 to HR leaders, compensation professionals, business executives and others involved in the processes of determining pay and compensation strategy for employees.
The information is organized into chapters that include:
Labor Market Challenges
Compensation Planning for Base Pay Increases
Variable Pay and Benefits
Salary Data and Market Pricing
Compensation Strategy and Structure
Remote Work and Geographic Pay
Pay Equity
Pay Communications and Transparency
HR Investments and the Future of Compensation
2022 Pay increases are the highest they've been in years — and not high enough
After a rough two years of difficult working conditions during a pandemic, employees are expecting higher than average pay increases in 2022 to keep pace with a labor market that is exceedingly volatile.
The vast majority of organizations (85 percent) are worried that rising inflation will erode the value of pay increases. According to the latest report from the Bureau of Labor Statistics (BLS) released in January, inflation is up 7.5 percent compared to a year ago. That is more than double what the average annual increase in pay usually ends up being (around 3 percent) — or at least what has been true on average since the Great Recession of 2007.
According to our Compensation Best Practices Report, which is fielded in late Q4, 44 percent of organizations are planning to give pay increases above three percent in 2022. But although this is an increase of 13 percent, it still doesn't seem like enough. Unfortunately, only 29 percent of organizations said they are increasing their pay increase budget.
It is possible that rising inflation is temporary, but it is having an immediate impact, especially on low wage earners. At the same time, 76 percent of organizations experienced labor shortages or trouble attracting talent in 2021 and this has led to wage increases to attract new hires. This incentive, in combination with workers feeling dissatisfied with how they were treated during the pandemic, has led to people reevaluating what they want out of life. Some are leaving the workforce all together. Others are leaving for richer opportunities. This looks like it will continue in 2022.
Strategies other than 2022 pay increases being used to attract and retain talent
Pay increases are one component of compensation management, but they aren't the only part of the compensation cycle that employers have to manage. Payscale is pleased to see that the percentage of organizations (86 percent) that say they either have a compensation strategy or are working on one shot up 10 percent in 2022 — and 16 percent since 2020. Before 2021, this number has been hovering at 70 percent for years, so the increase is a signifier that organizations are starting to realize that compensation strategy matters and that there is more to compensation management than using salary data and determine what salaries to offer new hires and how much to increase pay year to year to keep up with the market.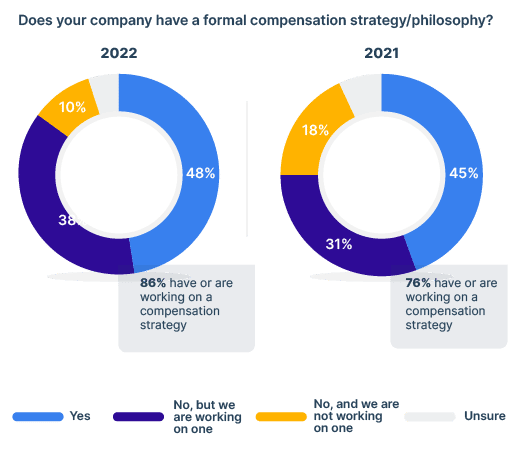 We asked organizations what they are doing to attract and retain talent in the current economy for salaried or high wage workers versus low or minimum wage workers. For both groups, the most popular strategy is to raise wages or salaries, but they weren't the only strategies. For low wage workers, the second most popular strategy is paid time off (31 percent) while for salaried workers it's remote work or a flexible work location (59 percent).
Other important aspects of compensation management include how variable pay and benefits combine with base pay to create total rewards packages. Variable pay can be used to reward employees for their hard work and performance when base pay increases need more time to process. However, only 79 percent of organizations offer some type of variable pay, which is more than last year, but could be higher yet.
Surprisingly, only 53 percent of organizations are fairly confident or very confident in their total rewards packages currently.
There are also more advanced compensation management processes that can help organizations analyze the impact of their compensation strategy as well as monitor and maintain pay equity throughout the organization. Advancing their compensation maturity should be something more organizations are looking to work on as around three-fourths (75 percent) of organizations expect compensation will be more challenging to manage in 2022.
Managing pay equity alongside 2022 pay increases
One area of compensation that has become top of mind for organizations across the world is pay equity, which should be managed alongside 2022 pay increases to make sure that pay is fair for all employees after adjustments for inflation, market changes, and performance.
For the first time in the history of Payscale's Compensation Best Practices Report, a majority of organizations (66 percent) are saying that pay equity analysis is a planned initiative in 2022, which is a 20 percent increase from last year. As in previous years, pay equity is associated with a more mature approach to compensation and differentiates top performing organizations (67 percent) — or those that exceeded their revenue goals — from non-top performing organizations (58 percent).
This is sorely needed as 36 percent of organizations know what their organization's gender pay gap is and 29 percent of organizations know what their racial pay gap is. Disappointingly, 9 percent of organizations said that their leaders think pay gaps are nonsense.
Organizations are also coming around to the idea that pay equity is not something conducted and then shelved but needs to be a continuing process alongside all hires and awarded pay increases. This is particularly important when considering the increased attention on pay equity legislation, which only 19 percent of organizations said they were concerned about, although another 34 percent said so they were no concerned because they are prepared.
Increasing intent to focus more on pay transparency
Pay equity is also a key contributor to whether or not organization feel comfortable with pay transparency, which organizations consistently say they want to focus on more than they currently are. Last year, a majority of organizations (55 percent) wanted to be at least a 3 on the spectrum in 2021; however, just 34 percent of respondents evaluated themselves as such. This year, 60 percent want to be at least a 3 on the pay transparency spectrum; however 36 percent of respondents currently evaluate themselves as such–a five percent increase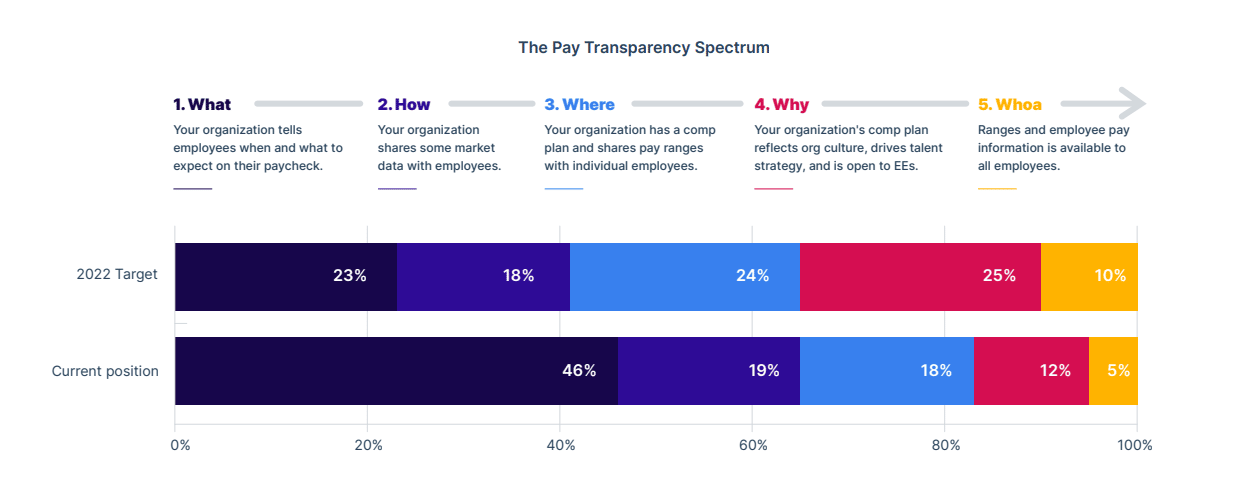 .
Correspondingly, 54 percent of organizations do not train their managers on how to have conversations about pay with employees and only 40 percent share total rewards statements with employees. This is unfortunate as pay communications is something every organization could do a better job of and one area that may help with talent attraction and retention in a difficult labor market.
One area of pay transparency that has been getting some attention in the media lately is the inclusion of pay ranges in job advertisements. Colorado state has recently begun to require this for job ads, which organizations have needed to scramble to address. When we asked participants when they shared pay ranges with employees or candidates, 24 percent said that they never do and only 22 percent do so in the job advertisement.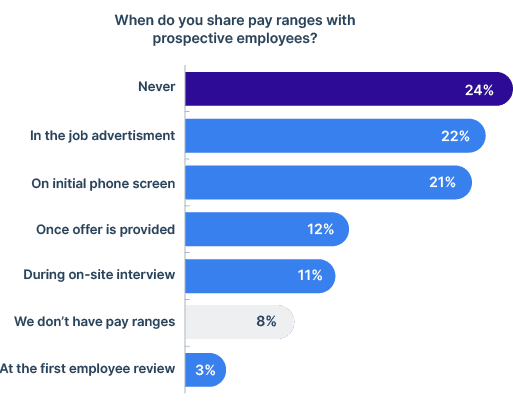 Payscale's Compensation Best Practices Report contains many other data points and insights, including investments and prioritizations of HR and compensation related activities according to the HR professionals who took our survey. Overall, there were 5,578 respondents. The analysis in the full report includes cuts of the data across multiple factors, including top performing versus non-top performing organizations, organization size, and industry.
Download 2022 Compensation Best Practices Report (CBPR)
Payscale's 2022 Compensation Best Practices Report is an 60+ page analysis of compensation trends and charts taken from our survey of over 5,000 compensation professionals, HR leaders, and business executives. Covering everything from base pay increases to compensation strategy, pay equity, and pay communications, this report offers unique insights on the state of the labor market and what other organizations are doing in terms of compensation and total rewards to attract and retain talent.