A few years back, I consulted for a hospital in a somewhat rural area that really needed their nurses to increase their level of certification. As a result, someone had decided that they would add $500 in base pay for every certification obtained by each nurse. It was a valid idea in theory, although it missed the mark in a couple key ways, not the least of which was neglecting to include the phrase "relevant to the position." When I began working with the organization, their nurses were paid well above market due to the practice of paying for any certifications, relevant or not.
The hospital was not too far off the mark, though. In PayScale's 2017 Compensation Best Practices Report we learned that about half of healthcare organizations (49 percent) will compensate more for competitive jobs. Competitive jobs, in a healthcare environment, largely consist of nurses, clinical and/or medical jobs, and physicians.
What makes those positions tough to fill? The number one answer for healthcare organizations was a scarcity of qualified applicants (70 percent vs. 67 percent of all), followed by the inability to offer a competitive salary (20 percent vs. 20 percent of all). So when healthcare and medical organizations seek to retain and hire top talent for competitive roles, they are more likely to target a higher market percentile (59 percent vs. 49 percent of avg)
Wages in the healthcare industry outpaced the national average during the recession. Since then, wages have kept relatively on par.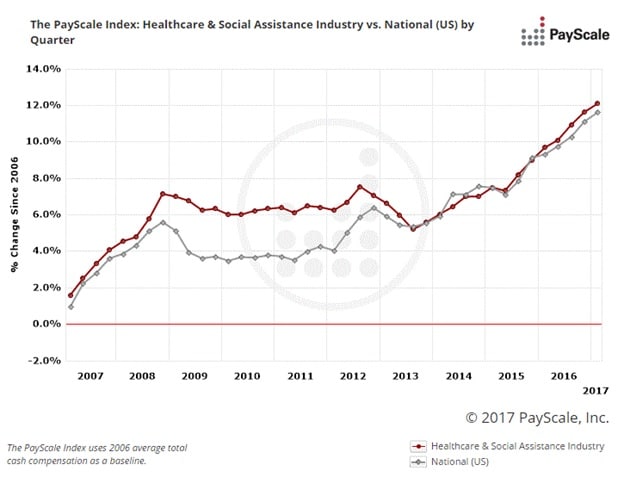 Demand for nursing jobs, as with other competitive roles in the healthcare industry, tends to fluctuate by region. The supply of nurses tends to be less in more rural areas, although the demand may be lower as well. As a result, wages for nurses can really fluctuate from region to region.
Back to our hospital in the rural area, what could they have done differently? Adjustments to base pay tend to feel somewhat permanent. It's really hard to reduce someone's pay after they've received an increase. They could have offered a flat bonus to nurses upon completion of their job-relevant certifications. Certifications can drive pay among nurses, from LPNs to RNs, but rather than give an arbitrary bump to base pay, why not offer the bonus and then move them onto a scale for nurses with the certification in question? Adding an RN to an LPN should create an additive, but not an exponential effect to pay.
We have gathered compensation best practices from the more than 500 respondents to the PayScale Compensation Best Practices Report who are in the healthcare industry in our Healthcare Industry Factsheet.
It provides some insights about how medical and healthcare organizations approach compensation. A couple of highlights include:
Compliance, both minimum wage and FLSA, impacted compensation strategies for healthcare in 2016.
Healthcare is less concerned about filling technical and management roles than other industries. In healthcare, the medical jobs are tougher to fill.
We've gathered tons of compensation best practices carried out by your medical and healthcare peers. We hope you'll find them useful. Check it out here.
Tell Us What You Think
Does your healthcare organization pay more for competitive jobs? We want to hear from you. Tell us your story in the comments.