2018 Compensation
Best Practices
See how HR and business leaders are managing comp in their organizations, from salary increase budgets to variable pay to compensation communication.
See how HR and business leaders are managing comp in their organizations, from salary increase budgets to variable pay to compensation communication.
Executive Summary
The overarching theme for the 2018 Compensation Best Practices Report is centered around the fact that HR doesn't have faith that their managers are doing a good job explaining pay rationale to employees or having tough pay conversations. However, managers are still the ones having those compversations. In a tight job market, retaining employees and strengthening your pay brand is key, so how can HR bridge that trust divide with managers and get everyone talking the same language around pay?
Compensation, done well, is about your organization's realization that you are playing a talent game and a perception game. To win, you must approach what you pay, how you pay and why you pay as key pillars of your talent strategy and compensation philosophy. We surveyed 7,100 HR professionals and business leaders for this year's report and are excited to share best practices for base and variable pay, engagement, transparency, performance and more.
The Corporate Chasm
PayScale is in the very unique position of being able to survey both workers and their employers. Through this data collection, we can compare perceptions on workplace engagement held by both groups to identify the gaps. We call this the corporate chasm, and we have been tracking it for a few years now. This year the gap remains fairly substantial around the perception of fair pay. Both groups agree that pay processes don't tend to be very transparent. New in 2018, we learned that workers are less likely to feel that interactions are positive and productive at work. That said, managers might not be the problem, as 68 percent of workers report having a great relationship with their manager.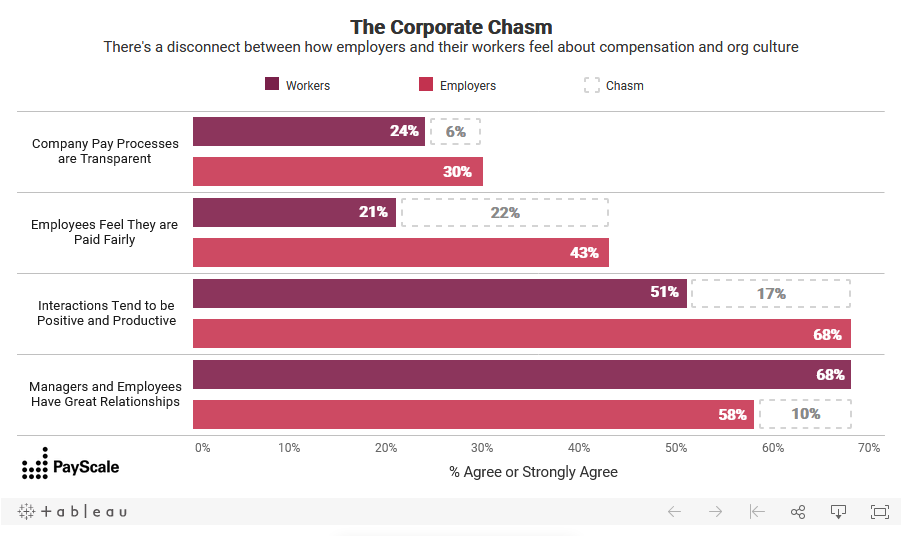 There's a Disconnect Around Pay Communication
When it's time to communicate pay decisions, organizations want to trust managers to have those conversations effectively with their employees. However, we find that organizations don't trust their managers to talk about pay: only 10 percent of organizations are very confident in their managers' abilities to explain the rationale behind pay decisions. What's interesting here is that managers feel much more confident having these pay conversations than you'd think, based on how little faith HR and business leaders have in them to do so.
Leaning Toward More Pay Transparency
In 2018, organizations have slightly greater aspirations toward transparency, with 57 percent of organizations aiming to be transparent (level three or greater) compared to 54 percent in 2017. Organizations don't have to reveal compensation for all employees, however, in order to achieve better transparency. A few steps you can take to move toward increased transparency are to discuss how pay is determined, where an employee's compensation falls in the pay range for the role and what the compensation philosophy is for your organization.
Download The Report
The 2018 Compensation Best Practices Survey gathered responses during November and December 2017. There were 7,100 respondents to the 2018 Compensation Best Practices Survey.
Thank you! The information has been submitted successfully.
Methodology
Top-Performing Companies
Top-performing organizations are defined as those who are number one in their industry and met or exceeded their revenue goals in 2017. Seventeen percent of respondents were top-performing.
Location
Respondents spanned the globe, including 5,143 respondents in the United States and 567 respondents in Canada. Organizations with both single and multiple locations were represented.
Organization Size
This year we defined four organizational sizes for comparison as follows: Small (1-99 employees), Mid (100-749 employees), Large (750-4,999 employees) and Enterprise (5,000 or more employees). While about half of the respondents reflect small organizations, more than 1,300 come from large and enterprise organizations.
Industry and Org Type
As in prior years, the top four industries represented in the survey were Technology, Healthcare, Manufacturing, and Nonprofit. In terms of organization type, most respondents were either from a public or private company (74 percent), but there were responses from schools, hospitals and governments as well.
Job Level
Most respondents self-identified at the Manager level (34 percent). Twenty-three percent were Directors, 22 percent Individual Contributors, and 21 percent at the Vice President or C-level.