PayScale has a work-hard, live-well culture. The first time we tapped our kegs on a Friday, I wondered how it came to be that having beer at work was a perk of the job. My closet is bursting with PayScale t-shirt and sweatshirt pride. And our 10-year veterans get sent on a trip with an allowance that, as our VP of People says, "has a comma and doesn't start with a 1." But it turns out, we're not alone.
Getting Ahead of Tech Talent Competition
Many tech companies have learned to differentiate themselves by having the best, quirkiest perks and benefits. PayScale's 2017 Compensation Best Practices Report gathered information from more than 500 respondents in the tech industry. When asked what is their employees' favorite benefit, the responses ranged from free food, free alcohol, and free travel to flexibility, remote work, and PTO.
At PayScale we believe in creating a win-win for employers and employees. According to the PayScale Index, wages for tech jobs have been outpacing average jobs since the end of the recession.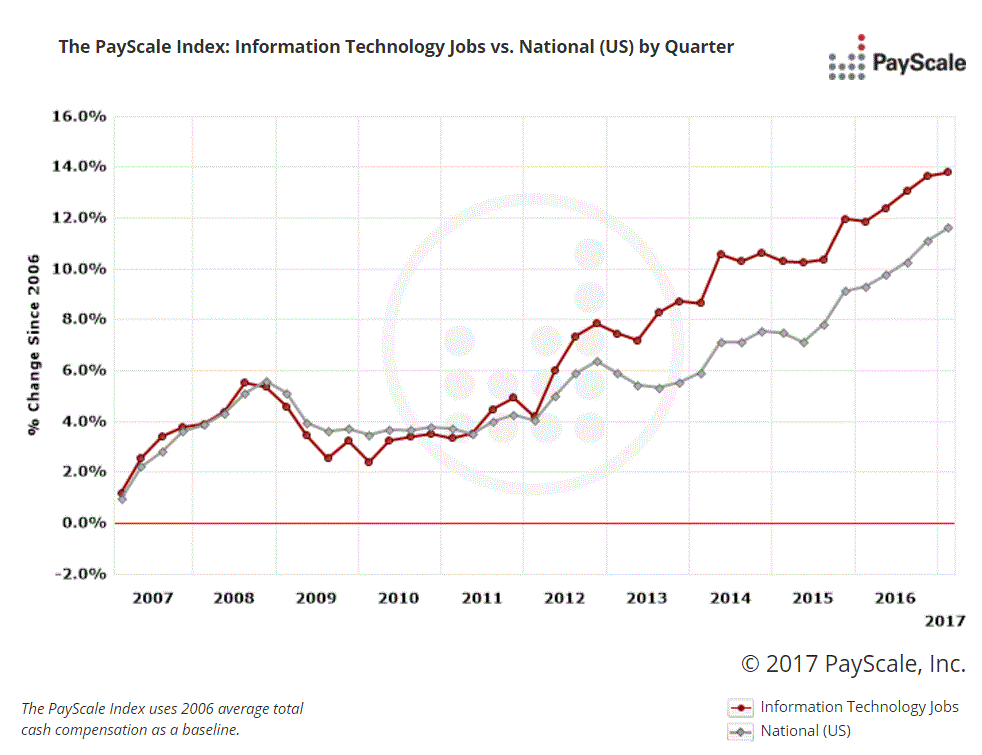 At a time when competition is fierce among tech employers, are you doing all you can do to retain top talent?
Compensation Best Practices in Tech
We gathered the compensation best practices from the 500+ tech company respondents to the 2017 Compensation Best Practices Report in this Tech Industry Fact Sheet. What are some of the ways that tech organizations use compensation to continue to differentiate themselves? It turns out that bizarre benefits aren't the only way they go about it.
Tech companies are much more likely to shell out the cash, especially for top performers, than non-tech organizations.
Tech is more likely to keep current by checking market data more frequently. They are also more likely to keep comp plans up-to-date.
Not surprisingly, tech is more concerned about competitive talent markets, poaching from competitors and requiring non-competes more regularly than non-tech organizations.
We hope you'll enjoy the insights we've gathered from your tech company peers! Check out the Tech Industry Fact Sheet here.
Tell Us What You Think
Do you see these trends in your organization? We want to hear from you. Tell us your story in the comments.