If you're reading this at work right now, you're not alone: according to the Bureau of Labor Statistics' Time Use Survey, 34 percent of employed people are at work on the weekends, as opposed to 83 percent on week days.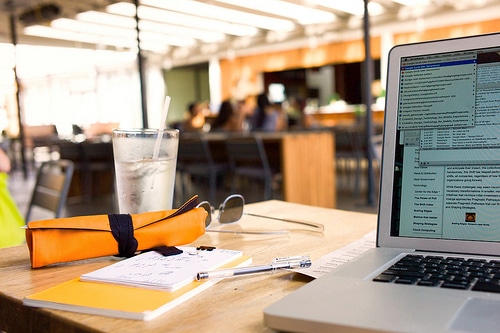 (Photo Credit: Julian Bleecker/Flickr)
Who are these 34 percent of workers? Well, some are people who just drew the short straw and got a Saturday shift, or people who work in sectors like food service or retail, where the weekend is the best time to make bank. Over 30.7 percent of weekend workers are single-job holders.
When we dig deeper into the data, a picture of the weekend worker starts to emerge:
While 30.7 percent of single-job holders work on weekends, multiple-job holders do so 67 percent of the time. Multiple-job holders were also more likely to be at work on any given day of the week — 83 percent compared with 67 percent of single-job holders.
Self-employed workers were more likely than wage and salary workers to work on the weekends — 42 percent compared with 31 percent. They were also more three times more likely to do some or all of their work at home.
Workers with all levels of educational attainment are about equally likely to work on the weekends (33.8 percent for less than high school; 29.6 percent for high school; 31 percent for some college or associate's degree; 34.2 percent for bachelor's degree or higher). However the number of hours worked was much less for workers with a bachelor's degree or higher — 4.21 hours, average, compared with over 6 hours for other educational levels.
Bottom line? You're most likely to work on the weekend if you have more than one job, or work for yourself. In other words, unfortunately, exactly what many workers have done to make ends meet, after the Recession.
Tell Us What You Think
Do you work on the weekends? We want to hear from you! Leave a comment or join the discussion on Twitter.