The economy is starting to perk up a little. Hiring is up and is supposed to continue to improve for the rest of the year. That said, this isn't happening everywhere. Some areas of the country are recovering faster than others. Are you willing to move for a job? You would be willing to move for the best job offer you can find? It's important to do a cost of living comparison before you do.
A recent AP story, "Job Gains Should Offset Higher Gas and Food Prices" states, "Companies have added an average of 250,000 jobs a month in the past three months, the biggest hiring spree in five years. The unemployment rate has dropped nearly a full percentage point since November." This sort of news is a big relief after months of growing unemployment.
Yet, you can't always find the best job for you in your hometown. For example, The PayScale Index, where PayScale tracks wage trends by metro area, industry and company size, shows that Boston has had a full percentage point in wage growth in the last year, while Riverside, Calif. has had more than a full percentage point drop. Message? Head for Boston. Avoid Riverside.
Maybe it would be great to have an adventure and try out a new place. Perhaps you've never lived on the west coast and would like to try it out, or if you have a feeling that Austin, Texas would be fun, write your wish list and take a moment to do some research. A cost-of-living comparison can help simplify your decision.
Using PayScale's Cost of Living Calculator, simply enter your current city, the city you'd like to move to, your current job title and your current salary. The cost of living calculator will then let you know, not only how much more or less expensive your new town could be, but how other towns, you may not be considering, compare.
Let's take an example and see what sort of results we get. We'll pretend that we are a hair stylist in Detroit, Mich. and want a big adventure. Let's consider a move to Anchorage, Alaska. According to PayScale, a hair stylist with 5-8 years of experience in Detroit, Michigan earns $21,900 per year in total compensation. Let's see how our financial life will change if we move to Anchorage.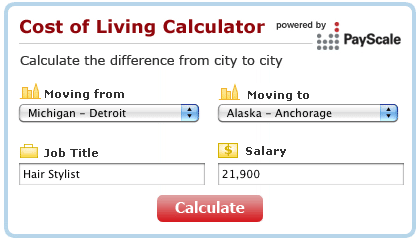 It looks like Anchorage is a 25 percent more expensive place to live than Detroit overall. Ouch. Outside of utilities, every cost is higher in Anchorage – groceries, housing, transportation and health care. We also learn that a hair stylist in Anchorage usually earns between $18,177 and $24,085 per year. To maintain the standard of living we have in Detroit, we'll need to earn $27,307 per year in Anchorage. This goal doesn't look very attainable considering Anchorage's pay range.
Okay, forget Anchorage. Let's go for some sunshine in Dallas, Texas. Our situation looks much better there. We only need to earn $19,775 per year to match our standard of living there that we're enjoying in Detroit. Unfortunately, the range of pay in Dallas for hair stylists is $15,520 to $20,563. So, if we can find a way to reach the top of the pay scale in Dallas, we could make things work and have our big adventure.
Below, you'll find information about jobs and salaries in each of these towns. To explore more towns and options, check out PayScale's Cost of Living Calculator.
Median Salary by Job – Location: Detroit, Michigan (United States)
Median Salary by Job – Location: Anchorage, Alaska (United States)
Median Salary by Job – Location: Dallas, Texas (United States)
More from PayScale
Healthiest Locations for Healthcare Careers
Working on the Royal Wedding Details