According to a report from FlexJobs and Global Workplace Analytics (GWA), the number of remote workers in the U.S. increased 159% between 2005 and 2017. These telecommuting stats suggest that the trend isn't slowing down any time soon.
The FlexJobs/GWA report utilized data based on an analysis of the American Community Survey, which presents the most current data on remote work that's available from the U.S. government.
For the purpose of this report, "telecommuters" or "remote workers" are defined as "non-self employed people who principally work from home at least half-time." Therefore, these statistics do not include anyone who works remotely as a freelancer. In addition, business owners and entrepreneurs are not included in the data. That means that significantly more workers are telecommuting than even this research shows.
Here are some of the key findings from the report:
Remote work has grown 44% over the last five years and 91% over the last 10 years.
A total of 3.4% of the U.S. workforce are telecommuters. That's up from 2.9% in 2015.
A total of 4.7 million people in the U.S. currently work remotely. There were 3.9 million telecommuters in 2015.
The number of remote workers has increased by 159% since 2005.
What this means for the future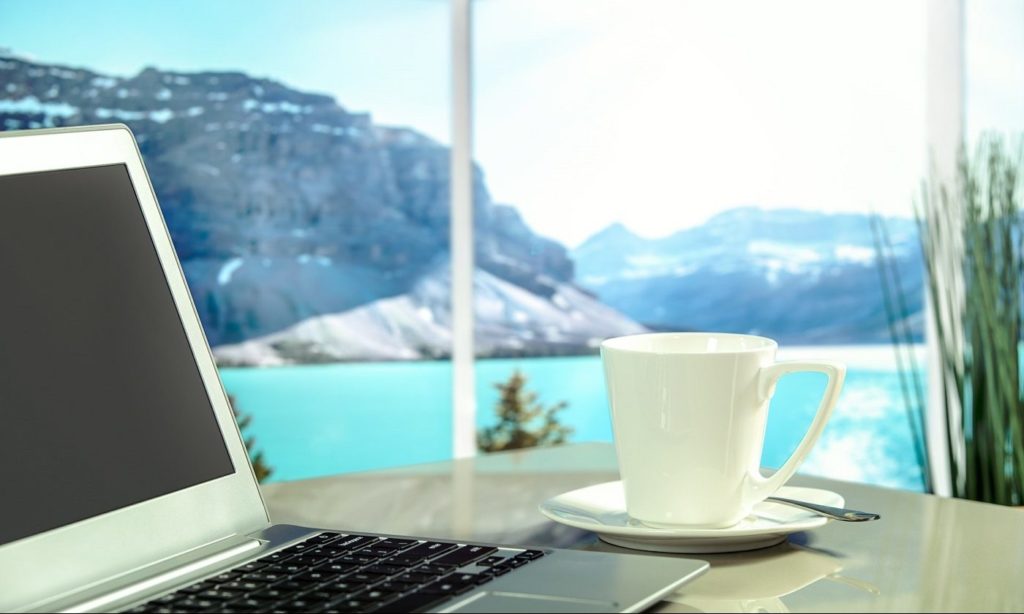 There's every reason to believe that remote work opportunities will continue to grow in the years to come. This is, in part, because the practice saves money. But, the trend is also influenced by advances in technology and the tight labor market.
"Remote work has grown steadily since 2005, as companies of all types – private, public, nonprofit, or startup – continue to recognize the bottom line benefits of integrating remote work into their business strategies," said Sara Sutton, founder and CEO of FlexJobs, in a statement. "With improvements to technology, and increasing demands from employees in a tight labor market, we fully expect to see the momentum around this important workplace continue to grow."
Workers' desire to have the option to work remotely, or within some other kind of flexible arrangement, is also helping to propel this growth. Forbes reported that a 2018 Global Talent Trends study found that 51% of employees wish their company offered more flexible work options.
For parents, the pull is even greater. According to a 2016 FlexJobs survey, 84% of working parents identify work flexibility as the single most important factor in a job. And the same research found that nearly all of the parents surveyed, 98%, think that working a flexible job would have a positive impact on their overall quality of life.
Are you looking for a new job? Find out how much money you could be earning. Take the PayScale Salary Survey and get your free salary report in minutes.
Telecommuting stats show some industries offer the option more than others 
Telecommuting is gaining in popularity and the availability of flexible options is increasing right alongside it. However, the picture is very different by industry. Some fields simply lend themselves to remote opportunities more than others.
FlexJobs' annual analysis of the top companies for remote jobs highlights the sectors of the job market that are leading the way. Five industries topped the list and were dubbed the best remote career fields.
1. Computer and IT
It's not difficult to understand why the computer and IT field leads the way when it comes to remote work opportunities. (This category came in first on last year's list, too.) Workers in the field of computer and information technology can often work from just about anywhere. So, companies and individuals save time and money by exploring flexible arrangements. Common job titles from this career category include systems engineer, information technology specialist and IT security consultant, just to name a few.
2. Medical and health
The medical and health industry came in second on the list of fields with the most remote work opportunities last year, too. At first glance, this might seem a little odd. Don't medical and health jobs kind of need to be performed in person? Well, that's true for some occupations, but not for others. Surgeons, for example, often do the bulk of their work in medical facilities. However, other jobs, like medical transcriptionist, research scientist and insurance representative, can be performed remotely.
3. Sales
This year, the number of remote sales jobs increased to surpass education as the third most popular industry for remote work opportunities. Many of the duties associated with these kinds of jobs can be completed by email or over the telephone. As with any remote job, those who work in the field of sales need to be hardworking self-starters. Some popular job titles from this industry include account executive, lead generator and customer service representative.
4. Education and training
There are lots of remote, part-time and freelance positions available within the field of education and training. Thanks to advances in technology, students have access to a wide variety of courses. As a result, workers in the industry have more options than ever before. Job titles like tutor, curriculum developer and paraprofessional are just a few examples of the available opportunities.
5. Customer service
There have been remote opportunities for workers from the customer service industry for quite some time. What's surprising perhaps to note is just how many job categories ranked higher than this fifth most popular slot. Still, there are plenty of remote opportunities out there in the field. Common job titles within this industry include client service representative and customer support representative.
You don't have to telecommute full-time 
There are so many factors that contribute to the rise of remote work opportunities. Companies are saving money, and they're helping their employees to feel happier, too. The number of remote jobs is sure to grow as technology continues to improve.
Even if you don't end up telecommuting full-time, you just might find yourself doing it once in a while in the years ahead. The stats don't include the massive number of people who work from home from time to time.
"It's important to note that full-time and even half-time telecommuters are among the minority. A far larger portion of the workforce, about half, works from home at least one a month," said Kate Lister, president of Global Workplace Analytics, in the report. "Talent shortages are fueling the growth of workplace flexibility right now because not only is it one of the most sought-after benefits among job seekers today, it also expands the talent pool by allowing employers to hire the best and the brightest from around the world."
In a tight labor market, it benefits employers to offer such a popular option to job seekers. There are plenty of workers from across industries that would like to have the option to work from home at least part-time. The way things are going, it's quite possible that many of them will get their wish.
It's a worldwide trend 
Workers in the United States certainly aren't the only ones who are telecommuting. A 2018 study found that more than two-thirds of people around the world (70%) work away from the office at least once a week, per CNBC. And, 53% work remotely at least half of the time.
The influence of younger workers may be partially responsible for the movement toward remote work. A study from Bentley University found that 77% of millennials say that flexible hours would make the workplace more productive for people their age, according to The Muse. So, as this generation comes to hold a bigger share of the workforce population, we can expect telecommuting to become an even more common practice.
Keep in mind that these figures don't include people who work from home as freelancers or entrepreneurs. These folks are gaining in number internationally too, and their numbers included in the data about telecommuting. And, thanks to the influence of automation, outsourcing and the rise of the independent contractor (just to name a few factors) the number of people working for themselves as entrepreneurs is likely to increase in the years ahead, too.
Tell Us What You Think
Do you work from home? We want to hear from you! Share your story in the comments or join the discussion on Twitter.