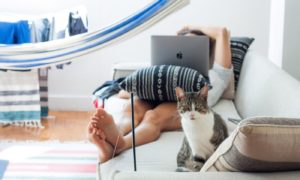 Flexible work options are increasingly common — and increasingly popular, too. More and more workers are setting flexibility as a priority when making job choices.
For a long time, the words "flexibility" and "work" just didn't mix, at least not for most workers. Some managers in certain industries might have enjoyed more autonomy when it came to setting their hours. But, for most people, there was almost zero flexibility about where and when they worked. However, things are changing. Today, options like telecommuting, part-time work and alternative schedules are easier to find.
FlexJobs' annual survey examines the role that flexible work plays in job choices in 2019. More than 7,300 respondents weighed it on why they value remote work arrangements and other options. Here's what they found:
People want flexible work options 
One thing is definitely clear from the results of this study: today's worker values flexibility. Here are just a few points from the survey:
69% of respondents said that flexible work options were one of the "most important factors" they consider when evaluating a job prospect.
Among survey respondents, 71% said they'd worked remotely for a job before and 82% said they know someone who's working remotely now.
65% of respondents said they felt they'd be more productive in a home office than in a traditional office space.
30% said they'd left a job because it didn't offer flexible work options.
80% said that they'd be more loyal to their employer if they offered flexible work options.
Other research supports these findings
These researchers aren't the first to identify the growing trend toward increased flexibility and choice for workers. A 2018 report from Zenefits entitled The State of Flexible Work Arrangements found that 73% of employees said that flexible work options would increase their job satisfaction. Notably, 78% also said that flexible arrangements helped them to be more productive.
Another study conducted by Yale economist Judith Chevalier noted that rideshare drivers said they would have to earn as much as double their current pay to accept less flexible working arrangements. For many, giving up flexibility is a total deal-breaker.
"Most Uber drivers would not participate at all if you forced them to work long hours," Chevalier told Yale Insights. "The magnitude of this need for flexibility is surprising. Even drivers who work a lot do so pretty unpredictably, and might not drive if they had to work more conventional blocks of time."
What are flexible Work options anyway? 
The way we work is definitely changing. These days, there are all kinds of different arrangements available for workers. FlexJobs asked respondents to weigh in on which options were the most desirable, as a part of their annual survey. The responses paint a picture of the variety of arrangements that are available. And, it helps us understand which workers want most.
The most popular flexible work option was "remote work 100% of the time." More than three-quarters of respondents said they'd be interested in this arrangement. A "flexible schedule" appealed to 72% of those surveyed. And, 46% said they'd be interested in working part-time. Others wanted the option of working on an "alternative schedule" (45%) or working remotely some of the time (43%). A freelance contract arrangement appealed to 39% of those surveyed.
These and other alternative work options are increasingly common. Folks from across industries are gaining more and more experience working in some kind of flexible way. Among those surveyed, 71 percent said they'd worked remotely in a job before.
Why workers want flexibility
FlexJobs has been running its annual survey since 2013. In that time, the top four reasons why workers seek flexible options have remained the same. The breakdown in the most recent survey looked like this:
Work-life balance (75%)
Family (45%)
Time savings (42%)
Commute stress (41%)
Looking at this list, you might assume that most respondents were working parents. However, survey takers told FlexJobs that they identified with a variety of groups, including entrepreneurs, introverts, travelers/digital nomads and those who lived in rural areas.
In other words, all kinds of people with all kinds of priorities need flexible work. Employers would be wise to take note.
But, flexible arrangements have a downside
When considering adopting a flexible schedule, it's important for workers to keep in mind that every work arrangement comes with its advantages and its disadvantages. Working from home, for example, isn't a magic pill that automatically makes work-life balance possible. There are lots of challenges to consider before taking on a non-traditional working arrangements.
"Work is infinite," said Conrado Lamas, CMO of Carts Guru, to Zapier when asked about the pitfalls of working remotely. "There is always something to be solved — and when you have an office routine, it's easier to leave what you do at the workplace. When you work from home, your office is where you live. So, I'm constantly closing small pending tasks late at night before I go to bed or early in the morning when I really wanted to be reading the news."
Working too much is just one potential downside of flexible work. Still, workers definitely seem to be equating flexible work options with increased productivity. Sixty-five percent of respondents to the FlexJobs survey felt that they'd be more productive in a home office. Thirty-two percent said they felt they'd achieve about the same level of productivity. And, only 3% felt they'd be less productive in a home office than they would be in a traditional office setting.
These responses are understandable when you consider the fact that nearly half of respondents (49%) said that they head to their home or home office when they "really need to get something done for work." Only 8% said that they'd choose their regular office during regular hours for these tasks because that's where they felt they'd be most productive.
Lack of flexibility makes an impact 
The job market is strong right now. With the unemployment rate at just 3.7% as of July 2019, workers have more choices when looking for work. Perhaps that's part of the reason why, according to this study, 30% of workers reported leaving a job because it did not offer flexible options. And, another 14% said that they'd considered leaving a job because of lack of flexibility. Additionally, 16% said that they're currently looking for a new job due to work flexibility issues. In this tight job market, job seekers are prioritizing more control and increased flexibility.
The results of this survey make it clear that workers feel that other aspects of their life would be positively affected by improved work flexibility. For example, 44% said that flexibility would make a "huge improvement" to their overall quality of life. Fifty-three percent said it would make a "positive impact." Additionally, 86% of respondents said they would be less stressed with a more flexible working arrangement. And, 78% said that a flexible job would help them to be physically healthier. Given these perceived advantages, it's not difficult to understand why many workers choose flexible options when possible.
The future of flexible work
These findings make it clear that flexible work options are most likely going to increase in availability in the years ahead. It's cost-effective, and workers place significant value on having the option. And, these are just a few of the many benefits.
Also, statistics support the idea that flexible work options are on the rise. The number of people telecommuting in the U.S. increased 159% between 2005 and 2017, according to another report from FlexJobs and Global Workplace Analytics. Full-time and part-time telecommuters are definitely gaining in numbers. And, the practice of working from home for folks who regularly work in traditional office settings is gaining momentum, too.
"It's important to note that full-time and even half-time telecommuters are among the minority. A far larger portion of the workforce, about half, works from home at least once a month," said Kate Lister, president of Global Workplace Analytics, in the report. "Talent shortages are fueling the growth of workplace flexibility right now because not only is it one of the most sought-after benefits among job seekers today, it also expands the talent pool by allowing employers to hire the best and the brightest from around the world."
Why We should Pay Attention To these trends
If you're a job seeker who's hoping to move toward more flexibility, know that you aren't alone — and that your employer should care about your priorities.
"In a tight labor market, companies cannot afford to ignore the value employees place on having flexible work options, but leaders also can't dismiss the very real bottom-line impact offering flexibility has on their employees' productivity and retention rates," said Sara Sutton, founder and CEO of FlexJobs, in a statement. "The flexible job market is currently very robust, so flexible job seekers are also feeling empowered to seek jobs that are more compatible with their life. In fact, 80% of job seekers say they are confident in their flexible job prospects."
Looking for a new job, remote or otherwise? Find out how much you could be earning. Take the PayScale Salary Survey and get a free salary report in minutes.
Tell Us What You Think
Would you like more flexible work options? We want to hear from you! Leave a comment or join the discussion on Twitter.