Today's employees have some unique advantages that employees of the past didn't have. For one thing, the U.S. economy is relatively stable, and the unemployment rate continues to decline steadily overall at 5 percent or lower for over a year now. Lots of companies are hiring, and many workers have far more opportunity than they did in the post-recession recovery period. The workforce is increasingly mobile.
Additionally, employees now have access to increasing amounts of rich data thanks to the ever-connected and constantly updated web. Savvy workers know what jobs are out there, what other companies are offering their employees, what their own value on the market is and more.
Employees have more leverage than ever, and it has created a "war for talent." To attract and retain top performers, organizations must get competitive — even creative — with their total rewards packages.
Top 3 Benefits Employees Really Want
In PayScale's 2017 Compensation Best Practices survey, we asked employers what their workers' favorite benefits and perks are. While some surely appreciate the ubiquitous foosball table that has shown up in offices around the country, folks are far more practical in terms of which benefits they value most. The top three were:
Health (medical/dental/vision) insurance
PTO and paid vacation time
Flexible schedules and work arrangements (including work from home)
Other popular perks were bonuses, 401K options, pensions and modified schedules like Summer Fridays programs. Here's a look at what employers reported they offer in their reward packages this year. The good news is it's not far off from what employees say they want.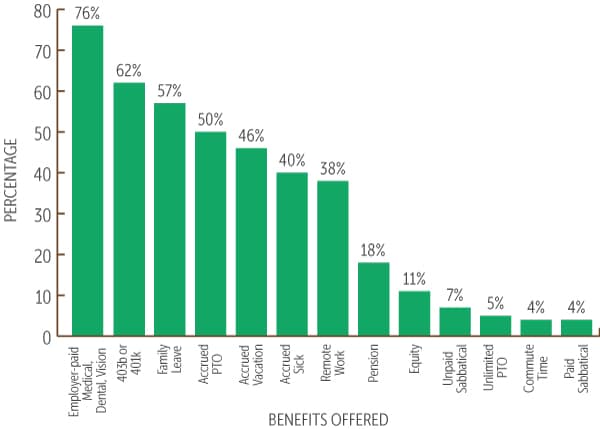 Some Creative Rewards
This is where stuff like foosball tables comes in. To stand out from the competition (and to boost offers and packages that may otherwise be less attractive due to lower salaries), companies are coming up with all kinds of fun perks to offer employees. Here are some of the most interesting that were reported in the survey:
40 hours of volunteer time.
$0 onsite and offsite massage through the medical plan with a specific clinic or $25 copay massage with the provider of their choice.
All the snacks they can eat.
Annual company trip either volunteering or going somewhere tropical and relaxing.
Bagel Fridays.
Commuting allowance of $130 per month.
Company raffle prizes of cash.
Daily lunches.
Dog-friendly office.
Employee product discounts and/or free product.
Essentially unlimited PTO/personal days after a year of employment. i.e., need a day to reset? No problem.
Free gym membership.
Free lunches from the CEO one day per month.
Mondays off in the summer and the 1 week extra off (with pay) at Christmas.
Our Connected Recognition program gives exempt employees $250/year to award to other employees outside my team in $25-$100 increments.
Pet insurance.
Tuition exchange program.
Wellness allowance of $500 year.
Yoga.
You can tell from the wide variety in the list that different things work for different companies. And on that note…
What Should You Offer?
Ask yourself these three questions to determine what rewards make sense for you to provide to your employees:
What fits our culture? While a health and wellness company's employees may be psyched about free personal training sessions, workers at a travel company could be more interested in funded trips. Also think about company values: If work-life balance is a key part of your culture, consider flexible schedules. If you're a competitive bunch, focus on creating a great performance-based variable pay plan.
What's our budget? Do you have room to offer more or higher bonuses (or better yet, incentives)? Can you find money to allocate to 401K matching? Figure out how much you're working with.
What resources do I have? Are there local companies who offer special programs to other organizations in the area? Can you work out an exchange-of-services deal with a fitness center? Find out what resources are available to you.
Your organization's total compensation package should entice prospective employees and keep your current workers feeling appreciated. If you think your total comp plan needs some tweaking, use the info and tips above to get the ball rolling.
Tell Us What You Think
Which rewards have proven most effective for your organization? We want to hear from you. Tell us your story in the comments.